Human rights advocates from Amnesty International are convinced that Ukrainian authorities must react to the growing public outrage over police corruption. Ukrainian citizens are concerned that the police have turned into a criminal enterprise. This fact has been confirmed by police officers themselves, including those that spoke with The Ukrainian Week (on conditions of anonymity for obvious reasons).
THE SPLENDOUR AND MISERY OF THE TRAFFIC POLICE
"We as brigands are forced to commit highway robbery on a daily basis," a group of traffic police officers from Kirovohrad Oblast wrote to Interior Minister Vitaliy Zakharchenko in May 2013. In their open letter to the minister, they said that the chief of the local traffic police essentially turned the agency into a criminal organization. For example, every traffic patrol must give the administration UAH 400 daily from the bribes they have collected. "If you refuse, you will lose your job," the officers wrote indignantly. The chief of the Kirovohrad Traffic Police "tells everyone that he is collecting money not for himself but for his protectors in Kyiv. When intoxicated, he likes to brag that he 'feeds' the entire Department of Internal Security and the Prosecutor's Office, so they won't mess with him." According to the policemen, their chief is completing construction of a luxurious villa in an elite district of Kirovohrad, has eight personal cars, some of which are registered under the names of his relatives and close friends, and has recently purchased a Lexus ES worth USD 72,000.
READ ALSO: Watchdogs of the Regime
"Mr. Zakharchenko, are you aware that Ukrainian citizens are growing increasingly resentful of the police? The reason is that people like Bereznevych have turned the police into their feudal detachments, forcing policemen to rob ordinary citizens. We come to work at 7a.m. and return home after 1a.m. because Bereznevych demands that we not only meet the official performance quotas but also contribute to his private coffers," the policemen wrote. They added that it would be very easy to find evidence corroborating the facts mentioned in the letter: "Send an investigative unit. Let people from the Department of Internal Security patrol the roads and question drivers and chiefs of trucking companies with whose money Bereznevych purchased his assets. Let them inquire about the morale of his staff."
The letter also cited other facts of corruption. For example, Bereznevych, who has already been investigated on suspicion of corruption, reinstated an inspector previously fired after a scandal. He now works in the local Driver and Vehicle Licensing Agency and "takes bribes in exchange for successful driving examinations". The head of the unit responsible for registration and examinations deals in "everything from permits for car modifications to driver's licence forms and licence plates—even used ones". The chief of the local Road Patrol Service unit sells days off (UAH 250 a day) and vacations (UAH 3,000 a month) to his subordinates.

The Ukrainian Week attempted to find out how police authorities reacted to the letter. In response to our inquiry, Dmytro Selezniov, deputy chief of the Interior Ministry's directorate in Kirovohrad Oblast, explained that under Article 8 of the Law of Ukraine On Applications by Citizens, an unsigned application with no indication of the applicant's place of residence or one whose author(s) can not be recognized is regarded as anonymous and is not subject to consideration. However, Selezniov assured us that "the information cited in the anonymous letter to Interior Minister Vitaliy Zakharchenko was checked by personnel of the HR Department and Internal Security Unit for Kirovohrad Oblast as well as the Department of Internal Security and the State Highway Patrol (both under the umbrella of Ukraine's Ministry of Internal Affairs). They conducted an investigation and found that the facts described in the letter could not be confirmed".
However, former and current law enforcement officers from various regions who have spoken to The Ukrainian Week admit that the information revealed in the Kirovohrad letter is quite plausible, as "similar schemes and 'tariffs' have been established in virtually all oblasts".
READ ALSO: Police with the Regime
CORRUPTION WITH INSIGNIA
In September 2012, half of the staff of the Berkut force in Sumy found the courage to make a similar public statement. They complained of a system of extortion that was forcing staff to participate in illegal deals in order to obtain money with which to pay a mandatory 'tithe'. At the time, law enforcement officers were surprised perhaps only at the courage of these men. "Exactions of money have existed and will continue to exist in Berkut and other units of the Interior Ministry," they told The Ukrainian Week. They also claimed that whistle-blowers would be forced to leave the special task unit.
Ultimately, the high-profile Berkut corruption case actually went to court. However, time has shown that its real upshot is the predictable personnel reshuffle (a judgement has not yet been made). The special task unit of the police was subjected to personnel evaluations, and many officers were scattered across the oblast, transferred to other offices, etc. Some of them went to court and managed to become reinstated. "But they told us: we don't care. You'll be transferred to other units whether you like it or not. For example, I was moved to the Trostianets Raion Police Department as an assistant to a district police inspector. That's 60km away from my permanent place of residence in Sumy," stated Viacheslav Holub, one of the Berkut protesters.

Few of the law enforcement officers in Mykolaiv Oblast who spoke with The Ukrainian Week believe that the statement of repentance from Dmytro Polishchuk and Yevhen Dryzhak, the policemen charged with rape in the high-profile Vradiyivka case, is sincere. At the same time, the facts of corruption it exposes may be truthful, officers say. Examples include monthly financial contributions to the police directorate in Mykolaiv, the "tithe" policemen collect from drug dealers and bootleggers, the system of bribes for promotion in the Interior Ministry structures and framing of innocent people with the facilitation of the Prosecutor's Office. "Put plainly, I believe the facts in the statement issued by Dryzhak and Polishchuk are true," one of their colleagues says. "But I don't believe in the fact of the statement itself – it's way too theatrical."
Similar schemes have been reported by residents of Vradiyivka. One of them admitted to The Ukrainian Week that he was involved in framing innocent people. He said that policemen did this to obtain a bribe for closing a case or at least improve their performance ratings. "The judge knows about it. The prosecutor knows. I personally was a witness in such cases several times," the man explained. He had served several years in prison and thus had no choice but to cooperate with the police. "Just try to speak out against it".
READ ALSO: A Human Life: Priceless No More
The stories of the highway patrol officers in Kirovohrad and Berkut officers in Sumy clearly show that the current authorities are not going to react to facts of corruption within law enforcement agencies because a proper response would require disrupting a police system which in its present state fully serves the ruling regime. Ordinary policemen say that rather than investigating the real culprits, the central authorities usually begin harassing the "rebels" who dared to go public with facts of corruption and other crimes inside the law enforcement agencies. This is done to "discourage others from going against the system".
President Viktor Yanukovych promised to punish the accused Vradiyivka officers in a show trial. Not surprisingly, ordinary police officers take his promise with a grain of salt. Those who spoke with The Ukrainian Week were certain: if anyone is going to be punished at all, they will be small fry. However, some believe that for a "lofty purpose" many heads will roll. "The more people that are punished, the better. The country is experiencing cases of mass unrest, the electorate is discontent and the popularity rating of the ruling party has hit rock bottom. The contagion may spread throughout the regions and soon affect the president. That's why he may now start the fire of inquisition and sacrifice a couple of colonels to please the crowd."
Of course, high-profile cases like Vradiyivka cannot be ignored, but even here a show investigation may take the place of a fair inquiry. Locals already fear that someone other than the culprits will be held accountable for the crime. They say that law enforcement agencies are allegedly searching for a person that looks like Yevhen Dryzhak, one of the two policemen arrested in the case. The idea is to persuade the public that Iryna Krashkova, the victim, made a mistake while identifying the rapists.
It is easy to understand the citizens' concern because criminal police officers rarely face the punishment they deserve for their crimes. Bringing a case against a police officer to the stage of trial in court is already an incredible success. In 2012, investigations were launched for a mere 1,750 cases out of the 114,474 complaints submitted to prosecutors against law enforcement officers, and criminal cases were opened in just 320 cases (0.2 per cent). Conditional sentences and release based on amnesty are common in criminal cases against policemen. The system has a tradition of covering for their own men.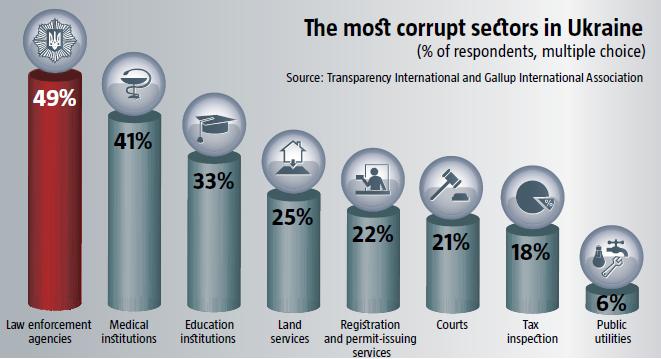 A POLICE CASTE SYSTEM
The policemen questioned by The Ukrainian Week do not deny that forcefully extracting testimonies from detained persons is a common practice of Ukrainian law enforcement agencies. Not the least cause here is the systemic degradation of criminal investigation and forensic medical analysis. Seasoned officers who left law enforcement agencies say that their colleagues are essentially failing to perform their main function of catching criminals. An increasing number of newcomers in these agencies are young unprincipled persons who are ready to suppress protest rallies to earn their keep and reap the biggest rewards through corrupt schemes.
The rare criminal cases opened against law enforcement officers who used physical force during investigations are no solution to the problem. "We need to have cameras in all corners of district police departments. Claims like 'I didn't do it. I've been set up' are coming from nearly everyone, even those whose guilt is confirmed by countless facts. That is why video surveillance or, for example, the presence of a public activist, journalist or local council member from the opposition in every district police department is the best option. But the authorities will, of course, never agree to it," a Kyiv-based policeman argues.
READ ALSO: Danger, Police!
Many of the law enforcement officers that spoke with The Ukrainian Week do not consider themselves representatives of a caste that knows no restraint. At the same time, they do not deny that working beside them are privileged people like Dryzhak, whose godfather is, as it turned out, Valentyn Parseniuk, chief of the Mykolaiv Oblast Directorate of the Interior Ministry. "When you have neither money nor connections and when you get a job on the same basis as everyone else, your own administration will skin you alive. You constantly go on your beat instead of the privileged. You respond to calls and people tell you about bribes, corruption and lawlessness in the police. It turns out that they hire incompetent people who wreak havoc and then cover for them. How are normal people supposed to work?" a lieutenant from a district police department in Kyiv complains.
Sometimes even police officers themselves are unable to report a crime to the police or prosecutor's office. (Notably, such applications from Vradiyivka residents were simply not accepted.) "My father, over 60 at the time, became a victim of robbery. When I turned to my colleagues to have the crime registered, they called me a traitor who wanted to give a headache to another district police department," a female law enforcement officer told The Ukrainian Week.
Many police officers are sure that their bosses need to be punished primarily for failing to prevent degenerates from infiltrating the law enforcement agencies and then covering up their crimes: "If the Vradiyivka rapists were immediately arrested, there would have been no riot. And this is true of the entire country: if criminal police officers are not punished, the system faces the worst possible consequences".