Ties to Russia lose their shine
One of the first events of the New Year that took me by surprise was the enormous number of celebratory salutes in the skies over frontline town of Bakhmut: you could hear the explosions coming from various corners despite an official ban—and common sense. The only thing that was a very pleasant surprise was that there was not a single salute at 23:00, that is midnight, Moscow time. Prior to the war, fireworks typically began precisely at midnight, when the New Year was ushered in by Ukraine's neighbor. Was the silence this year intentional or subconscious—a rejection of the "fraternal bond"? Perhaps it was due to the ban on analog television broadcasts from Russian channels? Or maybe people just decided to economize on the cost of fancy pyrotechnics?
Without any doubt, attitudes towards Russia, as the country directly involved in the war, have changed in Donbas. Some Ukrainians are angry at its marauding actions and openly boycott any products from Russia. Some have switched to speaking Ukrainian in their daily lives. Some are genuinely enraged that Russia "betrayed" the residents of Donbas, who really believed that it would make them part of one big happy family. Yet others have managed to get around various parts of Ukraine's neighbor, fleeing from the war or looking for work, and have come to their senses: they no longer buy into the images shown on television. The reasons may be contradictory but the results are the same: fewer and fewer wide-eyed fairy tales about paradise and freebies.
Interestingly, it's very hard these days to find any goods made in Russia on store shelves in the free parts of Donetsk Oblast. Among the few items are chocolates with soviet names or veterinary medicines that aren't made in Ukraine while alternatives made in the EU are prohibitively expensive. But household chemicals, foodstuffs and clothing are either Ukrainian or made somewhere in the EU. Yet it's unlikely that this would have happened simply because of a deliberate ban: real demand for these goods has simply plummeted—especially among those who have come from front-line territories to shop. They admit that they are sick and tired of Russian goods, most of which leave a lot to be desired in the quality department. And so they exclusively buy Ukrainian.
RELATED ARTICLE: Frustrated and optimistic: How Ukrainians felt about their country's current vector and prospects, politicians, economy and their own future in 2017
Inflation grows, but so do budget revenues
Incidentally, "shopping tourism" from the occupied parts of Donetsk and Luhansk oblasts has generated a boom in front-line towns, as well as growing inflation that reached record levels in Donetsk Oblast in 2017. Indeed, it was the highest registered anywhere in Ukraine. According to the regional statistics office, the consumer prices in Donetsk Oblast—less the part in the war zone—had grown 15.9% in December 2017, compared to December 2016, whereas the national average was 13.7%. And foodstuffs generally drove inflation in 2017. Over 2016, prices for food and non-alcoholic beverages in Donetsk Oblast inched up only 0.2% in December 2016, but by December 2017, they had jumped 17.5%.
One of the main factors behind this growth has been a rise in pension benefits. Moreover, those retired from industrial and mining jobs have significantly higher pensions. Some have managed to apply for and get benefits from both Ukraine and the occupying forces, so the cost of their "shopping trips" still leaves them with a handy profit. Against this backdrop, the impoverishment of those who haven't been quite so slick and have been deprived of any source of income whatsoever through various bureaucratic whims is dramatic. This, in turn, increases social tensions as some of those living in the front-line zone are forced to travel to towns further from border control points, where prices are considerably lower in order to buy basic goods.
On the other hand, budget revenues from Donetsk Oblast businesses were UAH 7 billion in 2017, which was up a striking UAH 1.896bn or 37% over 2016 revenues. Last year, Donetsk also surpassed 2016 contributions to the consolidated budget by UAH 2.8bn, contributing a total of UAH 16.3bn in 2017. Based on the algorithm for distributing funds, local budgets were allocated UAH 9.4bn, which was UAH 942mn more than before. Most of this will be going to improve social conditions for local residents, and you can already see repairs and construction picking up pace thanks to funding from various sources.
Positive attitudes on the rise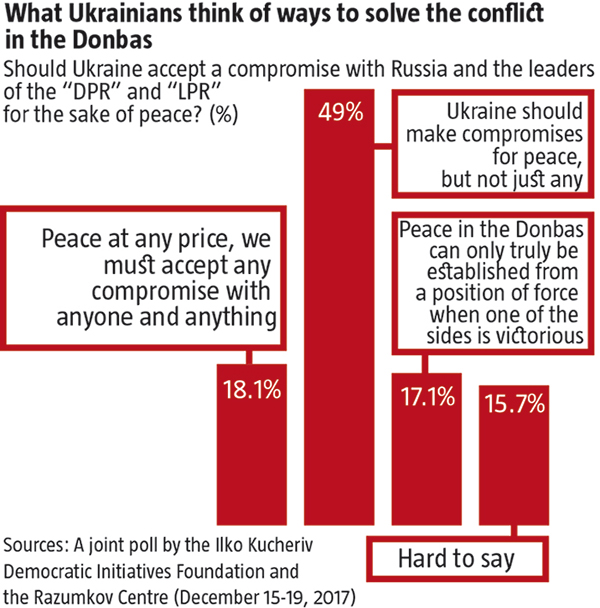 Unfortunately, most people living in Donbas typically treat any positive gains or victories as the achievements of their local politicians, whereas any negative outcomes and problems are all laid at Kyiv's feet. In one interesting study carried out by Foundation.101 in the front-line towns of Donetsk Oblast, this trend was very clear.
"In most towns, responsibility for resolving all local issues, especially deciding personnel issues, road issues and so on is considered the local mayor's," the Foundation's report states. "Significantly, together with high expectations of the local government, people also place considerable trust in their local politicians. So, in most towns—the exceptions being villages neighboring on Volnovakha, where the leadership has changed several times since the war began—, residents consider the work of the leadership of their local council useful and express personal confidence in them. The top political leadership in the country is generally expected to take responsibility for resolving the conflict in the east and putting an end to the war. However, people seem to understand that many local issues can only be successfully resolved once peace has come to their region."
The researchers noted that in those villages the term ATO (Anti-Terrorist Operation) is not used to refer to the military conflict to the east. They call it what it is: a war. And when asked how the situation in their region might be improved, a large number of respondents said that most problems would only be solvable after the war stopped. Yet few of them place much hope in the Minsk process. Despite the fact that the study involved communicating with people in the settlements closest to the front, the mood was surprisingly optimistic:
"In assessing the situation in their own villages over the last year, a majority of the surveyed residents said that the situation had somewhat improved during this period although there were enough who thought nothing much had changed," the report summarized. "Those who saw a more positive trend explained it due to the fact that there were fewer exchanges of fire, that locals had gotten used to the sound of distant artillery fire, that some residents had been able to return to their own villages, and that life was slowly returning to more normal in their settlement."
The study also noted a significant shift in attitudes towards the Ukrainian military. People stated that the soldiers provide medical and humanitarian assistance and at times even carry out tasks at the request of the local officials or the residents themselves. Some respondents said that the presence of soldiers in the village had a positive impact on the crime rate and reduced the number of thefts among locals.
Perception of military improves
Positive changes were also observed in attitudes towards the activities of the Civil-Military Cooperation of the Armed Forces of Ukraine, known as CIMIC: most locals were very positive about the results of their efforts. Among others, they remembered a large number of parties organized for kids, including gifts and humanitarian assistance in the form of food and medications. Nevertheless, there were some negative responses as well. The researchers thought this could be associated with media attacks coming via Russian television:
"Near Volnovakha, residents talked about incidents where people looted abandoned residential buildings at the beginning of the ATO, but they also said that both the military and locals had done this," the report went on. "Residents also admitted that at the time of the survey, such incidents had already stopped. Locals were particularly upset about the occasional abuse of military equipment on the part of the soldiers, especially equipment with tracks, to get from place to place, such as from their location in the field to a local store, because this seriously damaged the road surfaces in these settlements."
The report also noted that the majority of negative feedback came from people living in villages close to Volnovakha and partly Mariupol: "In those areas, in contrast to the towns near Bakhmut, access to Russian broadcasts is not restricted."
Media matters… for good and ill
Media Detector, a civil society watchdog of the media environment in Ukraine, also ran a survey among Donbas residents and noted the significant influence of information from a variety of sources, including the Ukrainian press. This poll focused on the consumption of information, the needs and views of residents in the front-line area in eastern Ukraine and was carried out over July and August 2017.
"It's extremely rare for people to choose their sources of information consciously and rationally," the researchers concluded. "Partly this is related to broadly skeptical and negative attitudes that residents in this region feel towards all media. Friends, relatives and even strangers are seen as more reliable sources of news. The ideological factor or attitudes towards a given channel or its owners has little impact on viewers when they choose a news source."
RELATED ARTICLE: Education Minister Lilia Hrynevych on the changes the education reform is expected to bring about in 2018
Media Detector also noted that when news about the front was not a reflection of reality, locals immediately assumed that it was a deliberate lie. This and the dominance of populist attitudes in media discourse have led to enormous distrust in domestic media as a whole and in the Government: "They're all lying." Respondents also expressed considerable annoyance over the fact that what the press reported did not satisfy what people needed to know, that the media ignored their local problems altogether and failed to reflect the realities they were experiencing, and that programming was hostile towards them, based on the topics selected, the phrasing used, and how events were being reported. Overall, attitudes towards Ukrainian media could be summed up simply: "This isn't about us."
Interestingly enough, media reports that directly affect local viewers tend to be trusted enormously. The same is true of reports that show the reality of life for ordinary people, and reports that satisfy their information needs.
And so it is at the local level that changes in attitudes can be seen as a general trend. Not long ago, Donetsk Oblast Governor Pavlo Zhebrivskiy proposed changing the name of a Kramatorsk park that is currently being reconstructed. "We'd like to change the name of the park from Pushkin to Konrad Gamper, who founded the local machine-building plant," he said. "We have nothing against Alexander Pushkin, but what did he ever do for Kramatorsk? Gamper's contribution to the history of this city is enormous. Such names should always be based on their significance. The choice should be genuine and grounded in history."
His statement caused a minor sensation locally and roused heated online debates. As usual, there were many who thought the entire issue was trivial. Yet most of those opposed to renaming the park did not favor of the Russian poet at all. They simply didn't think that the man the governor had proposed was a well-enough known or important individual, even locally.
Translated by Lidia Wolanskyj
Follow us at @OfficeWeek on Twitter and The Ukrainian Week on Facebook