5 – 18 March
Graphic Art by Roman Romanyshyn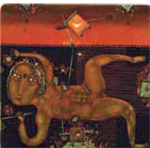 Primus Gallery
(16/5, vul. Lesi Ukrayinky, Lviv)
Graphic images by Roman Romanyshyn have won him recognition in Ukraine and abroad. Using a unique printmaking technique that combines etching, aquatint, Mezzotint and dry-point, he attracts even the savviest of art lovers. In addition to graphics, the artist offers paintings, sculptures and gesso artwork, using an impressive variety of genres and art techniques. Perhaps, this is why his works are found in many museum and private collections all over the world.
19 March, 7 p.m.
Keiko Matsui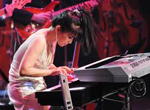 Ukrayina Palace
(103, vul. Velyka Vasylkivska, Kyiv)
The renowned jazz pianist will perform her new show The Best, a collection of her best songs. Her new age style and unique jazz sound distinguish the Japanese pianist on the world's music stage. Keiko Matsui invests a virtuoso technique, as well as her intimate feelings and emotions into her music. Every time she hits a key, waves of emotion overwhelm the audience leaving it excited long after the show. Keiko Matsui talks of her music as the connection between her and the audience.
21 – 28 March
2013 Italian Film Week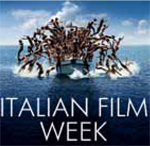 Kyiv movie theatre
(19, vul. Velyka Vasylkivska, Kyiv)
The downtown movie theatre will once again host the Italian Film Week. It offers a multi-style selection of five films from the country of Caesar, pasta, Fellini and Prada. The opening film is Reality, a drama about the life of Matteo Garrone, followed by Chocolate Kisses and Sweet Life, two films with similar titles yet different storylines. The Continent, a drama by the well-known Emanuele Crialese, reveals the life of fishermen and immigrants, while the romantic comedy All Saints' Day will entertain the audience with a portion of Italian married life.
23 March, 7 p.m.
Madama Butterfly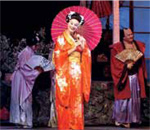 National Opera House
(50, vul. Volodymyrska, Kyiv)
Giacomo Puccini's opera in three acts, its libretto based on a short story about a geisha dramatized by David Belasco, is an intense emotional upheaval. Premiered at La Scala in Milan in 1904, the opera tells of a young geisha, Cio-Cio San, who marries American navy lieutenant, Pinkerton, and has a son with him. Sincere in her feelings, she is looking forward to her husband's return. But unexpected dramatic twists in her life push Cio-Cio San to her dreadful irreversible final step.
23 March, 10 p.m.
MGZAVREBI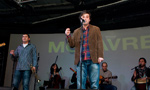 Tolstoy club
(19, vul. Velyka Vasylkivska, Kyiv)
An amazing band, comprised of twelve talented musicians, brought together by a common vision of music, will play a gig in Ukraine. Critics describe them as the present and the future of bohemian Georgia, while their songs are a mix of traditional Georgian singing and the sound of folk instruments. The band has performed in Ukraine many times, winning the hearts of Ukrainians music fans, especially after it recorded Qari Qris, a song in Ukrainian and Georgian, with well-known Ukrainian band, TNMK.
24 March, 7 p.m.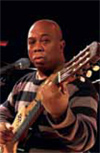 Filo Machado
Tchaikovsky National Music Academy
(1-3/11, vul. Horodetskoho, Kyiv)
The Brazilian music concert will shake Kyiv and fill the March night with the fiery bossanova tune created by renowned Brazilian-born singer, guitarist, percussionist and composer Filo Machado. He has recorded many great albums, played with popular musicians and was nominated for a Grammy in Latin American Jazz. Since beginning his music career, Filo Machado has travelled the world with gigs and he will shortly be bringing one to Ukraine.