The opposition was thrashed in the re-election in five problem districts, where the results of the 2012 parliamentary election were deemed invalid due to massive falsifications. District No. 197 in Kaniv, Cherkasy Oblast, brought the only victory for an opposition candidate. This is despite exit polls by the Rating sociological group that projected victory for opposition candidates in three of the four other districts.
It is easy to guess why this happened. The all-embracing euphoria of the EuroMaidan, plus faith in an inevitable miracle, played a lame joke on the opposition. Many opposition politicians openly expressed confidence that revolution-inspired sentiments would guarantee their victory in the problem districts before the vote.
As a result, they ended up with a double defeat as the country is shaken by protests and most voters wanting a change of government. The latter, once again used a wide range of manipulations to ensure the victory of its candidates. Some voters were bribed with food packages and cash. However, this is nothing new and the opposition could have taken that into account. It didn't. It did not do a good job on details, ideas and creativity. It relied on the awareness of the electorate and previous results, according to which its candidates should have won the race in 2012, high ratings of support and Maidan euphoria. But the devil is indeed in the details.
The opposition's helplessness in the re-election is not only about the loss of the five seats in parliament that it so badly needs. It signals that the opposition could lose the EuroMaidan within the next few weeks – or days, because it seems to have no strategy or understanding of the reality in both cases.
Kyiv: No Freedom now
The scale of obvious falsifications in Kyiv's District No. 223, including ballot stuffing, is currently unknown. But the re-election reveals some other reasons for the opposition's defeat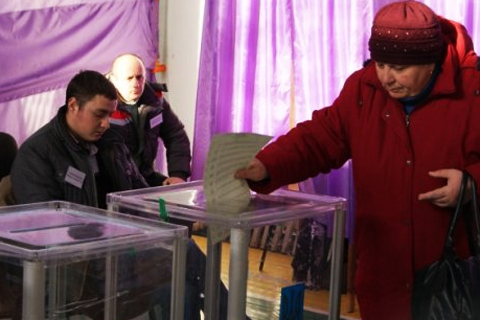 On October 31, 2012, Svoboda's (Freedom's) Yuriy Levchenko ran in this district against Viktor Pylypyshyn who had been an investigator in the 1980s, a lawyer in the 1990s, and an MP and Head of Shevchenko District in Kyiv (District No. 223) in 2005-2010.
After Viktor Yanukovych came to power, Pylypyshyn found himself under investigation on charges of abuse of office that incurred a UAH 17mn loss of state and Kyiv city funds. However, he ended up running for parliament as a formally independent yet pro-presidential candidate in a first-past-the-post constituency, not behind bars.
Svoboda's Yuriy Levchenko, 29, is considered to be one of the party's leading analysts. Educated in Germany and Great Britain, he has lived in Kyiv since 2008. In 2012, he actually won the parliamentary race against the experienced Pylypyshyn, based on protocols with wet stamps disclosed by Svoboda back then.
Initially, the Central Election Commission did not see these arguments as being sufficiently valid and announced Pylypyshyn's victory with a narrow 400 vote majority. Yet, facts forced them to include the district in the list of problem ones and scheduled a re-vote for December 15.
This time, Levchenko was supposed to win by almost 17%, based on the exit poll by the Rating sociological group. On December 17, the Central Election Commission officially announced Viktor Pylypyshyn as the winner with 44.89% over Levchenko's 40.58%. Voter turnout was slightly above 46%. This means that the densely populated constituency with 170,000 voters will now be represented in parliament by someone who gained slightly more than 3,500 votes.
Independent sources point at blatant rigging technologies used in District No. 223, mostly in schools, although there are no documents to prove this. Commissions at polling stations located in schools were mostly made up of school employees. And the Head of the District Education Department, Yevhenia Yarova happens to be a relative of Viktor Pylypyshyn.
As for Svoboda, the party is not exactly popular in the constituency stretching from the western suburbs of Kyiv to its poshest parts. It has a complex social structure and a range of political preferences. "Most people in this district hate Svoboda. Their tents and promoters are on every corner but these promoters are like religious sect activists. They talk their stuff and never think about whether anyone is interested," says Anna, a Kyiv-based journalist. She refers to Pylypyshyn as Pilia, a nickname derived from the Ukrainian phrase for graft. "The population here is homo sovieticus. They don't need promotion. They need what Pilia has to offer: a patched hole in the road, a food package with Ceylon tea. That's it! I myself have asked Svoboda activists to deal with a grocery store built illegally that spoils the life of everyone around here. They said I first needed become a member of their party" Anna complains.
"Voters were bribed, too," says Taras Chmut, coordinator of OPORA, an election observation NGO. "We integrated our agent into the system. He worked at a university dorm. The scheme was as follows: you were to get UAH 50 for every person you persuaded to vote for Pylypyshyn before the vote, and UAH 50 after. Also, you could sell your personal vote. Prices reached up to UAH 200 before the vote and UAH 200 after". But not everyone was paid the "after" part.
"And we did find buses with titushkas parked near various district election commissions, as if in expectation of something," Taras expands. "Some said that they had come to 'protect results' for Pylypyshyn. He clearly did not need their services after all."
Taras believes that Pylypyshyn gained fewer votes last year because he had underestimated the potential of Levchenko and Svoboda. This time, he is well-prepared. Older Soviet-oriented voters who are the most proactive part of the local electorate were "motivated" with handouts all this time, while noisy agitation was all that was offered by the opposition. As a result, it shunned, rather than attracted typical local voters.
Meanwhile, as ever, Svoboda refuses to recognize its defeat – or mistakes.
READ ALSO: Pervomaisk-Cherkasy: quiet defeat and the art of fooling voters
Kyiv Oblast: The cancelled registration of the opposition candidate gives the green light to violations
Election rigging was systemic in District No. 94 in Kyiv. Yet, the outcome of this round was easily predictable before it even started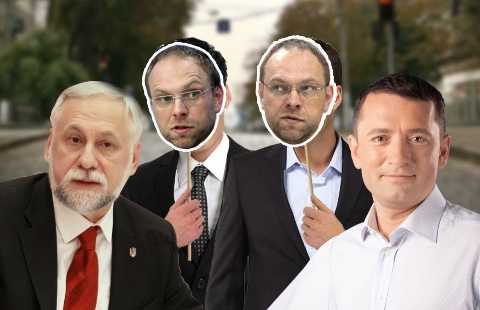 The pre-election generosity of the winner, Ruslan Badayev, was comparable in scale to that of Oleksandr Onyshchenko, now a Party of Regions' MP who, as part of his election campaign, brought Jean-Claude Van Damme to Kaharlyk, a tiny town in Kyiv Oblast with a population of around 14,000, based on the 2001 census. He got town council deputies to hand out food packages in Obukhiv, Ukrayinka and Vasylkiv, the three towns that make up District No. 94 in Kyiv Oblast. He used taxpayers' money to promote himself by opening swimming pools, buying mobile intensive care units and paying for children's summer holidays. He was openly promoted as a "candidate MP" on the Kyiv Oblast State Administration's website, despite the fact that the Law on Parliamentary Elections bans executive authorities from being involved in election campaigns. More importantly, he entered the race as a self-nominated candidate. Many of those who voted for him said they wouldn't have, had they known that he represented the Party of Regions. Still, these were not the key technologies that gave him 60%, 36% ahead of his opponent.
The outcome of the re-election in District No. 94 became clear after the Central Election Commission cancelled the registration of Viktor Romaniuk, an opposition candidate who had run in this district the first time in October 2012. Back then, he got 10,000 more votes over the pro-government Tetiana Zasukha, but the district election commission deemed over 30,000 ballots to be invalid. Shortly after the district got onto the problem list, Romaniuk faced a criminal case on charges of economic crimes. He escaped persecution by going to Italy and stayed there for several months. His opponents used this time to their benefit. A few weeks before the re-election, the Kyiv District Court of Appeal cancelled Romaniuk's registration as candidate, based on the requirement whereby a candidate must live in Ukraine for the five years prior to the vote. The Central Election Commission carried out the court's verdict after the registration deadline. Thus, Romaniuk could no longer re-register so Badayev's victory was a given.
The opposition did not have a Plan B for this scenario. Moreover, this technology may well be used against Vitaliy Klitschko in the upcoming 2015 presidential election.
READ ALSO: I Shall Not Give Up!
Several incidents that happened that day revealed the role of the police in the process. The officers on duty at the polling stations did not interfere when observers were being pushed out of the stations or were prevented from doing their job. They stayed away when someone knocked a camera out of an official observer's hands. This was done by election commission heads and members who must have been feeling pretty smug when doing so. One observer reported that clean ballots were taken out of the polling stations. Commission members said it was he who did this.