The road into the mountains starts from a railroad platform. One can set out to conquer the heights from the Transcarpathian side, say from Mukacheve. However, the capital city of Precarpathian lands provides the closest and most convenient springboard.
STEP ONE. IVANO-FRANKIVSK
Stepping off the train, you can immediately catch an electric train to Voronenko, Yaremche, Vorokhta, Bukovel, or Rakhiv, depending on where you want to start. There is railroad service in the mountains along the Prut, with little carriages climbing up and down bridges and meandering through meadows and tunnels. The trip will prove just as fascinating by bus to Yasinia, Rakhiv, Yablunytsia, or Berkhovyna. A motor vehicle can also pick you up at the railroad station in Ivano-Frankivsk which is also the final destination of most bus routes.
We chose one of the closest points to our dream destination on the map, Vorokhta.
STEP TWO. VOROKHTA
Vorokhta is a winding, picturesque village scattered over the mountains for several kilometers, although only 4,000 people reside here permanently. As in any other civilized place in the Carpathians, you can find a travel agent or guide who will show you the way to your destination. Or you can just ask the locals — they will tell you anything you need to know. These highlanders are a hospitable and amiable people. Besides, in the streets of virtually any village or town around here, you can find private firms offering a wide range of tours and entertainment activities, from rafting to paragliding to paintball and quadrocycling. And of course — transfer to the foot of Mount Hoverla, a very popular service.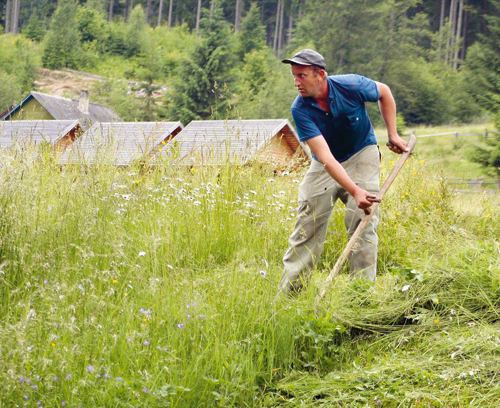 Green tourism and related infrastructure typically remain the prerogative of local businesses, rather than foreign investors. Thus everything here reflects authentic Hutsul culture. Nevertheless, there have been examples of investments coming from other parts of Ukraine. For one, the territory around the picturesque Pysanyi Kamin rock at the village of Bukivtsi has for some time now belonged to few men from Donetsk who are trying to rent it out. However, they face resistance since the locals do not really fancy the Party of Regions.
STEP THREE. ECOLOGICAL SECURITY CHECKPOINT
In Vorokhta we hire a taxi for 150 hryvnias, to take us to Zarosliak camp site. On our way there we pass by a solid arched viaduct built in 1894, and a wooden church dedicated to Saints Peter and Paul (this dates back to 1615).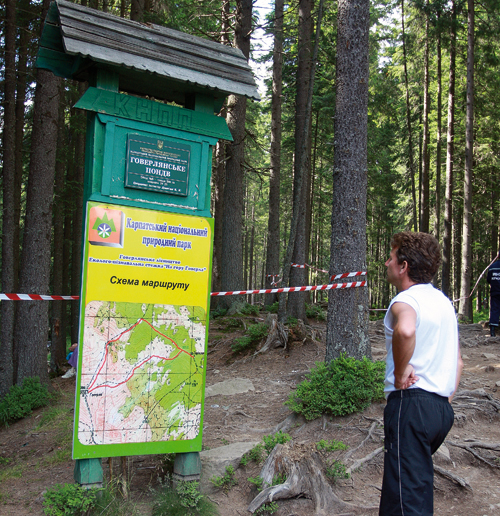 Just outside the village, the road into the mountains is closed with a bar. This is the security checkpoint for the Carpathian National Nature Park, in which Ukraine's highest peak is actually situated. We are officially charged 25 hryvnias per person for entry, with receipts handed in. We also get a map for climbers which contains a list of do's and don'ts for guests in the park.
There is no more asphalt after the checkpoint. A gravel road winds through the forest along the river bank all the way to the camp site.
STEP FOUR. ZAROSLIAK CAMP SITE
Another five kilometers, and we can see the pointed roofs of the camp site Zarosliak, 12 kilometers away from the center of Vorokhta. It offers quite spartan accommodations for 100 hikers.
Scattered around are about a dozen souvenirs stalls with Carpathian herbal teas, and wooden dolls. Certificates proving you have climbed Mount Hoverla are sold for 10 hryvnias. We spot a poster appealing to tourists on behalf of the Hoverla Forestry Service. It reads, "Dear ladies and gentlemen! Let the site you have left lure the others with everything in good order and tidy."
From here, climbing routes run to the peak which the sign says is 4.1 kilometers away. Two parallel paths are indicated with special marks. We have strong trainers, so we opt for the steeper one, the "blue route."
STEP FIVE. FOREST ZONE
The blue marks pop up on trees or rocks at each hundred meters. The route is clearly marked, and it is impossible to go astray even if you hike without a guide, like we are.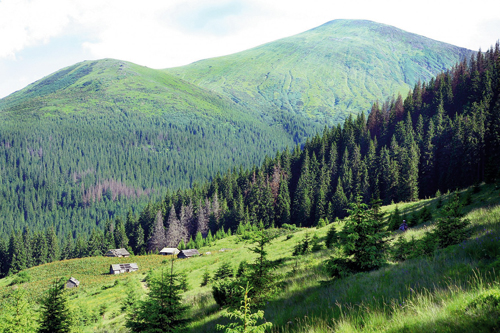 Then, suddenly we can see an old party billboard in the middle of the forest, big as life and twice as ugly. First we see a khaki-colored board with a picture of an obscure animal and a cryptic sign reading SERVE THE GREEN PARTY. We are puzzled beyond words — why should we serve the Green Party? Later, we run into another billboard, but this time around jokers have not messed with it. The full text says, PRESERVE NATURE. THE GREEN PARTY. There also were signs from the forestry service with pictures of deer and the warning, YOU ARE RESPONSIBLE FOR LITTER IN THE CARPATHIANS.
The foot of Mount Hoverla sits in a thick forest. Sometimes you have to make your way through dense brushwood, looking for the path which is now buried under a layer of needles, now hiding under the crooked roots of trees. Along the path runs the River Prut, you can glimpse it now and then, just a little mountain stream with occasional wooden footbridges across it. Sometimes, you can spot little waterfalls.
STEP SIX. SUBALPINE ZONE
The woods come to an end, and so does the pleasure trip. The fir thicket gives way to the so-called subalpine belt, the zone of low shrubs. Here, the temperature is noticeably lower than in the woods, by about 7-10 C. Sudden ground frosts at this altitude are a common thing in any season. Even in July or August, the temperature can drop to zero. Fog and sudden rain are likely nuisances, too.
We have also heard about another threat. People say that snakes have been thriving in the Carpathians this year and that the mountains are swarming with them. We put on jackets with long sleeves, trainers, and strong pants. Biting through all this gear would be a tough task, but we couldn't see a single serpent. Only harmless lizards flitting about.
STEP SEVEN. STONY PATHS
Once we are out of the shrubs, the winding path climbs up the slope. Only grass grows here. We keep track of the route looking for marks sometimes found on rocks and sometimes on special posts.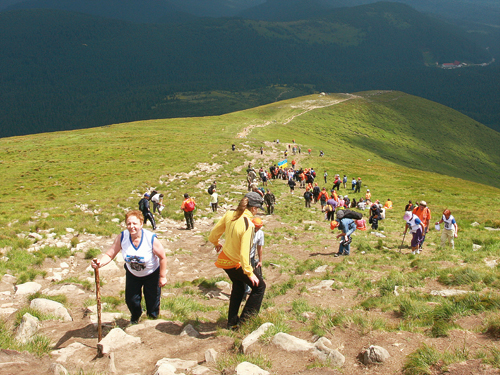 The steepness of the slope is alarming — it feels like it would be all too easy to fall and roll all the way back down. Breathing becomes harder for the lack of oxygen. But the landscape around is breathtaking mountain country, and all this together sends you into euphoria. However, we are running out of stamina, and Hoverla feels no closer.
STEP EIGHT. HOVERLIANKA PLATEAU
At last, we climb onto a little plateau known as Hoverlianka. Groups of exhausted hikers lie prostrate on the ground. Here we can also see an obelisk in memory of the climbers who died a couple of years ago. This is the only flat place in the entire ascent. If you have any tea and sandwiches left, now is the best time to treat yourself to them. Many hikers will linger here to rest a while, mustering their strength for the final stage. Others will turn back, reluctant to continue the climb.
This is the beginning of what is psychologically the most complicated segment of the route — the last spurt, some two or three hundred meters of climbing a slope at a 45-degree angle, something just beyond many hikers' abilities.
STEP NINE. THE SUMMIT WITH ITS CROSS AND TRIDENT
The summit of Hoverla, 2,061 meters above sea level, is a hard-beaten rocky platform with an area of about 200 square meters, with a metal cross, a marble trident, and a concrete obelisk erected on it. Some hikers drink mineral water, others take pictures, still others scrape up their last strength to do a victory dance. Many make cell calls to boast about their achievement. All the mobile phone companies get signals here, in contrast to Zarosliak where none do. Groups large and small are hiking the mountain from all different sides anxious to reach the top.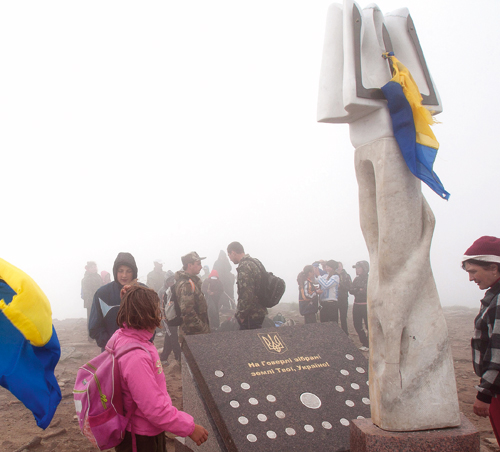 Environmentalists say that no more than 200 people a day should hike to Hoverla to preserve the land, but it seems more than that number are there climbing on just the weekends.
From the summit a breathtaking view of the closest peaks opens: Chornohora, Horhany, and the ridges of the Carpathians in Romania (the border is just 20 kilometers away). You can see clearly cottages that look like dollhouses in the meadows below.
The descent seems even harder than the climb. When we got back to Zarosliak, we were as hungry as hunters as we had finished all our sandwiches at Hoverlianka. So right away we ordered Carpathian mushroom soup (at 12 hryvnias a dish). When they saw these exhausted hikers, vendors hurried to offer climbing certificates, but we were quite content with the sweet awareness of having been there and seen that.
DINING
Vorokhta: café Hoverla and the Oksamyt, Stara Vorokhta and Donechky restaurants.
Yaremche: the Bilia Vodospady inn, Pyrizhkova Khata fastfood restaurant and the U Yakova restaurant. Prices everywhere are as high as in Kyiv or even higher, but service is quite comparable to that in the capital, and sometimes far better.
ACCOMODATION
Vorokhta: several green tourism farms, in particular, Raishtoky and Twelve Months, the Sports Center Ukraine, and the Hoverla and Zarosliak campsites and Hotel Pihy.
Yaremche: Hotel Prut, campsite at the bus station; campsite Horhany, at the Pid Skaloiu inn.