Two weeks ago, Uriadovy Kurier (The Government Courier), an official government newspaper, published the decision of the Interdepartmental Commission on International Trade to impose a special duty on imported cars. As of mid-April, for three years, passenger cars with an engine capacity of 1.0-1.5l or 1,000-1,500 cu cm will be subject to a 6.46% duty in addition to the current 10%, while vehicles with a 1.5-2.2l or 1,500-2,200 cu cm capacity will face an additional tax of 12.95%. Maybe under different circumstances, the decision could be a reasonable economic policy tool. In this case, however, some details signal that this is yet another shameful decision by the government, which could potentially have an adverse impact on both the economy and Ukraine's European integration.
A TAX ON THE MIDDLE CLASS
The history of the new act began in June 2011 when the Interdepartmental Committee launched a special investigation into passenger car imports. Eventually, a decision to impose special duties was passed on April 28 of last year. However, Viktor Yanukovych Jr. as the First Vice President of the Automobile Federation of Ukraine criticized it publicly. Even the influence of Petro Poroshenko, the then Minister of Economic Development – someone clearly interested in the act (he controls Bohdan Motors JSC that assembles vehicles, such as LADA, Hyundai Tucson, Elantra XD and Accent in Ukraine – Ed.) was not sufficient for the act to be passed. As a result, the decision was never published or put into effect.
After less than a year, the situation changed dramatically. It seems that the political, economic and geopolitical circumstances, and most important of all problems with replenishing the budget, reminded the "Family's young reformers" of this readily available solution. The decision was finally published.
READ ALSO: "Ready, Set, Go!"
Naturally, it sparked strong reaction in society. Increased duties only cover passenger cars with an engine capacity of 1.0-2.2l – almost 75% of the total domestic passenger car market. Meanwhile, duties on cars with a larger engine capacity, such as the Mercedes S600 or Porsche Cayenne preferred by Ukrainian MPs, have not changed. It appears that the government delivered on its promise of imposing a luxury tax, but only for the nominal middle class, digging into the latter's wallets to fill the pockets of only a few oligarchs. The new tax will also benefit Party of Regions' Tariel Vasadze with his UkrAuto, the plant producing ZAZ Lanos, ZAZ Sens and ZAZ Forza passenger cars and assembling Chevrolet Lacetti, Chevrolet Aveo and Chevrolet Evanda, VAZ-21093, VAZ-21099, Opel Astra, Opel Vectra and Opel Corsa, Chrysler 300C, Kia cee'd, Kia Sportage, Daewoo Lanos and Daewoo Sens. Moreover, like it or not, this decision could signal of some agreements between the government and Poroshenko. He has suddenly started to play an opposition role without any negative consequences to his business, which is not realistic, given the experience of the past three years. And his car business has indirect government support now that he is in the opposition, which he did not have when he was a member of Azarov's Cabinet. This urges many to think that the new-old image of Poroshenko as an opposition politician is orchestrated by the Presidential Administration which could be planning to use his dissent for its own interests in the future. For instance, he could win the Kyiv Mayoral election, secretly playing for the government, while publicly running as an opposition candidate. Only now has the buzz started on Poroshenko's possible advance on Kyiv as an opposition candidate.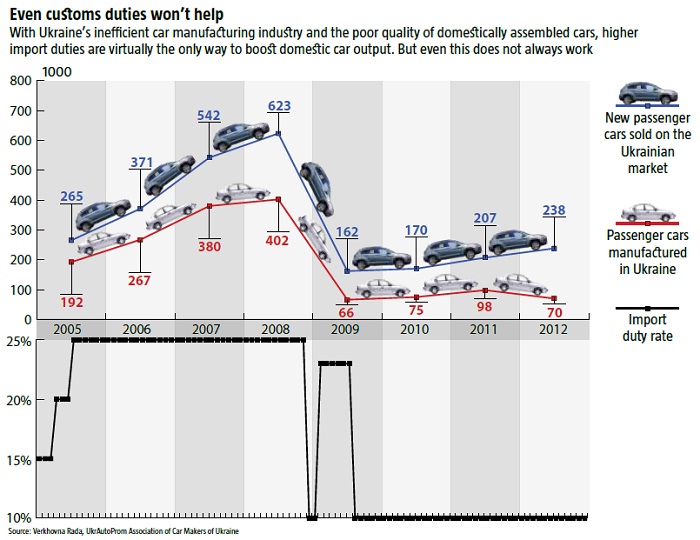 THE WORLD IN SHOCK
The West does not hide its confusion with the Ukrainian government's tax games. Six months ago, Ukraine, a WTO member, sent it a notification on the review of customs duties on an unprecedented 371 goods. The reaction from most WTO member-states was negative. In addition, it emerges that the government has yet to submit the list of new rates and compensation mechanisms to WTO members. This has fueled many negative comments from the EU, WTO and the US Embassy, but has not stopped Kyiv from imposing special import duties on cars that are already on the list of 371 items it wants to be revised. In terms of international politics, the government's new customs policy looks like just another attempt to provoke the EU into distancing itself from Ukraine, so that in time the latter has justification for drawing closer to the Customs Union.
READ ALSO: Auto Stop?
ECONOMIC PROSPECTS
Obviously, the government is promoting the decision to impose the special duty on imported passenger cars as a protectionist move. Although the world views tariff protectionism as an obsolete and rough instrument to boost economic growth, it can be effective under certain circumstances. Everything is in the details.
First of all, protectionism always adds to the cost for the ultimate consumer: those who give preference to good quality imported cars will pay the new tax with cash, while those forced to buy cars produced in Ukraine – with their time and nerve cells for a poor quality product. With the restrictions on imports of certain cars, consumers are deprived of the right to quality.
Secondly, importers face problems as their revenues drop significantly. Increased customs duties have never improved overall sales of cars on the domestic market or boosted the output of the domestic car manufacturing industry. Instead, there would be a mad dash to buy cars at old prices before customs hikes were put into effect, followed by a deep slumber once duties were actually raised (see Even custom duties won't help). As a result, car dealers cut jobs although they generally employ more people than Ukrainian car assembly plants do. Then comes the chain reaction of depleting turnover on other markets linked to car imports, including insurance, banking, leasing and more.
READ ALSO: Deficit Looming Large
Thirdly, this protectionist move will not generate extra revenues to the budget. After three years of "improvement", people's income is shrinking. Coupled with the inaccessibility of loans, this will hardly facilitate car sales. Meanwhile, the latest changes could make it unprofitable for car dealers to operate in Ukraine. As a result, they will move to the shadow or close down their business altogether. Thus, the effect in the budget of the new special tax could be minimal, or even adverse in the current situation.
Hypothetically, the new tax should improve the situation for domestic car producers by increasing their market share and revenues. But even here, things are not that simple. If they do earn profits, which they then transfer to offshore zones, neither consumers nor the industry will ultimately benefit from the duty. And this is exactly how they work after a crisis, avoiding investments into the localization of car manufacturing. They find this sort of investment unprofitable: before the crisis, they expanded assembly capacity while customs duties were much higher. After the crisis they merely minimize costs because the capacity of available facilities significantly exceeds market demand. In reality, whenever the market plummets, Ukrainians opt for quality. In 2009, despite a 13% duty imposed for six months, domestic output of passenger cars shrank by 84% although the total market declined by 71%. So, the main question now is whether the new duties will help domestic car producers in the current macroeconomic situation. And even if they do manage to earn extra revenues, is there any guarantee that they will be used to develop the industry?
READ ALSO: I Park Like an Idiot
After all, the decision to raise import duties on cars made by the "young team" of ex-NBU Governor Arbuzov & Co is hardly different from Azarov's Soviet approach to economics. On the one hand, the "reformers" are quite proactive. Their self-confidence and the Family's trust in them, so far limitless, leads to rash and wrong decisions that could fail in the future. On the other, their creative efforts are limited to a deeply Soviet style, while their views of economic prospects do not go beyond the current obsolete structure. They believe that the country can only develop with power and cash flows being fully consolidated in the hands of the government and major restrictions for economic counterparties. This "reform strategy" proves that the "young reformers" are several decades behind current international economic debate. The worst thing is that Arbuzov & Co share the old Cabinet's foreign policy vector which is looking towards the Customs Union, threatening to turn Ukraine's economy into a closed and technologically obsolete one.