Singing, holding hands, flag waving, chanting in a huge crowd. Those are just a few memories of the millennials from the events 3 decades ago. The Revolutions of 1989 changed the face of Central and Eastern Europe. Now it's but a distant history of very different times. For some the hope of changes happened too quickly, others enjoy the fruits of success, far beyond their expectations.
"It has been long since the war", – in her Facebook post wrote Ieva, a successful young Lithuanian woman, who works as head of communications in one international company. This post on 9th of April very quickly went viral and until today remains part of a common jargon to describe certain part of population.
It was not about the war at all, just a metaphor to point how life has changed in Lithuania. If late 80s and early 90s could be described as threshold, where poverty, fear, chaos, lawlessness, things short of war situation were mixed with wild hopes and aspirations about the uncertain future, this starting position for modern Lithuania would be a mark, comparing with other countries of former Soviet prison.
And where are we now, three decades later? The very question is still highly debatable and often ever overcritical of themselves Lithuanians tend to notice darker shades, instead of noticing the good. Ieva attempted just that and triggered a larger discussion, that spilled in various colors of reflection – even the outgoing president Dalia Grybauskaitė herself gave a review of not only her decade in power, but offered a larger look.

Don't look back and see the bright future
"There have been conflicts and arguing in various bubbles, but I dare to say, that in a nutshell everything is ok with our country. We are learning to live in freedom, I see a lot of sacrifice and people, who care about everything. The maturity of our State is reflected in international recognition – name of Lithuania is mentioned with honor and trust, we have our voice in EU and NATO, our ideas matter, we form the international agenda and we are not to be pushed around", – said president Grybauskaitė, mentioning support to Ukraine.
Her second and final term ends in July, so in her last speech she not not only warned not to look back to the East, but also look forward – the next 30 years.
"We are living in good times. We have great potential in bio, cyber and information tech, public services and high tech industries. Internet speed is a matter of pride and in e-services we are at the top 5 among European countries.
RELATED ARTICLE: Vytautas Landsbergis: "Ukrainians are now undergoing a long endurance test"
Our scientists can offer inventions not just to local economy, but to the world – data and human mind is the new oil. Our FinTech sector with over 170 companies is the signature of our growth", – she went on, while President of the European Central Bank Mario Draghi confirmed this as Lithuania is now a "go-to-European destination for financial-technology", coming second after UK.
One of the leading startup hub-investment friendly nations, and, according to Swiss IMD world competitiveness rating – 29th in the world, ahead of all neighbors, Lithuania has a slowing, yet still booming economy with growing average wage € 800 euros after taxes and € 27900 of average GDB per capita per year is clearly visible in certain bubbles of society.
With tradition of emigration finally over (more people are coming to Lithuania since last year, than leaving), the consumption is at all times high: people can afford to buy better good, better cars and banks enjoy higher interest rates with demand of new homes (as well as builders from Ukraine) skyrocketing before the ever growing warnings about impending new financial crisis.
If few years ago people complained about growing prices, now economists, like Zygimantas Mauricas are talking about growing middle class and their wages, that have already surpassed some of the older EU states, like Greece.
"The younger Lithuanians (25-49 year olds) have higher income than their counterparts at is at 50% rate of EU", – he wrote, adding that in general growth of Lithuanian GDP per capita has reach 82% of EU average this year and could surpass this number in 2034 with 3% annual growth, unless there is a crisis.
Few would like to think only in optimistic colors, nevertheless Lithuanians on average still spend more, than they earn, especially the younger generation, who don't have memories of crisis of 2008, 1999 or even hardships of late 80s and early 90s, when they were crawling babies or weren't even born.
Crème de la Crème
This was exactly the point of Ieva's post, when she wrote only about Lithuanian upper middle class – not the rich, who made their fortune in business over the decades, but rather the cream of Lithuanian society, mostly urban, young, hopeful, Western in nature, earning several thousand euros per month and more.
"We bought a hoover and I thought it'd be as good as the one my dad has bought 17 years ago in a flea market in Germany, when he drove an old Mercedes from there. And then I thought how things have changed: we take secondhand cars, fix them and sell to Ukraine as we afford new cars, new branded tires.
We're spoiled as we've seen all of them operas and musicals in London and Rome, we can easily afford traveling to Tanzania, Kenya, Argentina, while Australia, New Zealand and Asia is already too mainstream for us. I remember my mum traveling France on a bus, now in next few years they'll have all continents on their visited list. We can`t chose where to brunch due to variety of choices – we've tasted it all.
We feast on truffle butter, we drink lemongrass latte and exotic cocktails for € 12 euros, we buy expensive shower gels and shampoos and dental paste, robots and other expensive household items, we subscribe on Netflix and Amazon prime – € 100 per month for good content is ok.
Men groom their facial hair and posh barbers thrive. Spa, massages, tennis, lawlessness – they're all overbooked in advance. Few years ago we cared about defense and cyber, now we care about woman and animal rights. Even our kittens shit in specialized cotton-silicon bubbles and eat only balanced food", – Ieva wrote among other things.
Naturally, this caused a storm of reactions – from laughter to anger as she wrote only about slowly expanding, albeit still small number of people, maybe 10,000 strong of a population 2,8 million. Ieva herself recently turned only 27, so she's a late millennial, a generation born in 80s and yearly 90s.
She has not seen the dramatic changes her parents had to endure during the fall of communism, early years of wild capitalism, trying to adapt to the "Western standards"– until recently popular and magical phrase, describing the the race to catch up with the living standards of the West.
Success – from hope and from scratch
Back in 1989 in Lithuania and Eastern and Central Europe in the general the future looked uncertain – a mix of hope as well as gloomy predictions. The failing soviet empire and it's economy, oppression, queues at those few shops with poor selection of goods – for Ieva's generation this looks as a grey colored picture from the past they never seen with their own eyes.
Reality may be closer, than it seams – a very reason, why critically acclaimed HBO hit Chernobyl was mostly filmed in Lithuania's capital Vilnius, one of the districts, reminiscent of Pripyat – a majority of 700 old Vilnius population still live in soviet era buildings.
Yet those hopes with revolutions of 1989, that ended communist rule in Central and Eastern Europe have left very different marks in countries once behind the Iron curtain.
They were never equal to begin with – since 40s many, when Iron curtain fell, life in soviet occupied Lithuania and, say socialist Poland, Hungary or even East Germany have been completely different: for Muscovites Baltic states seamed Western already, for people of Baltic states life of socialist Germans, Poles or Czechs looked like a Western dream.
Few imagined how it would look like in several years after the fall of USSR or decades later. Irrelevant of who was in power and what the Moscow has been saying, Baltic states, Poland, Hungary, Slovakia, Czech Republic and to extent Bulgaria and Romania chose to jump into EU and NATO train. This required radical, sometimes painful, but necessary reforms.
It wasn't quick, flawless and did not eradicate corruption, populism, did not bring happiness to all. But there was never a doubt about direction and it paid off – at least for Lithuania reforms brought Western mentality into public sector, business and everyday life.
"It was February of 1990 when I've opened the doors of the parliament for the first time after first free elections. I was 32 back then, almost a child", – recently wrote Rasa Juknevičienė, a long-time MP, former minister of defense and now a former leader of NATO Parliamentary assembly, as she's been elected as MeP from Lithuania recently. She said, she could not have imagined 30 years ago, then a doctor from the province, she'd later be present in international arena, represent independent Lithuania and speak as equal to the head of Pentagon, advocating not only for Lithuania's cause, but also of Ukraine.
She was present during the turbulent events of 1989–1991 and proved to be a strong supporter of NATO, United States and Ukraine, traveling to frontline in Donbas as well as supporting Kiyv at every international opportunity. One of her last moves in NATO PA was to invite leader of Ukraine supporting NGO Blue/Yellow Jonas Ohman to PA session to speak about Ukrainian situation. Things have changed for many over years.
"The challenges we faced to create our army according Western standards were immense, because in a way, we still had a lot of soviet army in Lithuanian army back then. Then again, we did not have other experience, and back in 1994, when I returned home from Germany, from officers training course I was the first Lithuanian officer to try the taste of Western military. We had to learn everything – procedures, training subtleties, languages and it wasn't easy to defeat the smell of 50 years of occupation",– recently said the outgoing commander of Lithuanian armed forces, general Jonas Vytautas Žukas.
Back in 1989 he was a short, thin volunteer with mustache and a green armband – one of the few, armed with hunting and sporting riffles or simply iron sticks, who would make a stand against soviet army with tanks. Those first volunteers would later make a core of Lithuanian army, created from scratch. Now, 30 years later, Lithuanian soldiers help train Ukrainian counterparts in "NATO standards".
And despite Lithuanians do like to moan now and then about standards of living in Poland, Czech Republics or especially Estonia, where those standards are slightly or somewhat higher, the starting position of a country with small population and virtually no natural resources, teasing warnings from Moscow "how will you manage alone without us?" was the same and grudges are slowly sinking into the past.
Surpassing the expectations
Now more Lithuanians consider themselves Western, rather than Eastern Europeans, when traveling abroad. There is still a large and unspecified number, maybe half a million of Lithuanian immigrants, who went abroad to seek better wages or any job to support their families, who haven't returned.
State supported and young, urban likeminds as Ieva herself run programs, such as "Create Lithuania" and "Invest Lithuania" are headhunting hard to recruit young professionals with experience abroad to return to their homeland.
Some do, as they bring along very different business culture and generally different approach of work environment – little things to improve micro-climate in companies or public sector and communities, all of that natural in the West and still somewhat foreign to some.
Few of those, who returned did not need any state help and made their own little fortune. Sigitas, 65 now earn € 350 per month of his pension and adds € 650 more on his part time job as mechanic.
"It's enough for me", – he says. Sigitas spent 13 years in Sweden and six more in Denmark, where he started his little business as lorry driver in a small logistical company with a Latvian friend from soviet army times. Their company grew from 3 trucks to 50 and Sigitas made enough money to build his own house near Vilnius and buy mechanic shop. He came back as many reemigrantes do – because of the sentiment.
Still 64% of population is unhappy how democracy works, warned president Grybauskaite. Distrust in political parties, parliament, government is still in high numbers and certain decisions or actions, like political deafness, attempts to control media, law institutions and ignorance of Constitution leads to destruction, she warned.
Yet many of those day-to-day problems all too often sound just business as usual in European politics: there are institutions and NGOs, leading pro-Western parties and communities as well as independent media that helps the state with self-control. One of the last indicators of a free society was an LGBT parade in Vilnius, the other week.
RELATED ARTICLE: Dovile Jakniunaite: "In Ukrainian case we can speak about social-economic plus external influence"
Only 9 years ago during the first parade the LGBT community had many reasons to be afraid – cornered and fenced in a more distant area of Vilnius with heavy police protection they've marched under wave of angry mob, which was throwing bricks and insults.
This year the parade looked more like a fest in the downtown, with minimal police presence, no insults or harassing, no incidents, no arrests, just thousands of happy people – not just LGBT community, but random supporters, families with children as well – simply another peaceful march with demands to defend human rights.
The few disgusted had their chance to express dissatisfaction and were more unhappy due to little coverage they've got – few really care about the issue, that has caused waves just 9 years ago.
Shift in mentality is becoming more visible, when national events are celebrated these days: in general they remind a celebration, with communities and families enjoying a day off in public, without extra and forced fanfare or pressure and grim faces. Lithuanians are becoming happier every year and it shows.
This theory may be still put to a creative test this year, when 30th anniversary of Baltic Way – a chain of 2 million people, who joined their hands to form a human chain spanning 675.5 kilometers across the three Baltic states will be celebrated. The author of these lines was part of that chain, now it's just a sweet memory of times when Lithuanians and others sought to fulfill their hopes. Despite all potholes on the road those hopes seem to have surpassed some of the expectations.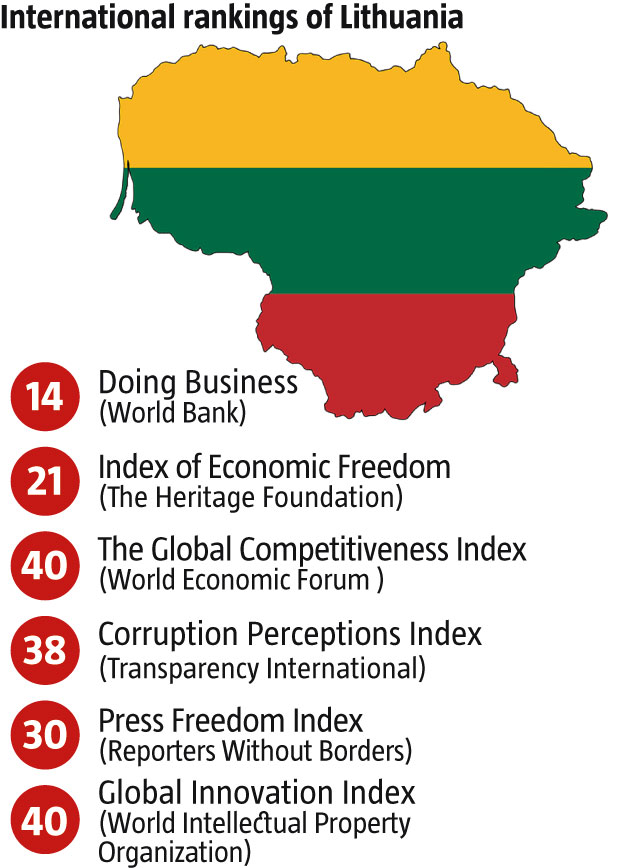 Follow us at @OfficeWeek on Twitter and The Ukrainian Week on Facebook