While the cost of living in Ukraine is skyrocketing, the financial support for the public and government sectors is decreasing drastically. Most citizens who get their wages from state budgets of all levels have already found themselves below the subsistence level. The budget deficit and the pre-default position of Ukraine don't provide grounds for the increase of payroll budgets in the near future. Without solving this stalemate, that is, the situation when the salaries of government and public sector employees are not sufficient to cover their most basic needs, the quality of the services they provide is bound to deteriorate.
Within the confines of poverty
The Ministry of Social Policy regularly publishes data on the "actual cost of living." This is a technical indicator used to "monitor the dynamics of the living standards in Ukraine." Whether to give this indicator an official status or not is decided by the Parliament, whose responsibility is to determine a figure of official subsistence level in the annual state budget, a process that is often arbitrary and politically-motivated. In terms of April 2015 prices, this subsistence level amounted to UAH 2,561 or around USD 115 at the current exchange rate (UAH 2,317 net of individual income tax) for able-bodied persons, UAH 1,882 or USD 85 for pensioners, and UAH 2,593 or USD 117 for children under the age of six.
The subsistence level has increased since December 2013 by 80-98%, while the gross minimum wage rate has remained unchanged, at UAH 1,218 or USD 55. However, this increased subsistence level is in fact that of December 2013, merely adjusted for inflation of the past 18 months. Back then experts already lamented about the obsolescence and divorcement from reality of the methodology used to define the official subsistence level, stressing the need to adapt it to the dictates of the time.
RELATED ARTICLE: Positive and negative results of austerity and painful economic reforms
The increased cost of living affected all employees working in the Ukrainian economy. While the minimum wage rate is only indicative in the private sector, since salary levels there are determined by the market rather than legislation and considerable amounts are paid unreported in envelopes as "bonuses," for state employees this indicator actually reflects official salaries. According to official statistics, while minimum wage rates remained frozen since the end of 2013, average wages continued to grow in other sectors.
Across the nation, accrued average wages increased from UAH 3,167 (USD 140) to UAH 3,998 (USD 180) between January 2014 and April 2015. In sectors with less shadow income, salaries increased by a factor of 1.5-2: in air transportation, from UAH 9,600 to UAH 18,000; in finance and insurance sectors, from UAH 6,500 to UAH 9,700; in information and telecommunications, from UAH 4,500 to UAH 7,100. In other sectors, where private business prevails, such as hospitality, retail trade, construction and transportation, the increase of official salaries was much lower; however, typical for them is a significant gap between reported pay and total reward that includes "enveloped" cash.
Another long-standing problem with the salaries of public sector employees is as follows: their salaries are regulated by the Unified Tariff Scale (UTS), where the basic salary of a first category employee remains at the level of UAH 852 (around USD 38). This is below not only the actual subsistence minimum for the able-bodied (UAH 2,561), but also the minimum wage rate (UAH 1,218) set in the state budget back in December 2013.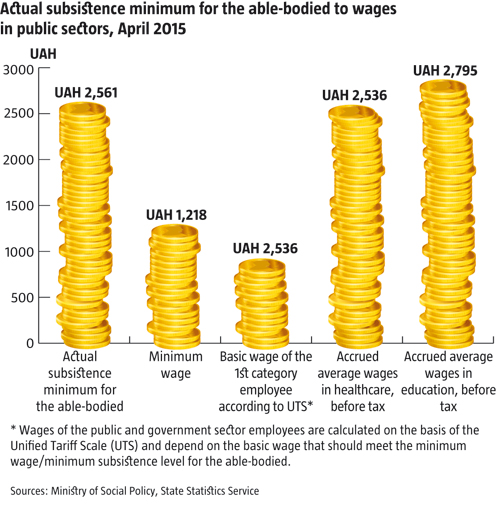 As a result, even if dependent children are not taken into account, the overwhelming majority of state employees are already below the subsistence minimum. In April 2015, with the official subsistence minimum for able-bodied employees established at UAH 2,561, accrued average wages in healthcare sector were just UAH 2,536, in education UAH 2,795, and the employees of libraries and other cultural institutions received UAH 2,694. Moreover, most employed in these sectors are paid significantly less than the average salary. For instance, in the education sector, salaries differ by types of institutions, bonuses for academic degrees, extra hours worked, etc. Gross salary of an average high school teacher or a medical doctor is usually around UAH 2,000-2,500. Even in categories such as "public administration and defense, compulsory social insurance," that covers a wide range of staff categories, average gross salary in April 2015 amounted to just UAH 3,892.
Insolvent budget
It is impossible to increase spending on payrolls of public sector employees from state and local budgets. Despite the recent populist speculations of some politicians about the unprecedented "budget overperformance" in the first months of the year, allegedly allowing for salaries and pensions adjustment for inflation, this situation is in fact only temporary and fragile.
Indeed, the consolidated budget surplus in the first four months of 2015 reached UAH 18.5 bn (which, by the way, equals to only 10% of budget expenditures over this period, and therefore is not the reason for a substantial increase in salaries). But even this surplus was due to temporary factors, which will not exist in the remaining months.
According to the Ministry of Finance, consolidated budget revenues were higher in those sectors where prices for imported goods increased in hryvnia due to devaluation. Thus, a 30.5% increase in the nominal consolidated budget revenues in January-April 2015 compared with the same period of 2014 was due to the increase of revenues from VAT on imported goods by 54.2%, from excise tax on imported goods by 79.8%, and from import duties by 177.9%. In total, these three budget revenue items brought UAH 58 bn to the state treasury, compared with just UAH 34.4 in the same period of 2014.
However, a further increase of these revenues will be much lower. In the first quarter of 2015, the worst devaluation of the hryvnia took place, with its official exchange rate (used for customs clearance of imported goods) for a long time remaining at UAH 25-30 to the dollar, which is at least 2-2.5 times higher than in the same period of 2014. In the fall of 2014, imported goods were cleared at the rate of 13-16 UAH to the dollar; therefore, to ensure a revenue growth at the Q1'2015 rate, a new round of deep hryvnia devaluation is needed in the fall, at least to the official rate of UAH 30-35 or more to the dollar. So, a similar increase in tax revenues from imported items in the second half of the year will only be possible if the government turns to such extreme economic scenarios.
Besides, almost half of the consolidated budget surplus in January-April 2015 was generated by the fees for the issuance and extension of licenses (mainly permits for 3G networks issued to three mobile operators), which amounted to UAH 8.87 bn compared with UAH 0.16 bn in the same period of the last year. These revenues were one-off and transitory. There are no reasons to expect similar new revenues in the remaining months of this year.
RELATED ARTICLE: Transition from oligarch economy to EU membership for Ukraine
Meanwhile, spending on education and healthcare, only during the first four months of 2015 and even at the current extremely low salary rates in these sectors, amounted to UAH 52.6 bn. In annual terms, the budget would need several hundred billion hryvnia to ensure the necessary tripling of salaries in these sectors, which the budget just doesn't have. And, as evidenced from our further analysis, it will not have the necessary funds in the future either as the tax base is narrowing and a large number of employable citizens of Ukraine evade taxes and full-fledged participation in the financing of Ukraine's social infrastructure.
One-way traffic
Currently, there are 40-43 million residents in Ukraine (figures vary depending on whether the occupied districts of Donetsk and Luhansk Oblasts are taken into account). However, less than a third of them pay taxes, even though all of them without exception claim "free social services guaranteed by the Constitution" to be provided at the cost of the state budget. In addition to 12.15 mln retirees, who are in their own right, there are a few million "economically inactive people of the working age." Some of these citizens are university and college students, a small share includes those who can't work for health reasons, while the rest are actually quasi-unemployed: 2.4 million are "employed in the household" and another 0.5 million fall into other categories, such as "desperate," "not knowing how to look for a job," etc. Another 1.85 million Ukrainians are officially recognized as unemployed according to the definition of the International Labour Organisation (ILO).
Out of the 17.2 million able-bodied citizens who are formally employed, in 2014 only 8.9 million were employed full-time by enterprises with more than 10 employees, 1.4 million worked for microbusinesses and private entrepreneurs, and another 1.5 million were microbusiness owners and individual entrepreneurs. These 11.8 million taxpayers are the ones who carry the burden of the entire social and public infrastructure (education, healthcare, and public services) in the country of 40 million residents (exclusive of the occupied territories of Donbas).
The remaining 5.4 million of the officially "employed" citizens are farmers working on individual household plots and some other categories of citizens whom the state refuses the status of the unemployed (having part-time, temporary, seasonal jobs, etc.). The State Statistics Service in its surveys defines as "employed" anyone who "worked during the surveyed week for at least one hour," and not only on a paid basis, but also "for free for an enterprise, for family business or on a household plot," as well as those who "formally have a job or a business, but did not work during the surveyed period for any reason." The vast majority of these citizens only pay indirect taxes included in the price of goods and services they consume (VAT, excise tax, etc.). At the same time, they pay practically no income tax or social tax.
RELATED ARTICLE: Money of the Donbas: Underlying causes of unrests in Donetsk and Luhansk oblasts
In this way, the total number of citizens of the working age who don't pay taxes, but are not officially considered to be unemployed in 2014 amounted to 8.3 million (2.4 + 0.5 + 5.4), and another 1.85 million were unemployed by the ILO definition. In total, more than 10.1 million people who are not pensioners, disabled or students, pay no taxes to the budget and no social security contributions, but claim free services in the public sector and access to public services on a par with those who make such contributions from their income on a regular basis. This category almost equals the total number of pensioners (12.15 million) and salaried employees (10.3 million).
Meanwhile, the number of full-time employees who are the main payers of personal income tax and, most importantly, of the contributions to various social funds is steadily declining. Only from April 2014 to April 2015, the number of people employed by businesses employing over 10 people decreased from 9.5 to 8.1 million. Almost half of them are now employed by state enterprises and institutions, including more than 2.2 million working in state-funded education and healthcare.
This sharp decrease in the number of full-time employees by almost two-thirds was due to the loss of jobs in the territory controlled by the terrorists in Donbas, where the number of such employees decreased from 1.5 to 0.6 million from April 2014 to April 2015. However, even without account for the area of the counterterrorist operation, the decline in the number of full-time employees during this period was significant, amounting to 0.49 million, or 5.5%. The data available for the recent years show that the trend is not new, but is gaining momentum with every coming year. There were 10.6 million full-time employees in March 2012 in Ukraine, inclusive of Crimea and Sevastopol, while in March 2014 there were 9.97 million of them. This means that at that time the decrease rate barely exceeded 5% in two years, whereas now a similar decline happened within a year.
Looking for a way out
The problem of inadequate tax base for the financing of education, healthcare and other public services only deepens, and within the current model, this trend will continue. As a result, employees of these sectors will lose any motivation to do their work well and to grow professionally in line with the need of the time. Ukraine will thus face a quiet humanitarian disaster as a result of the complete degradation of education and healthcare services provided to the vast majority of the population.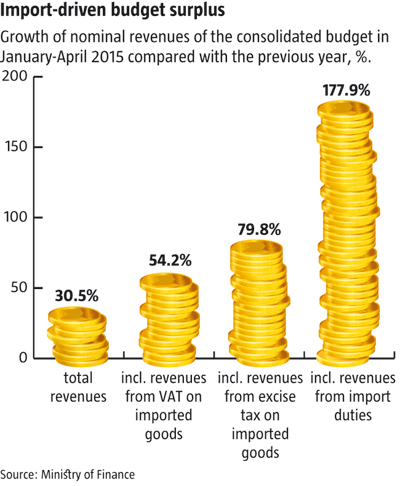 The processes that are taking place today seem to reflect a dangerous self-deception. Mechanically cutting spending on education or healthcare will result in the destruction of these important sectors and their rapid degradation, whereupon they will no longer be able to function, but will simply imitate the process. What Ukraine actually needs is to start calling things by their proper names and bring social standards, minimum wage and the Unified Tariff Scale in line with the actual cost of living. The shortage of funds in the state treasury should not be an obstacle to their long overdue triple increase, as a minimum. However, this increase should not happen at the expense of the state budget, which simply has no resources for it. The problem should be resolved by a radical staff reduction (by two to four times) where possible (bureaucratic apparatus, regulatory authorities, law enforcement authorities). Where it is not possible (education, healthcare), a more differentiated approach is needed. Another solution would be establishing, on a mandatory basis, additional employee remuneration funds partially financed from payments for services by direct customers, or, in case most customers refuse to pay, gradually reducing the number of employees, simultaneously reducing the length of compulsory education (to nine or even five grades), with further education being fee-based and voluntary, and limiting the amount of services provided by public hospitals free of charge.
Of course, a radical wage increase for public and government sector employees by at least three times will result in the necessary layoffs of those whose wages cannot currently be covered by the deficit-ridden budget and will not be provided by the consumers of their services. According to different estimates, from 0.5 to 1 million currently employed civil servants, teachers and medical doctors will join the official ranks of the unemployed. After all, the main reason for the current budget sector financing gap is the fact that the funding is still provided along the patterns of the centrally planned Soviet economy, while most residents of Ukraine using those patterns are living by the rules of the market economy, trying at the same time to avoid paying taxes and duties by any means and still claiming the free services guaranteed by the Constitution that they had in the Soviet times. Therefore, solving the problem of financing social allowances, pensions, healthcare or education will only be possible with a new model that would either ensure that anyone using public services pays for them, or make them unavailable to those not willing to pay taxes.
There is no other alternative in the current market situation for overcoming the outrageous poverty of the public and government sector employees. The experience that we already have in other sectors of the economy tells us that bringing prices and tariffs for goods and services to their actual level would cause a substantial reduction in their production and in the number of related jobs. Eventually, those who were laid off will find jobs in their fields of expertise in the private sector or retrain to do other work. Besides, raising the incomes of those employed in education, healthcare and the public sector in general to normal standards will enhance their purchasing power and create additional demand in the market for new jobs.