Based on the novel by Uzhhorod-born author, Oleksandr Havrosh, The Amazing Adventures of Ivan Syla, the Strongest Man in the World, the project for the film was born last year, when Dnipropetrovsk-based producers Volodymyr Filippov and Andriy Suyarko were shooting the final scenes of Mykhailo Illyenko's FireCrosser. Ivan Syla or Strong Ivan is being filmed at four locations and touches on three countries. The main character is played by Dmytro Khaladzhi, who, just like Ivan, was recognized as the strongest man in the world, and is now a performer in an American circus. Viktor Andriyenko, a well-known Ukrainian comedy actor, was a find for the project as director and co-author of the script with Ihor Pysmennyi. Viktor Andriyenko guides The Ukrainian Week through the upcoming complicated historical film for children.
U.W.: How did this project start?
My condition was for a good quality screenplay with a clear vision of its development — I wasn't even interested in money. The producer's condition was a children's theme. This is what we agreed on. So I started to search. I saw Oleksandr Havrosh's book at my friends' house in Lviv. Everything started from there.
U.W.: Your film has to have up to 10% of animation. This is an obvious novelty in Ukrainian cinematography. But it's quite an expensive endeavour, isn't it?
Well, let's think about it: in the screenplay, for the scene at a railway station, we need — the actual train station, which has to look like one from the early 20th century, carriages with the same requirements and a crowd scene requiring 300 people. Isn't it better to simply draw all of this?
U.W.: In addition to the animation, so-called animatics — a visualized computer model of the film – has been created for it. What is the level of the director's freedom in this situation? In other words, does the animatic model leave little space for a director to be creative?
You have to understand that the animatic model is created under my supervision. It helps to work with actors: before filming a scene, I gather the actors and specifically show them how it should look. Olha Sumska once clapped her hands, saying: "It should always be done like this so that I know what I'm supposed to do in the shot!"
U.W.: I think that such a system also significantly simplified your work with Dmytro Khaladzhi, because he is not an actor. How did you choose him and how did you prepare him for his first ever role in a film?
I found him by accident. And the fact that he is not an actor – well, we had no other option. But we dreamed up one interesting thing — when we understood that we couldn't find someone who was both an actor and a person with the physique we required, we simply "took" the text away from Dima. So he began to work with his eyes, he began to work internally, something that everyone can do – not necessarily an actor. We spoke to the young actor playing the role of the boy (the young Ivan – Ed.) as if he was an adult, psychologically preparing him for the adult execution of his role in the scene and for serious communication with adults, with Ivan himself, who can break a person in half, but at the beginning of the film, he himself still looked like a child — he came from a village to the metropolis and saw a car for the first time, wow!.. The most important thing for us in the film is that everyone who speaks to Ivan, changes. The boy was a thief, but becomes an honest person. And even the anti-hero, Fix, who does nasty things to Ivan – when Ivan breaks a record, winning against the Czechoslovakian champion, the only one in the hall who claps for him is Fix. Ultimately, Fix gives up his life for him.
U.W.: What is the moral of the story?
A person who has a pure soul, unconsciously changes the world around him/her. I'm not going to argue about whether Firtsak, the real man behind the protagonist, was such a person or not. A movie is a movie, and this one is also a children's movie. So we show this to children, literally show them, because a person has to either say or do something. So we allotted actions to our heroes. Cinematography is not theatre, it doesn't have to have visualization. In conclusion: the brief action of a person says more than a long-drawn out ambitious talking without doing anything particular.
Director
Viktor Andriyenko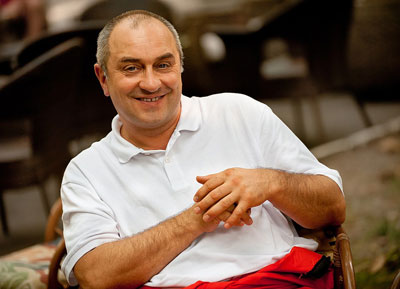 Actor, director, script writer and stuntman Viktor Andriyenko was born in Zaporizhzhia. He worked on TV and radio, acted in the theatre, did voiceovers for cartoons. His career as a director began with Treasure Island in 1986. A well-known comedy actor, Viktor Andriyenko made his debut as a drama actor and screen writer in the 13th Kilometer, a short-length drama film from 2008.
Producer
Volodymyr Filippov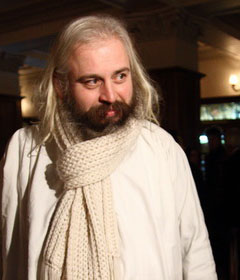 The Dnipropetrovsk-born producer was involved in various TV projects, from serials to films. Together with another producer, Andriy Suyarko, he founded Insightmedia, a production company. In 2008, he produced Mykhailo Illyenko's film FireCrosser in which he invested USD 1 million of his own funds. He presented his new project Strong Ivan at the Cannes Festival in 2012.
The cast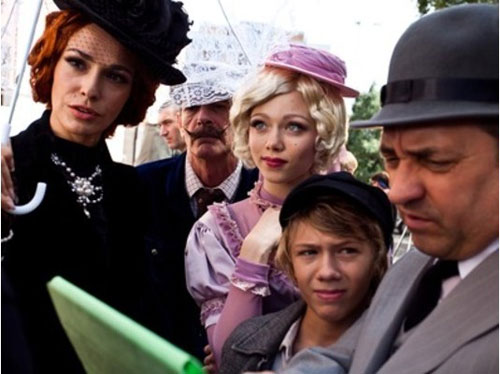 Only Ukrainian actors of the stage and film were involved in the film: Oleksandr Zadniprovskiy (Ivan Franko Theatre), Olha Sumska (Lesia Ukrayinka Theatre), Vyacheslav Hindin (V.A. Afanasiev Theatre, Kharkiv), Mykola Lutsenko (Theatre at Lypky) and others. For the first time, two Ukrainian sportsmen, world power-lifting champions, Dmytro Khaladzhi and Vasyl Virastyuk, will be filmed for a movie.