Zelenskiy's energy policy has increasingly turned into explosive mixture of populism and imitation. At the same time, even those small gains in strengthening the country's energy independence that were achieved in previous periods are being lost. Unless it changes dramatically in the near future, it will soon become clear that the country's long-term energy security interests were sold for short-term benefits to individual players and lobbyists of increasing imports of most energy resources into the Ukrainian market. And the money earned by such players and their partners in Ukraine will turn into losses and long-term negative consequences for the whole country.
Not by deed, but by word
Zelenskiy himself does not seem to understand what is really happening, but he pretends to be sincerely worried for the state's energy policy to be aimed at protecting the interests of the little Ukrainian. A prime example of this was a series of PR events in late 2019, such as networked and telecast videos from energy meetings featuring the guarantor.
"Communal utility bills cannot be a sentence for people, and they cannot give 50-60%, sometimes even 70% of their salaries," urged Zelenskiy at one of such events. Whereas the government officials who nodded to him during this meeting, by their own decree #878, on the contrary, increased by one-third the share of the citizens' income paid for utility services before they could apply for a subsidy. "We know that the price of gas has fallen by 30% and tariffs unfortunately haven't," the president continued. Although in October Naftogaz set the price of gas for the needs of the population at 4.27 UAH per m3(excluding VAT and costs of supply and distribution), while in December it was 4.28 UAH per m3, and for the first quarter of 2020 the price has already been set at UAH 5.5 per m3(excluding VAT and costs of supply and distribution).
Likewise, generous promises of thermo-modernization from the president and government are just going to be a drop in the ocean. In 2020, the government plans to modernize only one thousand multi-storey buildings in 10 cities. Although in the country, there are 180 thousand in hundreds of cities and towns. According to Prime Minister Oleksiy Honcharuk, this is to show residents of other homes that payments in insulated homes can be 60% less. In other words, to make fun of 99% of Ukrainians who are offered to watch the next show. After all, none of them need to be convinced that thanks to the insulation of houses can be significantly saved on payments. You just have to anticipate the funding mechanism and do it.
However, the government plans to spend only UAH 6.8 bn on the whole thermo-modernization program. Although only subsidies in 2020 compared to the budget of 2018 will save about UAH 15 bn. And if the cumulative share of subsidy and energy expenditure in GDP remains at least at the 2017-2018 level (2.3-2.5% of GDP), which The Ukrainian Week already drew attention to, it may be sufficient to provide additional funding for energy conservation measures. It amounts to UAH 55-65 bn, which is almost 10 times more than the government proposes. This would, in a few years, completely solve the problem of energy modernization of the country's housing stock and radically reduce the consumption and import of fuel, as well as their prices. Therefore, it would enable to create the only real conditions for the long-term reduction of energy costs in the country through the transition from its import to self-sufficiency, and even export.
"It's not cubic meters we are interested in"
Meanwhile, the situation in real energy is rapidly deteriorating. If in January-May 2019 gas production increased by 4.2% compared to 2018, and then from June it began to decline. And these rates were gaining momentum (from –0.5% in June to –7.5% in October and –6.6% in November). Moreover, the decline is mainly caused by the enterprises of the state group Naftogaz. In this regard, you cannot but worry about the presence among the top managers of Naftogaz those who are associated with the structures, which are one of the largest importers of gas in Ukraine, while promoting the argument that it is inappropriate to increase its domestic production.
In particular, in July 2019, the newly appointed head of Naftogaz gas division, Andriy Favorov, at the presentation of the new Ukrgazvydobuvannya (Ukrgasproduction) strategy, announced a change in company priorities: "It's not cubic meters we are interested in. We need to reduce the risks while drilling new fields and increase the likelihood of successful drilling. This way we will not increase production, but we will increase the profitability of the company." He added that Naftogaz's supervisory board had already approved the new strategy. This creates the conditions for increasing the import of natural gas to Ukraine and the profit of private traders. By the way, ERU Trading, which Favorov developed before occupying the position of a top manager at Naftogaz, became the largest private importer of natural gas to Ukraine in the first half of 2019, accounting for almost 25% of all its imports by private companies. After that it is of little wonder why just a few months after Favorov's appointment at Naftogaz, the production of natural gas in Ukrainian fields began to decline rapidly and a new strategy of the company was presented that "it's not cubic meters we are interested in". Meanwhile, ERU Trading is very interested in them for import.
RELATED ARTICLE: The coming crisis
Needless to say, Ukraine's dependence on gas imports and its share in consumption will only grow if this approach is maintained. According to operational data of Ukrtransgaz, already in 2019, the import of natural gas increased by 35%, and not only due to the pumping of larger volumes into storage facilities. After all, it is obvious that it would have been much smaller had it not been for the sharp fall in domestic production since July 2019.
The logic of making easy money on imports instead of developing domestic gas production could soon lead to the resumption of direct gas supplies to Ukrainian consumers by Russian Gazprom. When on New Year's Eve media shared the information that five companies had allegedly entered into such gas purchase agreements, the curator of the Russian gas talks hastened to refute those reports because of negative resonance in Ukraine. However, later on, Naftogaz and the newly established gas transmission system operator continued to prepare public opinion for the possibility of such deliveries and stated that there were no obstacles to concluding direct gas supplies by Gazprom to various companies in Ukraine from January 1, 2020.
This is a long-standing dream of the Russian monopolist, which for a long time was limited by the need to sell all gas to Ukrainian Naftogaz, even at the time when Ukraine was 100% dependent on imports of natural gas from Russia. After all, access to direct gas supplies to individual Ukrainian consumers will make it possible to take advantage of such opportunities as an instrument of conquering Ukraine's gas market from the inside, by dumping displacing other suppliers to gain dominant positions. And then successfully fulfill the Kremlin's political objectives within the framework of the hybrid war, giving price preferences loyal to the "Russian world" consumers in exchange for supporting the Kremlin's course on subordination of Ukraine.
Therefore, it is critically important to amend the legislation of Ukraine as soon as possible, which will prohibit any access of Gazprom to our gas market. Such restrictions are a prerequisite for guaranteeing Ukraine's energy security. Russia itself does not have a competitive natural gas export market: Gazprom has a monopoly right to export pipeline gas from the country.
Russian electricity and coal instead of Ukrainian ones
The import rate for the simultaneous curtailment of domestic production is also observed in electricity and coal production for its needs. Imports of electricity have grown rapidly since July, when they reached 272 million kWh, reaching 666.5 bn kWh by November (see The wrong way). In view of this, according to the results of the extremely warm November 2019, for the first time in years Ukraine was the net importer of electricity: its imports exceeded its exports. Electricity imports declined somewhat in December. But the question remains: does it indicate a break in the tendency to increase the import dependence of the Ukrainian electricity market, or only a temporary backslide? What is meant by this will become clear in the near future.

In the Servant of the People, such a policy is explained by the desire to overcome monopoly and deprive Akhmetov and his DTEK of excessive profits. However, this is increasingly reminiscent of the use of dynamite to peel walnuts. Instead of using antimonopoly mechanisms or creating new ones, which cannot be a difficult task for the majority, the struggle is in fact to destroy Ukrainian energy in favor of increasing imports from other countries, including hostile Russia.
Due to the rapid increase in electricity imports and decrease in electricity consumption due to warmer than usual weather, Ukrainian TPPs have significantly reduced coal combustion. But this was mainly at the expense of Ukrainian coal. For example, without taking into account the energoisland of Luhansk TPP in December 2019 (as of December 28, for which data are available), coal gas consumption (produced in Ukraine) at all TPPs in the country was 1091 thousand tons, while imported anthracite was burned 251 thousand tons. For comparison, in November 2018, while consuming almost the same amount of imported anthracite (292 ths tons), gas-coal produced in Ukraine was burned one and a half times (1758 ths tons).
Under the right state policy, reducing the generation volumes at TPPs should contribute to the complete cessation of imports of energy coal; instead, we observe a dramatic decline in Ukrainian production (see Cursed?). According to the State Statistics Service, in some months the collapse reached tens of percent compared to the same period last year. In contrast, imports of Russian anthracite, on the contrary, grew dynamically: compared to the same period in 2018, in August 2019 they increased by 12.5% ​​(from 0.24 to 0.27 million tons), and by 57% in October (from 0.28 to 0.44 million tons).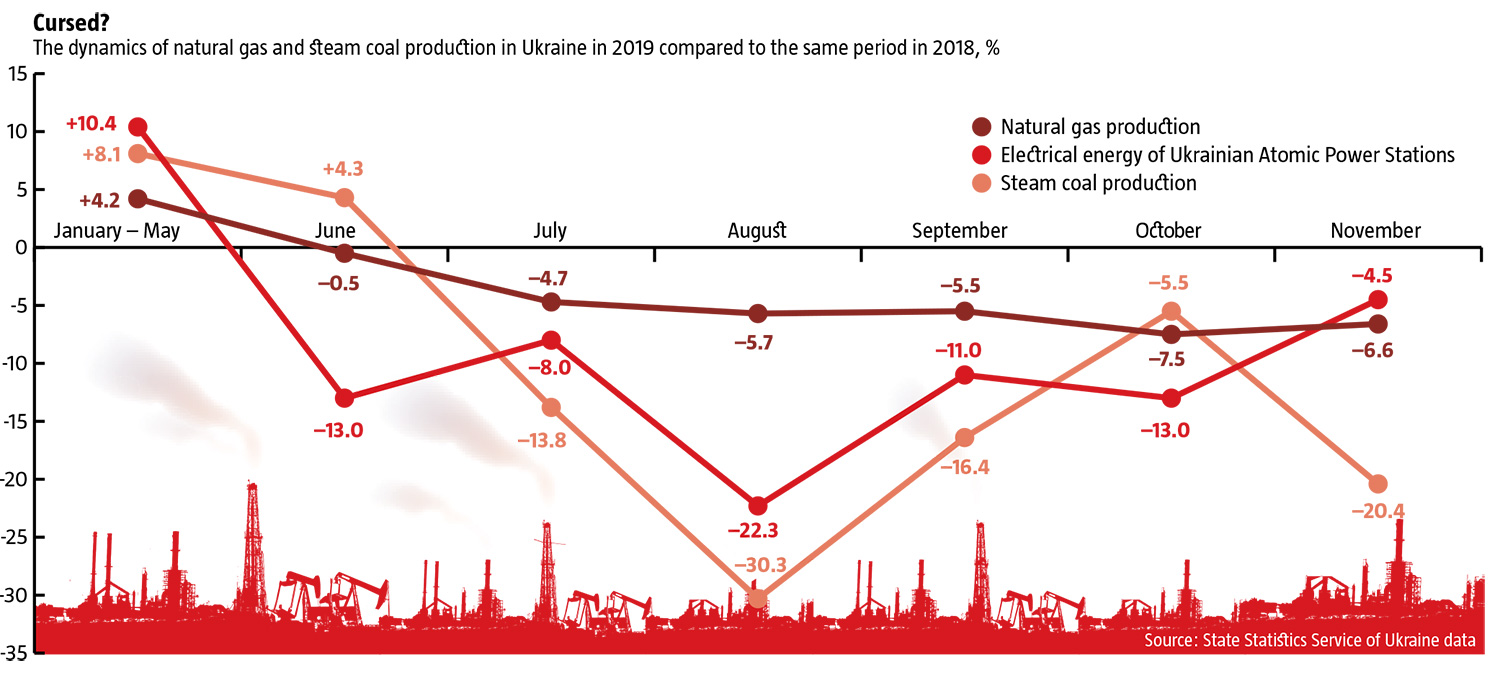 Therefore, the dramatic decline in coal production in Ukraine is a direct consequence of the dumped imports of Russian anthracite. If it were limited, the production of electricity on the TPP units operating on gas coal would have a much larger scale, and consequently the demand for domestic coal would be greater. Instead, we have under-utilization of TPP units operating on domestic coal while burning hundreds of thousands of tons of anthracite imported from Russia every month. All absurdity of the above is the most visually striking at the Sloviansk and Zmiiv TPPs in eastern Ukraine. In case of anthracite combustion of Russian anthracite being stopped or at least minimized, its import to Ukraine would generally decrease by at least 2.5-3 times.
Not surprisingly, that "green light" for Russian anthracite is accompanied by the complete curtailment of the process of converting anthracite blocks to burning gas-coal. In particular, the largest burner of Russian anthracite, the Sloviansk TPP, has not begun its converting. During the rather cold March of 2017, in the midst of the blockade of the ORDiLO, this power plant stood idle for almost a month, having consumed only 3.7 thousand tons of anthracite coal. Its capacity was successfully offset by the capacities of neighboring TPPs on gas-coal and the Zaporizhzhya NPP. Instead, in November-December 2019, the same TPP burned 150-160 thousand tons a month, up to 60% of all anthracite used at TPPs of Ukraine.
Since there is no critical need for its work, under condition of the legislative introduction of a moratorium on the work of anthracite coal power plants in Ukraine, or at least an embargo on its import from Russia, all the necessary reconstruction at the Sloviansk TPP could be quickly carried out or its operation could be terminated.
And since in recent months, even cut from the railway connection with the rest of Ukraine, Luhansk TPP is still operating on natural gas and not forced to import coal from Russia, there are no obstacles to imposing a full embargo on the import of power plant coal from Russia. No obstacles but the lack of political will and diametrically opposed priorities demonstrated by the current government, working to restore and increase Ukraine's energy dependence on Russia. Nothing is being done to demonopolize the current electricity market in the so-called Burshtyn energoisland – it is a conventional area separated from the rest of the Ukrainian electric energy system and united with the energy systems of neighboring EU countries in the Zakarpattia, Lviv and Ivano-Frankivsk regions. The situation, where this part of the country is energetically cut off from the rest of Ukraine's power grid and to be able to compete with Akhmetov's Burshtyn TPP there is only possible by increasing current imports from neighboring EU countries, seems to be quite satisfying for the current government. Such imports can be amazingly profitable while justifying them by combating Akhmetov's monopoly. Instead of creating technical opportunities for flowing of electricity to Burshtyn energoisland from the rest of the Ukrainian power grid, and thus increasing the production and sales of electricity to Western Ukrainian NPPs, which are chronically underutilized.
The approaches of the new leadership of the energy bloc, both in the parliament and in the government, significantly harm the Ukrainian nuclear generation, which is for a reason considered a pearl of Ukrainian energy. Despite its 100% dependence on fuel imports for it, it is already being purchased almost in half from Rosatom (57% over 10 months of 2019) and Westinghouse (43%). It should be noted that the share of fuel in the cost of electricity at the NPP is very small. In the first 10 months of 2019, $300 million was spent on its imports, which is significantly less than it was spent in the same time on imports of power plant coal from Russia alone ($351 million). Instead, the volumes of electricity produced by atomic fuel exceed by several times the amount of anthracite imported from Russia.
RELATED ARTICLE: Nuclear energy in Ukraine
However, the initiatives of the chairman of the profile committee of the Verkhovna Rada, Andriy Herus, led to the displacement of Energoatom from the market due to the increase in imports of electricity from Russia and Belarus. Power generation at the NPP has been declining steadily since June. This is mainly because the power plants are forced to idle because of dispatch restrictions. Therefore, there is no significant saving on imported fuel assemblies. For example, the installed capacity utilization rate for Ukrainian NPPs in November 2019 was only 76.3%, which is 3.6% less than even a year ago.
In the future, the situation is likely to only get worse. Instead of changing approaches, Energy Minister Oleksiy Orzhel, during his recent consultations with his Belarusian counterparts did not hide his interest in increasing electricity imports from the neighboring country, whose supply would increase sharply after the planned launching of the Russian-built Belarus NPP in the near future.
Follow us at @OfficeWeek on Twitter and The Ukrainian Week on Facebook