Ivan Kavaleridze had a long life and an extremely prolific career. In 70 years of artistic activity he made about 20 monuments, hundreds of "easel sculptures" and 10 films. He also staged 10 theatrical plays, wrote a book of memoirs and worked on a number of other projects that ultimately remained unrealised.
He was evidently destined to achieve even more. If he, like his fellow student and friend Alexander Archipenko, had spent most of his life abroad, he could have reached a higher artistic level. The problem of his worldview lay in the vicious circle of relationships between an artist and a totalitarian system.
FROM SCULPTURE TO CINEMA
By the time the Bolsheviks seized power in 1917, Kavaleridze had graduated from a Kyiv arts college and completed one year in the Russian Academy of Arts in Saint Petersburg and a six month European art course at Naum Aronson's workshop in Paris. His artistic genius won recognition even before World War I: a four-figure composition of a monument to Princess Olga, apostle Andrew the First Called and Cyril and Methodius, built to his design, was unveiled on 17 September 1911 in Mykhailivska Square in Kyiv. He then worked as a make-up man and sculptor in the Moscow-based Thiemann & Reinhardt film factory (1911-15) with Yakov Protazanov and Vladimir Gardin.
Kavaleridze was especially prolific during the revolution and the New Economic Policy periods. Under Hetman Pavlo Skoropadsky, a monument to Taras Shevchenko he designed was erected in Romny (now Sumy Oblast) in 1918. Under the soviets, the artist tried to combine national motifs with patent Bolshevik propaganda. In the 1920s, he made monuments to itinerant philosopher Hryhoriy Skovoroda in Lokhvytsia and Bolshevik leader Artem in Bakhmut and Slovianohirsk. The latter two are massive, pompous monuments in the style of constructivism which contrasted with his other works. There were also two more monuments to Shevchenko, in Poltava and Sumy. Then came a break in sculpture, and he switched to cinema, exploding with films like Zlyva (Heavy Shower, 1928, lost), Perekop (1930), Shturmovi nochi (Storm Nights, 1931) and Koliivshchyna (The Koliivshchyna Rebellion, 1933).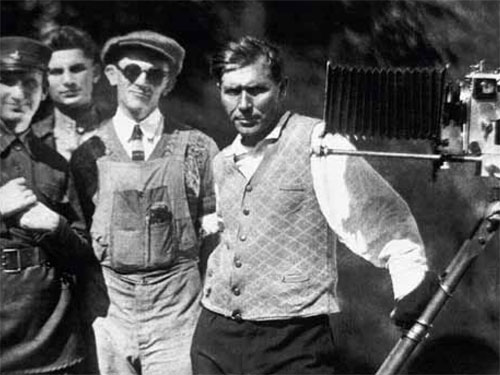 INSPIRED BY CAMERA: Kavaleridze tried to take his avantgarde search for new forms in sculpture into his films (Photo: UNIAN)
Everything seemed to go smoothly as far Kavaleridze's artistic activity was concerned. But then he made the film Prometheus (1935) which was deemed undesirable by the Communist Party. It became the target of devastating unfair criticism in a Pravda editorial entitled "A rough outline instead of the historical truth". The editorial was written on direct orders from Stalin. He said on this account cynically: "He will be all right. This strong Georgian will bear the criticism, and we will see his new films. But we need to help him." The article of the party newspaper were discussed for four days by the staff of the Kyiv Film Studios. This was the beginning of a campaign against the "anti-historical" character of Kavaleridze's works. He was banned from working with young artists and making historical films, which he saw as his main mission.
Times changed, and this film, like the artist's total cinematographic production, was re-evaluated. A memorial plaque with the inscription "Ivan Kavaleridze, founder of Ukrainian historical cinematography, worked here in 1934-41 and 1957-61" was unveiled in 2002 in the Oleksandr Dovzhenko Film Studio. Film critic Oksana Musienko writes in her 2009 book Ukrainian Cinema: Texts and Context : "This is how the authorities cut off one of the most fruitful branches of Ukrainian national cinematography. The return of Prometheus to the context of Ukrainian cinema of the 1930s drastically changed the artistic landscape of this cinematographic period and Ukrainian filmmaking in general."
Barred from making historical films, Kavaleridze created the first Ukrainian film operas: Natalka Poltavka (1936) and Zaporozhets za Dunaiem (Zaporozhian Cossack beyond the Danube, 1937).
Prior to the Second World War Kavaleridze staged, under pressure from the Stalinist regime and the watchful eye of the NKVD and with his arms twisted, an inapt military agitation piece called Stozhary (The Pleiades) with an improbable plot about Andriy, a Ukrainian tractor driver, who decided to replace his brother, a border guard in the Far East, who had been killed in action.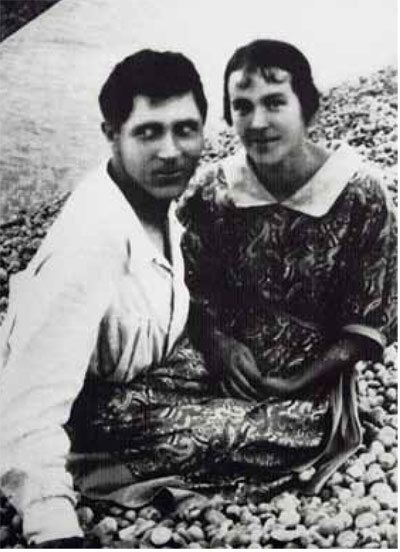 THE YOUNG ARTIST with his second wife Nina Kalynovska in 1920 (Photo: UNIAN)
PERSECUTED
Kavaleridze might have been able to return to his favourite historical themes in 1941 when he went to the Carpathians together with a film crew to shoot Oleksa Dovbush. However, war broke out, and he was able to return to Kyiv only in the autumn. During the occupation, Kavaleridze refused to cooperate with the Nazis (even though he headed the Department of Culture in the Kyiv City Administration. – Editor) and helped the local intelligentsia survive. Among other things, he saved cameraman Volodymyr Voitenko who shot the Leonid Bykov film V boi idut odni stariki (Only Old Men Are Going to Battle) in 1979.
Kavaleridze had an interesting experience under the Nazis — a man dressed in the SS uniform showed up at his house and proposed that he make a bust of Hitler. The artist replied that he made sculptures from life only. When the Red Army returned, it turned out that the man had been a soviet agent in disguise.
After the war the authorities reminded Kavaleridze in their peculiar fashion that he had lived under German occupation, the film studios evicted him from his flat. Theatre actress Liubov Hakkebush accommodated him in her home on 17 Velyka Zhytomyrska.
Despite the persecution he faced, Kavaleridze continued to sculpt. He made a comeback to cinema 20 years after his last film was released in the 1930s. He directed Hryhoriy Skovoroda (1959) and Poviia (The Prostitute, 1961), starring Oleksandr Hai and Lyudmila Gurchenko, respectively. The films were warmly received by the public and the press, but Kavaleridze was no longer his old self and did not exhibit the innovative, sculptural vision he used to command.
When Khrushchev replaced Stalin at the helm of the USSR, he said, speaking to writers and painters in 1962: "There was this sculptor Kavaleridze, an author of horrible works. I mean his monument to Artem in Bakhmut." In this statement Khrushchev referred to the living Kavaleridze as if he were dead and also provided an "exhaustive" evaluation of his oeuvre.
Kavaleridze did not like public arguments, even less did he want to argue with the head of the state. So he quietly carried on with his work. But film critic Nonna Kapelhorodska, who had a daughter-father relationship with Kavaleridze, suggested sending a telegram to Moscow saying: "Living, healthy, working." The artist had to go to the Ukrainian SSR Ministry of Culture to receive a reply and a low-level bureaucrat explained to him: "There was a mistake. Mr. Krushchev was misinformed."
Kavaleridze worked as a sculptor and playwright to the end of his days. In the post-war period several monuments he designed were erected: Bohdan Khmelnytsky in Chernihiv (1956, designed jointly with Halyna Petrashevych), Petro Zaporozhets in Bila Tserkva (1971) and Hryhoriy Skovoroda in Kyiv (1977). At the same time, his plays Perekop, Votaniv mech (The Sword of Wotan), Persha borozna (The First Furrow), Hryhoriy and Paraskeva were staged by theatres in Sumy, Kharkiv and Ternopil as there was an unwritten ban on his plays in Kyiv.
BIOGRAPHICAL NOTE
Ivan Kavaleridze was born in 1887 to the family of a Ukrainian mother and a Georgian father who was a descendant of a Georgian princely family. He studied in the Kyiv Arts College in 1907-1909 and the Russian Academy of Arts in 1909-1910. He improved his artistic skills in Naum Aronson's private workshop in Paris in 1910-11. Kavaleridze was mobilised to the Russian tsarist army in 1915-17. He worked in the Department of People's Education in Romny (1918-28) and as a director in the Odesa Film Factory (1928-33), the Kyiv Ukrainfilm Film Studios (1934-41) and the Oleksandr Dovzhenko Film Studios (1957-62). He died in Kyiv on 3 December 1978.
FILMS DIRECTED BY IVAN KAVALERIDZE
Zlyva (Heavy Shower) or Kino-oforty do istorii Haidamachchyny (Cinema Etchings to the History of the Haidamaka Movement, 1928). This was a silent film shot at the Odesa Film Factory which did not survive to our day. According to those who watched it, it was an attempt to combine the art of sculpture with cinematography. The film consisted of static compositions which replaced each other in sequence. The director had the grand design of telling the history of Ukraine spanning the past 200 years. He used a generalised metaphorical approach to portraying events.

Perekop or Pisnia pro Perekop (The Song of Perekop, 1930). This silent film was made towards the 10th anniversary of the Bolsheviks' victory over Pyotr Wrangel's Volunteer Army in the Crimea. The director departed from synthesis of sculpture and cinematography in favour of the film epos, a genre in which he reached wide-ranging historiosophic generalisations.
Shturmovi nochi (Storm Nights, 1931) is a silent film about "socialist construction" in the 1920s and the early 1930s. This film epic focused on two gigantic projects of the first five-year plan – the Dnieper Hydroelectric Power Plant and the Kharkiv Tractor Plant.

Koliivshchyna (The Koliivshchyna Rebellion, 1933) was Kavaleridze's first sound film. He had to revise the script 17 times under pressure from party bosses. This was a perfectly shot historical-revolutionary drama with unique symbolic language constructed using the principle of associative montage. Initially, it received thrilled reviews and was pronounced "needed" by the people but was later criticised for "formalism and naturalism". The role of Ukrainian national heroes who participated in the Koliivshchyna Rebellion was subjected to an unexpected interpretation in the film. Cossack Semen Nezhyvyi returns to his native village which lies ruined and poverty-stricken. Unable to put up with the oppression by the landlords, he incites the poor to a rebellion which Cossack officers Maksym Zalizniak and Ivan Honta utilise for their own purposes, betraying the ideals of the people. The film earned Kavaleridze the fame of a prominent director. This was the first part of a projected trilogy that would span the history of Ukraine from the mid-18th century to the first decades of the 20th century. Had it not been for numerous revisions under the pressure of censors, The Koliivshchyna Rebellion could have been the first Soviet sound film.

Prometheus (1935) was one of the central films in Ukrainian cinematography in the 1930s. It was personally lambasted by Stalin as "bourgeois nationalist" and banned. In it, Kavaleridze tells the story of his own family. Ivas, a young peasant, is mobilised and sent to the Caucasus. The landlord forcefully puts Ivas's girlfriend in a brothel. Inspired by the heroic resistance of highlanders against the regular Russian army, Ivas returns to his native village and launches a rebellion. The film, shot with epic scope by legendary cameraman Mykola Topchiy, gathered dust for decades.

Natalka Poltavka (1936) is the first film in the genre of film opera invented by Kavaleridze. He used Mykola Lysenko's opera with the same title and involved noted Ukrainian theatre actors who sang their parts themselves. The film was commissioned by the Soviet Communist Party which sought to monopolise the national classic opera heritage. Ukrainian emigrants in the USA began to work on their own version of Natalka Poltavka a year earlier, and Kavaleridze was told to produce a Soviet version in record-setting time. That is why Natalka Poltavka premiered in New York in 1936.

Hryhoriy Skovoroda (1959) is a biography of this "Ukrainian Socrates", a favourite of Elizabeth's imperial court and singer in a court choir who ultimately preferred the life of an itinerant wise man to the luxury of Baroque palaces. Set in plush Saint Petersburg interiors and lush Kyiv vegetation, the film recreates the timeline of the golden period in Ukrainian culture – the Baroque.

Poviia (The Prostitute, 1961) is a psychological drama based on a Panas Myrny novel in which a young Lyudmila Gurchenko played one of her first noted parts. Khrystia, a village girl, hires herself out to a landlord and happens to see him kill his wife. She is unfairly charged with murder and thrown behind bars. Upon being released, she becomes a dancer in a local café chantant. The life of a social animal does not make her happy and dsappointed, Khrystia decides to go back to the countryside, which she associated with her idyllic childhood years. But her life takes a different turn.
(Photos provided by the National Dovzhenko Center)