Ukrainian and European officials are convinced stadiums will be sold out for the Euro 2012 tournament – nearly all tickets have been sold through official structures. They also argue that fraud has been made impossible through several layers of protection and a special system of distribution. However, The Ukrainian Week found that tickets can still be purchased and not only from official sources. The system that the officials are so proud of is no guarantee that tickets will not be grabbed by profiteers. Speculation may be orchestrated by people from agencies responsible for hosting Euro 2012.
THE FINAL SCALE
"UEFA EURO 2012 ticket portals closed. All tickets for UEFA EURO 2012 bought before 10 April are currently being printed and shipped. The ticket portal will re-open in early May 2012 and give every fan the opportunity to review their ticket order." This was the message on the official UEFA portal read over and over again by those who made up their minds to buy tickets too late.
The lucky ones who have received their tickets had to go through a complicated procedure. First, they had to open a client account on the UEFA site, prove their paying capacity and submit a purchase order. Then they had to wait to win their tickets in a lottery. Successful applicants had to pay for their tickets within a given time limit.
Football officials assure everyone that all matches of the championship are certain to be sold out. "There will be no empty seats in any Euro 2012 arena," UEFA Operations Director Martin Kallen said. According to Markian Lubkivsky, chief of the EURO 2012 Ukraine Organisational Committee, over 95 per cent of tickets have been sold. The rest will soon find their owners. "We are about to launch the final phase of the ticket sale in Ukraine. Moreover, the uefa.com site will start selling the remaining tickets at around 7 May," he said before the sale was actually launched again in mid-May.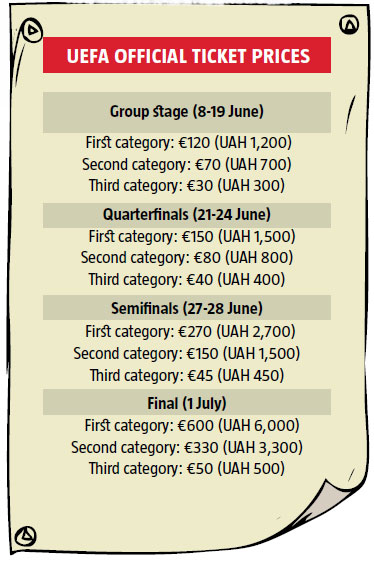 Kallen estimated the number of unsold tickets at around 50,000 during a presentation of "live" IDs in Kyiv: "We have these tickets, because not all national federations have exhausted their quotas. So they can be bought for matches in both Poland and Ukraine." All ticket selling competitions organised by the Euro 2012 sponsors were to be completed by May. Donetsk fans who are season-ticket holders for Shakhtar's new season can come to Donbas Arena to buy tickets, maximum four per person, to all Euro 2012 games in Ukraine, including those held at other Ukrainian stadiums. Season-ticket holders in Kharkiv can try their luck in the Metallist Stadium's ticket booths and on its official site. Finally, UEFA Euro 2012's official sponsor, Uni-Credit Bank (Ukrsotsbank), began selling more tickets through its branches on 7 May.
A SPECIAL OFFER
A quick online search reveals hundreds of offers to buy Euro 2012 tickets. Many are from intermediary companies that offer help in obtaining them. For example, energotour.com says it is not an official sales agent but "offers to purchase tickets from those fortunate people who have been lucky to win them through a lottery but are unable to attend Euro 2012 football matches for various reasons, as well as tickets that are distributed through the official sponsors of the championship.
We offer tickets from the secondary market where they have various markups. Due to this, the actual price may be significantly (several times) higher than the nominal one. On our part, as a tour operator with an impeccable reputation, we offer only proven official tickets. It is up to you to decide where to buy them: from the UEFA, our company or some dubious internet portal." Prices range from the more or less acceptable UAH 1,900 for a group stage match to the sky-high 24,000 for the final game.
Another Ukrainian portal listed on the first page of search results returned by Google offers tickets to all Euro 2012 matches with a "20% discount" on commercial offers. Here is what a manager who identified himself as Serhiy told a journalist working for The Ukrainian Week who pretended to be a fault-finding and incredulous customer seeking guarantees against fraud: "You may be 100 per cent certain that you will have your tickets. We have very reliable sources – in the Football Federation of Ukraine." Asked how this could be possible if Ukraine's entire quota had been sold earlier he replied: "There is a whole category of tickets reserved for the Federation which will be distributed at the last moment at much higher prices, as you can understand. So it is better for you to make the purchase right now and pay half or a third of the price." Sensing doubt in the journalist's tone, the manager goes for the kill: "You must understand that scalpers will charge more and will give you no guarantee that your ticket is not a fake. What you buy from us is an absolutely normal, legitimate ticket, albeit somewhat more expensive than the official price. You pay more … for the guarantee and your peace of mind."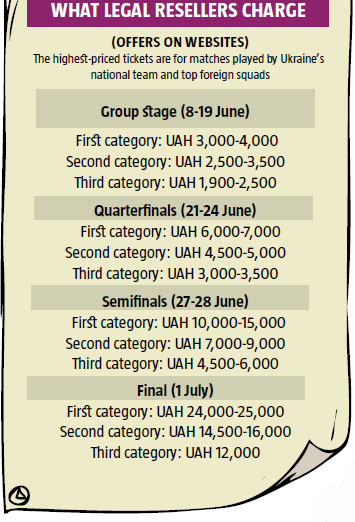 EARNING "LIKE ADULTS"
Official agencies responsible for the Euro 2012 tournament have claimed that tickets will be virtually impossible to forge, because they will have several layers of protection. The first name and surname of the buyer is printed on every ticket. The person whose name is on the ticket will be responsible for the conduct of the ticket holder. Moreover, one person has the right to buy a maximum of four tickets to one match. According to the organisers, this helped filter out 20 per cent of applications from resellers and profiteers.
According to Lubkivsky, there will be no passport control at Euro 2012 matches. "ID checks will be selective, such as when a fan behaves in a suspicious or improper way," Lubkivsky explained. "The name of the person indicated on an ID means that they will be responsible for the conduct of their relatives and friends to whom they have given tickets as gifts. Of course, this person will not have to lead them by the hand, but my recommendation is that they have their ID on them. However, even when the name on the ticket and the fan's ID do not match, but there are no serious violations, the fan will be admitted to the stadium. A serious reason for an ID check may be disrespectful conduct or an illegible bar code on the ticket, i.e., if the ticket is bogus."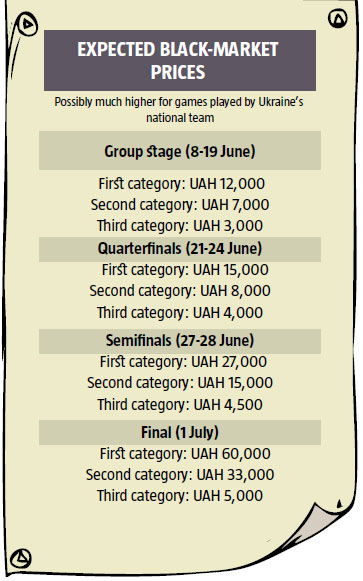 A powerful group of scalpers has operated in Kyiv for decades. It is a coterie of mediators who purchase tickets to popular events in advance and then resell them as several times the nominal price. This system has operated since soviet times. Professional resellers have no need to forge tickets. First, that is a risky business, and second, having the necessary connections in the entertainment industry and sports agencies, they can legally buy the best and most popular tickets without breaking the law. And then they resell them absolutely legally, because speculation is not punishable in Ukraine, unlike in the former USSR. There is every reason to claim that this group has targeted Euro 2012 as a chance for windfall profits.
One member of Kyiv's "ticket mafia" said that he and his colleagues were waiting for the final sale of the remaining Euro 2012 tickets to be announced by the UEFA. After it takes place, the network of distributors will receive new tickets that will immediately be intercepted by resellers. And then they will be able to cash in on them "like adults", as he put it. Normally, scalpers charge 2-20 times more depending on the importance of the event.