KEYS
There are many very beautiful buildings and churches in the city. The buildings can roughly be divided into two types; first, conventional Soviet buildings like the menacing launch-pad of a site which is the Nadezhda Krupskaya Oblast Universal Research Library. (But don't ask me what Lenin's wife had to do with the oblast or its research library.) Second, buildings erected in the 19th and 20th centuries, touched by successive moods and adorned with Neo-Gothic elements typical of southern or "sanatorium" architecture. The hospital of Saint Zinayida on Troitska Street (Photo 1) is a good example. Soborna Street in Sumy, which is called a pedestrian 100-metre sprint or "a hundred," is another patent example of that period (Photo 8).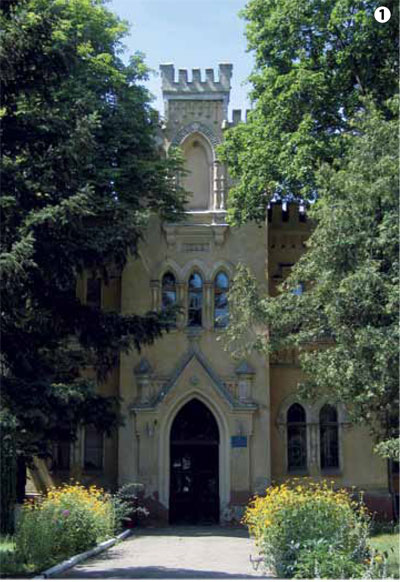 Almost every central street shows off a pretty mansion or even a palace. There is also a large-scale place of interest, namely the arboretum in Ivan Asmolov's former park and mansion. The beautiful house of Pavlo Kharytonenko, a Ukrainian sugar magnate of the 19th century, was transformed into a radio-protection dispensary. It is surrounded by a park with strange holes — former ponds which have dried up.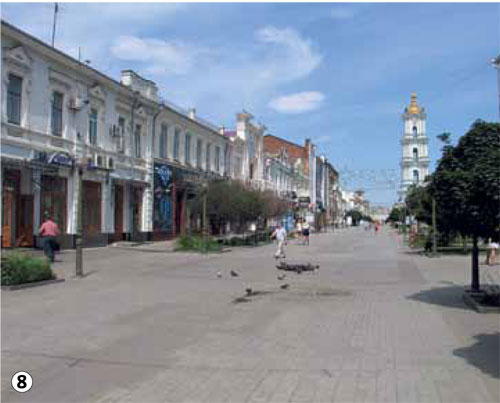 The magnificent Troyitskiy Cathedral is situated on the street (Photo 3) of the same name. Architect Gustav Scholz built it at the beginning of the 20th century. Some say his style looks Italian others say it was imported from Saint Petersburg. Troyitskiy Cathedral was turned into an organ hall during the USSR, and its stairs were used by informal youth as a hangout. The famous architect Aleksey Shchusev decorated Sumy with a pseudo-Russian style Panteleymonivska Church, situated on Romenska Street.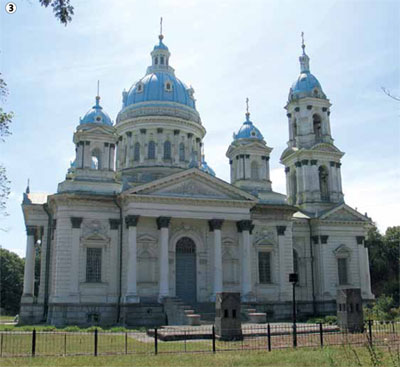 Several classical churches dating to the 18th and 19th centuries and two cathedrals with baroque elements illustrate ancient Sumy architecture. Cossack Voskresenskiy Cathedral on Nezalezhnosti Square, erected at the beginning of the 18th century, was the city's first stone building. It was built on the site of an ancient fortress at the expense of the first Cossack colonels of Sumy. This cathedral represents "mixed" Ukrainian Baroque, which was popular in Slobidska Ukraine. The city centre is dominated by the magnificent Spaso-Preobrazhenskiy Cathedral on Soborna Street. This cathedral was built in 1776-1778 and was reconstructed in 1858 and 1882-1892 (Photo 5).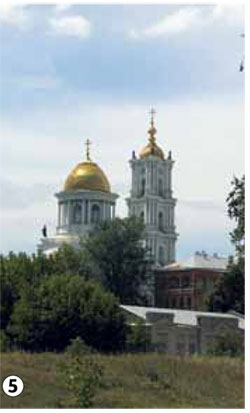 Today few new buildings are built in Sumy, as is the case in most other small oblast centres. Still, there is a new big stadium. "Sumy does not need such a big sports complex. No events take place here, tens of thousands of people won't come to watch local competitions! This is a waste of money!" a sports journalist told me, when the stadium was built, but the city got used to the dynamic-looking stadium.
KEY RING
White gazebo is a traditional element of almost every Ukrainian oblast centre, but Sumy has a distinctive and interesting one (Photo 2).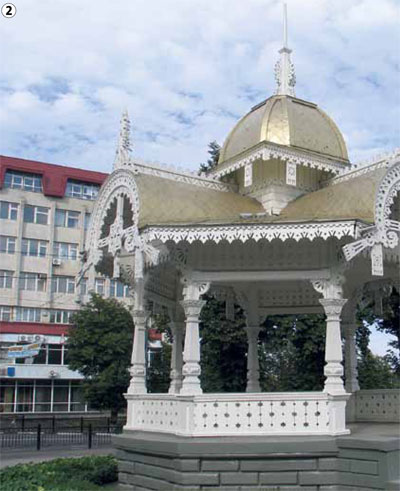 The famous monument to sugar represents modern sculpture of the city (Photo 4). They say the city mayor (notoriously famous Ukraine wide) proposed erecting the object after he visited Russian Kursk, where he saw a monument to the Antonovka winter apple. Sculptor Oleksiy Shevchenko implemented the mayor's idea. Sugar is a symbolic product for Sumy and the whole oblast. Active sugar production was a decisive factor of the city's development in the 19th and 20th centuries. Magnate Ivan Kharytonenko came from rural stock and was a local leader in the sugar industry. He financed the construction of houses, hospitals, churches, bridges and plants, some of which are still functioning. A monument to him can be found in the centre of Sumy. The Kharytonenko family burial plot in the Central city cemetery is adorned with sculptures by French artist Aristide Croisy. Still, the nouveau riche was not the darling of all the people, as some say he was the prototype of the devastating satirical play "The Master" by Ivan Karpenko-Karyi.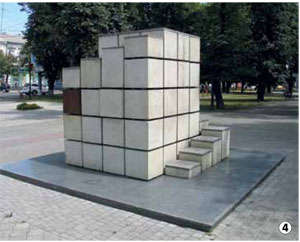 Sumy can also please its visitors with provincial places of interest, for instance its wooden model of an old lorry carrying flowers (Photo 9).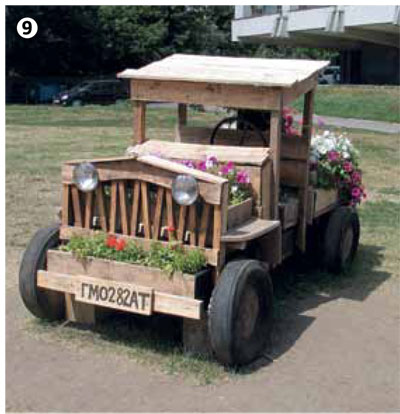 ATLAS OF UKRAINE
The city is "situated" on the borders of several divisions in the country. It is the most eastern city of Central Ukraine in terms of sociology, passing from the South to the East. It is quite close to Kharkiv, whose bus drivers abide by traffic regulations in Sumy better than at home, mumbling "it's not Kharkiv here!" There is also the language border of course. One can hear both Ukrainian and Russian in Sumy streets. Surzhyk (a mix of Ukrainian and Russian) is highly popular, but it has some unexplainable nuances, due to the sociability of most Sumy citizens.
When walking down central streets one feels as if he is in an ancient town full of cafes (Photo 6). But at the same time, it takes only a few minutes to get lost in an endless, unkept and mysterious industrial zone or in the immense green private sector of Slobidska Ukraine. The city of markets and people with its old-world or post-rural look suddenly turns into a city of machine tooling and chemical industry giants.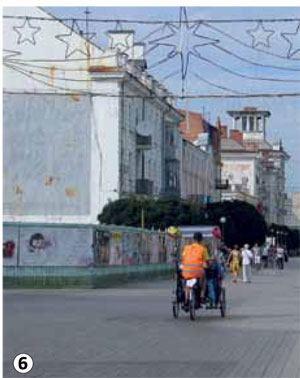 GALLERY
There is one store in Soborna Street I remember since I was a child where my parents and I bought some food 10 years ago while waiting a few hours for a bus. Now the store is home to a municipal art gallery. "This must be unique in Ukraine!", my friends from Sumy laugh, "Just think of it, an art gallery opened in a sausage store!" The gallery showcases local sculptors and contains a mix of folk and contemporary styles.
Sumy has also more classical museums like its art museum with a considerable collection of works by Petro Levchenko, Mykola Hlushchenko, Ivan Ayvazovskiy, Serhiy Vasylkivskiy and an interesting range of porcelain. There is also a local history museum with numerous materials on culture, history and nature in Sumy Oblast.
PEN
Sumy Oblast has made a considerable contribution to Ukrainian literature. Writer Ivan Bahryaniy was born in Okhtyrka, while poet Natalka Bilotserkivets was born in Bilopillya. Meanwhile, the oblast centre was not as rich in men of letters. Vasyl Aleshko, Sumy representative of the so called "shooting revival" literary group, innocently wrote about rural beauty and fertile Ukrainian nature, but in his book entitled "Chimneys in Flower Gardens" he unexpectedly proved himself the author of an interesting avant-garde poem. Davyd Burliuk, another avant-garde leader from Sumy, studied in the local Oleksandriyska boys' gymnasium and later rose to international fame as one of the founders of Russian and Ukrainian futurism. Ukrainian writer Oleksandr Oles and Russian writers Anton Chekhov and Aleksandr Kuprin also lived in Sumy.
Sumy literary life is not as active today, but it is bright and distinctive. Creative people link up with the rather vigorous Parkan organization.
HANDBILL
Poets Sofia Sitalo and Tetyana Kornilova also work as actresses in the local Theatre for Children and Youth. I have already heard the story of a river hidden under a theatre's foundation in Rivne, and I wondered what I was going to hear in Sumy. "They say, there is a subway somewhere under the foundation of the theatre that leads deep into the city!" I was told.
Having not seen a subway, I visit the dimly lit premises full of theatre inventory, with a trap door under the stage and a dressing room for the actresses. I even found a special basement full of puppets hanging under the low ceiling like scary, motionless figures on gibbets.
GANGSTERS?
Sumy used to have gloomy fame of gangster city back in 1990s. Some journalists said "chemistry" was the reason for this. When building chemical enterprises in Sumy, the USSR sent prisoners from all over the country to work there. They had a much more liberal regime in these enterprises, compared to prisons, and gradually organized gangs of teenagers. The "Baumanski," "Romenski" groups and others turned some districts into real battlefields. Their meetings were called "assemblies". They say sometimes schools were seized and pupils had to pay UAH 5 to get out safely. Meanwhile, the international Russian-language website entitled Virtual Museum of Townies dedicated a separate page to Sumy city.
A young man, former participant of those events, unwilling to introduce himself, is rather skeptical about this fame. "These stories imply many exaggerations. Boys often gathered somewhere, talked and played football, that's it. As for schools… The legend might result from the "showdown," during which we were attacked from behind and thus were forced to hide in a school (there were no pupils there at night) and defend ourselves from there…"
Still, the city is much more peaceful nowadays, though back streets do sometimes turn into informal zones. One is an unfinished abandoned sports complex which the locals nicknamed Hiroshima. Poet Vitaliy Kornilov recalls that in his childhood, teenagers made weapons here for fights between adult gangsters.
ORANGE JUICE
Sumy was one of the centres of the Orange Revolution. The so called Student Revolution on the Grass, which was a protest against the merger of several universities, started in the summer of 2004. Protesters demanded the dismissal of governor Yevhen Shcherban, a representative of the "Donetsk clan," and of Oblast Militia Head Mykola Plekhanov. The stdents organized a tent camp, which was later forcefully dispersed, and moved to Kyiv. Several people were arrested. These events catalyzed the protest mood of the inhabitants of Sumy Oblast, which is former president Viktor Yushchenko's native land. Sumy became the east's "orange outpost." The city square which hosted the rallies and protests of those heady days is now decorated with a monument.
FINALLY, THE SUIT CASE
Sumy, like almost all the cities of Slobidska Ukraine, was founded in the mid-17th century by settlers from the Cossack Hetmanate escaping constant wars. It is believed newcomers derived from Stavyshche (now in Kyiv Oblast). The legend says they settled on the site where they had found three or seven suitcases full of gold coins, which explains the title of the city (suit case or "sumka" in Ukrainian turned into Sumy city). Researchers think the title comes from the Sumka River. At any rate, Sumy has a monument dedicated to the "suit case" legend (Photo 7).