"At least our girls improve the country's image," Ukrainians commented, having heard the first impressions of foreign fans who have come for Euro-2012. Beautiful girls, old buildings, cheap beer and tasty but fatty food were the first observations of Europeans.
Even though seven years have passed since Ukraine introduced a visa free regime for citizens of the EU and several other developed countries, there are few tourists and employees of international companies in Ukraine, who have long been present in Nairobi, Beijing, Amman or Sao Paolo. Our compatriots, just like the people of any country that has been closed for an extensive period, are interested in the opinion of foreign guests, and the positive impressions of tourists are cause for national pride. At the same time, foreigners are able to notice that, which we have stopped paying attention to, and their comments give us the opportunity to take a critical look at ourselves. The Ukrainian Week was interested in learning such views, thus spoke with guests who have come for the championship – both first-time visitors and people who have lived in our country for many years.
LITTLE YELLOW BUSSES
Austrian journalist Michael Riedmüller visited Ukraine for the first time five years ago. At that time, he found great pleasure in the "little yellow buses, which can be stopped anywhere", called "marshrutkas". But the amazement has faded after several weeks of spending hours stuck in these crowded buses on the bridge connecting the Kyiv housing area called Troyeshchyna to the Right Bank. He now considers the lack of comfortable public transport to be the capital's main problem. Michael has something to compare it to – Viennese public transport is considered to be the best in the world, and every year, the Austrian capital is recognized as one of the three most comfortable cities to live in. Having spent five years in Kyiv, the foreigner is amazed by the lack of progress. After all, it is not that difficult create a public transport timetable, while traffic jams are largely caused by Kyiv residents, who stubbornly get behind the wheel, even though it's quicker to travel on the metro (underground). For the residents of Vienna, who live in the suburbs and commute to work by car, it is standard practice to leave their cars near the closest underground station.
Hank and Janet are pensioners from the Netherlands, who have never previously been "so far East". Before their visit, they wondered how they should dress in order not to provoke thieves. Having come to Ukraine they have realized that even dressed in the most expensive clothes, they would have a modest appearance, compared to the female residents of Kyiv. In their country it is only in a red-light district that it is possible to see so many girls wearing such accessories and high-heeled shoes.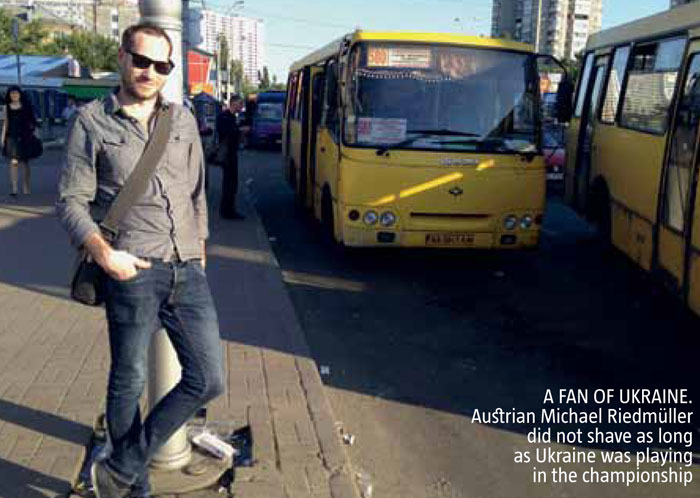 They fell in love with Kyiv at first sight. The city reminded them of "Berlin with a greater number of ATMs", and having seen numerous street musicians they began to talk about "the atmosphere of freedom, whereas in Amsterdam, it is necessary to take an exam at the municipality in order to play music in an underground passage – everything is excessively regulated".
Some Dutchmen were concerned about safe nourishment in Ukraine, but within several days, they discovered that any Ukrainian fast-food serves better coffee than European coffee shops. However, impressions of restaurants were not so favourable, with prices being equal to those in average European restaurants and portions being really small. Smaller portions can only be found at resorts in the Côte d'Azur. Foreigners residing permanently in the capital, complain that other than fast-foods, Kyiv has perhaps three or four restaurants which offer value for money. Restaurants invest money in constantly changing their interiors, rather than improving their cuisine.
Jorun worked in Moscow as a Dutch television journalist during "the crazy 1990s". He admits to being too critical and says that every time he comes to our country, he tries to point out its drawbacks to everyone. "Sometimes they serve several dishes at the same time; borshch, together with salad and varenyky (a traditional dish of meat, potato, fruit or curd dumplings). In my view, this can be explained by the fact that many post-Soviet people still consider work to be a burden and are too lazy to make an effort and pay attention to the customer", he says.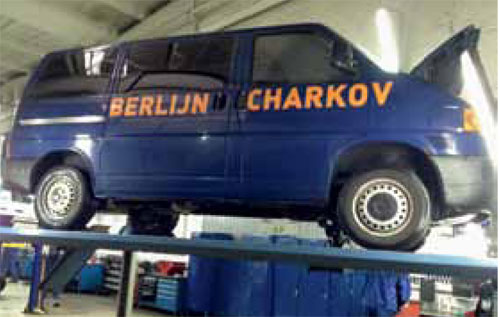 EXTRA WORK. The minibus of the camera crew of RTL, the Dutch TV channel was urgently repaired in Kyiv.
THE RESIDENTS OF CONCRETE JUNGLES
That people from the former USSR never smile, is a fact for any foreigner, just the same as seeing bears on Red Square in Moscow. Nevertheless Janet and Hank could not grasp why even children do not smile in Ukraine, 20 years after the collapse of the USSR.
Corinne, a French photographer, spent many years in Africa. She came to Ukraine, which became her gateway to the east of Europe, on the eve of the championship. She took pictures of the golden domes of churches and managed to find several homeless dogs. When traveling, she is particularly interested in communicating with people, so she stays with friends, rather that at hotels. According to her, Ukrainians are hospitable, but cold and closed. "It is very difficult to make people let you in their world. I'm used to living in Africa. There, once the locals have opened their doors to you, they no longer treat you as a stranger. Here, on the other hand, a barrier remains, even after much time has been spent together."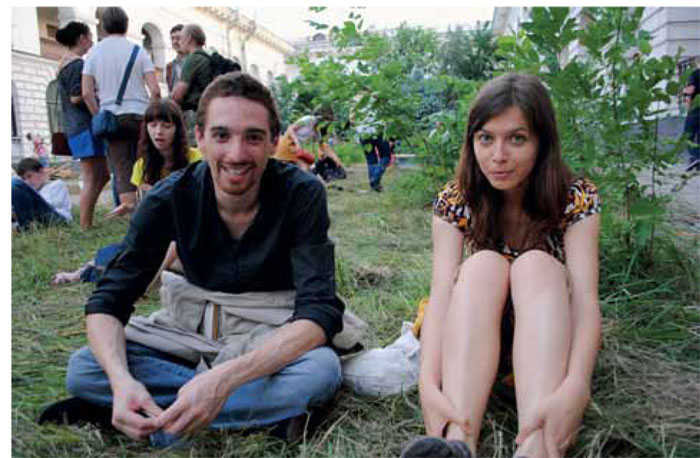 FAMILIAR EASE. French journalist Sébastien Gobert feels at home at Hostynniy Dvir, located in an old building in Kyiv.
Oliver from Britain appears to have been bewitched into coming to this region, simply because "the locals are more humane, the problems more real, as is life". Kyiv reminds him of Moscow and St. Petersburg at the end of the 1990s, where he lived for five years. Oliver has a positive comment: "Moscovites have become artificial, they bluff too much, everything is for show, there is less and less sincerity, which is something that you still have here", he said.
For him, the biggest shortcomings of post-Soviet cities are dismal housing estates, which cannot even be brightened by the green banks of the Dnipro River. "I guess that it is because of these boxes that people are so depressed. Architecture of this sort gives no inspiration and even destroys it", he said. Leaving a new residential complex on the Left Bank, the British man was shocked to hear that it had only been built just seven years ago. "Isn't it a building from the 1970s, isn't it a relic from the Soviet era? That's impossible. No-one builds anything like this anywhere in the world today, after all, people's mood depends on their surroundings. Every new building in London has to have a certain aesthetic value," he says.
Another never-ending subject addressed by expatriates is the unreasonably high cost of real-estate. Young Europeans are often most surprised by the number of Ukrainians of their age getting a mortgage to buy apartments. A 30-year old Frenchman wouldn't take a EUR 100,000 loan, not only because it is unaffordable, but also because he does not want an apartment, or in other words, the repayment of a mortgage, to be the meaning of his life.
UKRAINIAN TEST DRIVE
Norbert from Berlin is responsible for logistics at the German representative office of RTL, the Dutch TV channel. His camera crew is following Dutch fans. These guys drove a minibus from Berlin via Warsaw and Kyiv to Kharkiv, where the Dutch national team was playing. Norbert's greatest concern was not even the condition of the roads, but the Ukrainian police, however, the minibus was not stopped a single time. Meanwhile other fans complained that when approaching Kharkiv, they did not notice a policeman trying to pull them over, so did not stop in a timely manner. The police pursued the car and demanded a fine in the amount of EUR 160, of which EUR 25 was returned after a five-minute discussion. The Dutchmen, who had heard a lot about bribery in Ukraine, were not so much surprised by the demand for money, as by the incomprehensible "discount".
When preparing for his trip to Ukraine, Norbert packed an electric generator and a solar battery lamp, just in case. But he could not be prepared for everything and had to repair his broken minibus in Kyiv. "This would have been impossible in Germany or the Netherlands," he says, really pleased, "We called the service centre in the afternoon and picked up the repaired bus at 21:00. The most important thing for our mechanics is to be home by 18:00. Nobody would stay at work until 21:00".
At the same time, he had trouble understanding why, in a country where people are ready to work deep into the night, the road near Kharkiv was not ready the day before the start of the championship. The Dutchmen had already organized their camping ground in winter, not forgetting to bring portable toilets from home.
In Kharkiv, the German-Dutch camera crew was more interested in the impressions of the locals regarding foreign fans rather than vice versa. "I guess the march of 10,000 Orangemen dressed in bright carnival costumes came as a positive cultural shock to the Ukrainians. Particularly as they looked like marijuana smokers from Amsterdam coffee shops, which is the image of the Dutch abroad," Norbert says. While guests from Netherlands were as usual surprised by the hospitability of Kharkiv's citizens, the city's architecture made them think of Kharkiv as of the most unattractive cities they have ever been to.
Becky Gamester, a British journalist and fan from Nottingham called Donetsk a "city of roses". "Girls, parks, beer" – was the impression of the nearly thousand French fans who came to the east of Ukraine. Guillaume from Paris says that two weeks in Donetsk was enough for him to fall in love with the city, the reason for this being its flowers and fountains. Though in his view, the people of Donetsk appeared very constrained. "The people are pleasant and hospitable, but very cautious and completely unemotional. Although they paint their faces for the match, they are quiet, there is no impression of something uniting them. The city lacks atmosphere," he says.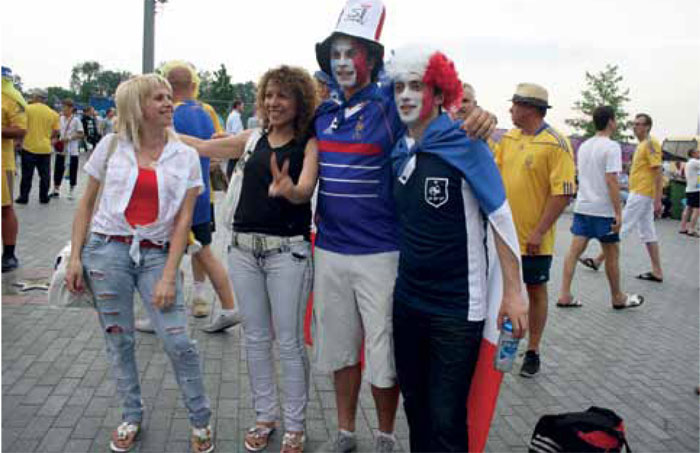 FESTIVE POSING. Donets kgirls were happy to pose for a photograph with French fans near the Donbas Arena.
Dutchman Arien's company, which operates throughout Europe and North Africa, installed the sound systems at stadiums for Euro-2012. Arien has been visiting Ukraine for 10 years. During a break caused by rain during the Ukraine-France match at the Donbas Arena, he said that our stadiums are the best in the world. "I'm really happy to cooperate with Ukrainians. If the client has money, he can get high quality and quick results here," he said. Meanwhile western "punctuality" is not always beneficial for the client. Arien was worried he would miss his plane because of the delays in the match, only to discover that the flight was delayed. "Ukrainians can be flexible, while our schedules never change," the Dutchman concluded.
All Ukrainian hopes were focused on the attraction of Lviv for tourists. Austrians said that the city looks like "Vienna 100 years ago". Security concerns faded when a guest from Vienna forgot to lock his old car and found it undamaged two days later in the city centre. Lviv seemed dear not only to the citizens of the former Habsburg Empire. A group of Portuguese fans had a hard time finding their bus stop, then squeezing into their "marshrutka". The fans seemed unhappy and could not understand how to pay for the ride. But as soon as the driver noticed the Portuguese flag, he explained everything in fluent Portuguese. The thing is that he had worked as a builder in Portugal for several years.
AN ATMOSPHERE OF FREEDOM
No large-scale event changes a country like the revelation of a country's advantages and defects, as if on a projector. During the last two years Europeans kept asking whether Euro-2012 would become a disaster for Ukraine. Due to a lack of information about Ukraine, their expectations were low. But most impressions turned out to be very positive, especially in respect to Ukrainians themselves. However, we will only know for sure if foreigners enjoyed their vacations in Ukraine if they want to come back after the championship.
French and Austrian journalists Sébastien Gobert and Michael Riedmüller supported the Ukrainian national team, referring to Ukraine as their second home. During the championship they were pleased that their countries' media finally took an interest in Ukraine and decided they could also write about the history of the traditional Ukrainian soup called "borshch", give portraits of the oligarchs who own football clubs, and print an investigative article on the notorious presidential residence in Mezhyhiria. During the last few weeks, Sébastien and Michael took every opportunity to visit Kontraktova Square instead of the noisy fan zone on Khreschatyk, the main street of Kyiv. The thing is that there are plans to rebuild an old building on Kontraktova called Hostynniy Dvir, and opponents of this plan are trying to create a new cultural space, organizing various artistic events. According to the journalists, for the first time after all these years in Kyiv, they "really feel at home, sensing an atmosphere of freedom and ease, which can be found in Paris, Vienna, Lille or Brussels, but had always lacking in Kyiv".
GAINS AND LOSSES FOR UKRAINE'S IMAGE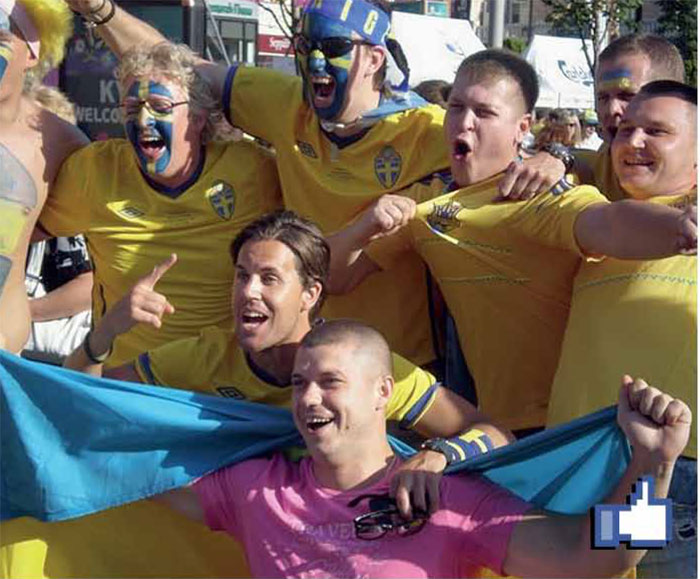 Generousity and cordiality. In general, foreigners had the following impression of us: as a society, Ukrainians have many problems, but individually, they are exemplary. "Ukraine is the only country where I have ever seen such a kind, sincere and friendly attitude towards guests," commented British human rights activist Clare Dimyon, adding that she did not notice any traces of racism in spite of the scare-mongering of the British media.
Beautiful girls. "Every other Ukrainian woman looks like a model," say astonished European guests.
Prices. The price of most food products, alcoholic drinks and cigarettes in Ukraine have come as a pleasant surprise for guests either from the West, or from the East. Most of all, foreigners liked the cheap, but, in their view, good quality beer. However many were shocked by unjustifiably high prices in restaurants (particularly in Kyiv) and hotels (largely in Donetsk).
Food and drinks. Foreigners who had the courage to try Ukrainian dishes, did not think of them as being exotic, while they say that coffee is much better here than in West European coffee shops.
Nature and old architecture. Foreign guests were amazed by the churches, old buildings and green cities. "In Kharkiv I can see nature and beautiful buildings. Take a walk along this street, there is a church which you have to see," this is what Manfred Walter advised to the Die Zeit journalists. Mr.Walter lives in trailer in the centre of the former Ukrainian capital. Meanwhile many people disliked the greyness of Soviet housing estates. Modern skyscrapers in residential areas have also shocked many people, who wondered: "How can such awful building be constructed!".

Political prisoners.Many Europeans knew a lot about the political situation in Ukraine. "I don't see one person here," Swedish fan, Olaf, told The Ukrainian Week, "her name is Yulia Tymoshenko". Fans were pleased to visit the camp of supporters of oppositionist Tymoshenko on Khreschatyk Street and put on T-shirts with an inscription saying "Free Yulia". Meanwhile during the Germany-Netherlands match in Kharkiv, German members of the European Parliament, Rebecca Harms and Werner Schulz, together with 50 other activists, raised posters saying: "Release all political prisoners" and "Fair play in football and politics".
Communication problems. Incomprehensible road signs on city streets and on public transportation (with the exception of the underground) were not translated into English, while policemen and service workers mostly learned sign language instead of English.
Potemkin villages (fake settlements). When taking just one step out of city centres, with their repaired roads, foreigners have been totally shocked by dilapidated roads, neglected villages and toilets "with a heart-shaped hole instead of a proper toilet bowl!!! These Ukrainians are really creative!" (Mark shares impressions on Facebook). Many foreigners have also been shocked by the way local officials in several cities, trying to please VIPs, have organized entrances to the stadiums for ordinary fans. For instance, Lviv ensured easy access to the stadium for UEFA representatives and VIPs on days when matches were held, by closing down all but one of the roads in the vicinity of the Lviv Arena. This know-how resulted in traffic jams and many foreigners could only get to a group stage match at the end of the first half.
Bribes. All foreigners know about them, and many tourists have personally encountered this phenomenon. On the internet, (mostly) Swedes and Germans complain that "Ukrainian policemen" extorted EUR 50-100 from them, calling the bribe an opportunity to avoid a "fine of several thousands".
Service. Many foreigners were unhappy with the small portions in restaurants, slow service and personnel with a negligent attitude towards customer preferences. In addition, foreigners noted that sales clerks in shops were unfriendly. "Having asked in English if I could use a payment card at a gas filling station, I was given a dark look in response, as if to say "Where the hell have you come from?" – I gathered that she doesn't understand what I'm saying. I showed her the card. She started to explain something in her own language, frequently using the word "nalichka" (cash, in Russian) and giving me a withering look. She must have wondered how on earth it was possible not to know such a simple word. I think I would definitely have been late for the match in Kharkiv if an English-speaking Ukrainian hadn't helped me. From now on I will never forget the meaning of the word 'nalichka,'" German fan Thomas wrote on Twitter.