The world gets a new refugee every 4.6 seconds. Afghanistan, Somalia, Iraq, and now Syria are just four of the many countries where wars, persecution and terror have prompted millions to join the most vulnerable members of society by seeking refuge abroad.
Sadly, Ukraine is not a particularly welcoming place for refugees and asylum seekers. Despite the efforts of international services and human rights organizations dealing with this issue, refugees still risk being denied entry into Ukraine, being arrested and extradited to their country of origin. This policy pushes Ukraine farther from civilized countries that respect international law, and is an obstacle on the path to the full liberalization of the visa regime with the EU.
A way out?
People fleeing their home countries for justifiable reasons face complex obstacles when applying for refugee status in Ukraine. According to Oldrich Andrysek, UNHCR Regional Representative for Belarus, Moldova and Ukraine, "the long-lasting administrative reform implemented in Ukraine is just one of a slew of obstacles." He claims that too many Ukrainians still view refugees as simple migrants seeking a better life.
Ukraine has not yet developed or implemented effective refugee legislation. According to the UNHCR, refugee related procedures do not comply with international standards, just as before, despite a new law on refugees passed by the Verkhovna Rada in 2011. Among other things, asylum seekers with no documents may be detained for up to 12 months.
READ ALSO: A Maximum Security Country
In January 2012, a group of 81 refugees, mostly from Somalia, announced a hunger strike to protest their detention in camps for illegal migrants. They were placed in two camps in Volyn and Chernihiv Oblasts following a police operation to eliminate "illegal migration" in late December 2011. Most of them had no chance to apply for asylum because many oblast offices of the national migration service were not operating for most of 2011. Some of the protesters were repeatedly detained and placed in temporary shelters after authorities refused to grant them refugee status and tried to force them to leave Ukraine. The hunger strike ended on February 17 after the oblast migration service assured detainees that it would resume applications for refugee status and protection.
A significant impediment is the fact that most Afghan, Somali and Syrian asylum seekers detained by the border or migration police are unable to fill out the seven-page application for refugee status or additional protection in Ukrainian without assistance from lawyers and interpreters. As a result, they are treated as illegal economic migrants in Ukraine. By contrast, EU member-states provide legal assistance and translation free of charge, while the border police fill out applications which refugees must simply sign.
In 2012, only 12% of applicants received protection in Ukraine. Some were only granted refugee status after they appealed the initial refusal in court. In the EU, 26% out of 268,000 were granted refugee status or additional humanitarian protection without court appeals.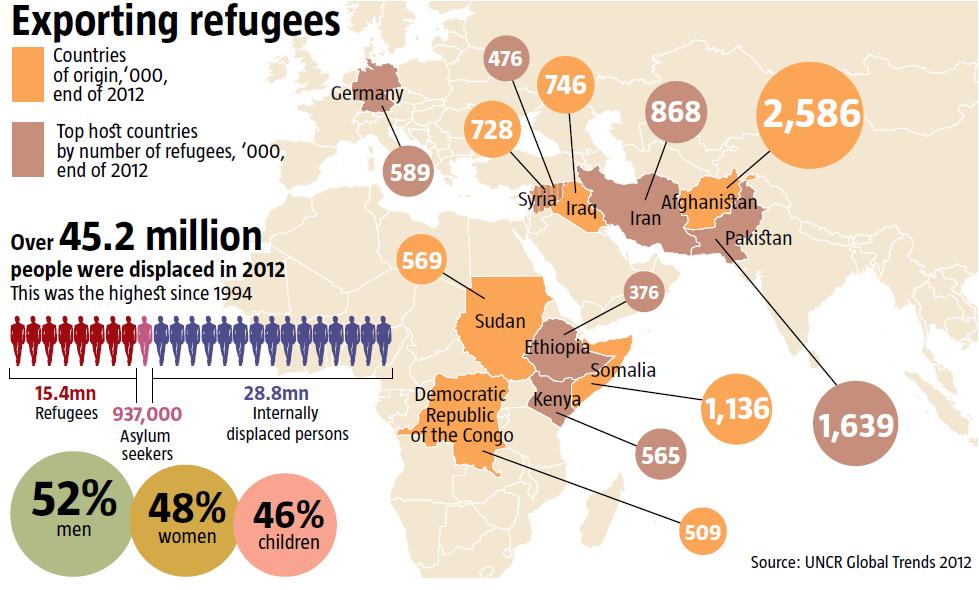 Political flavour
It is no secret that many asylum seekers in Ukraine fled their countries because of political persecution. However, Ukraine tends to break its international commitments under the UN Refugee Convention by satisfying extradition requests. Such cases have grown more frequent under the current government. Very often, Ukrainian judges seem to forget the fact that UN conventions are the top priority in the hierarchy of legal commitments in a UN member-state. Under these conventions, the extradition of international asylum seekers or people with refugee status is illegal.
To a large extent, this is a Soviet legacy. In the USSR, human rights and anti-discrimination laws were unheard of, something from beyond the Berlin Wall. Even after 19 years of UNHCR activity in Ukraine, Ukrainian prosecutors, judges, and law enforcers still do not understand the key principles of protection for vulnerable people such as refugees and asylum seekers.
For some reason, the Minsk Convention on Legal Aid and Legal Relations in Civil, Family and Criminal Cases has no clauses regarding asylum seekers, although there are many CIS citizens fleeing to Ukraine and seeking asylum there due to political persecution. Most of them come from Russia, Belarus and Central Asia where authoritarianism thrives.
READ ALSO: Odd Men Out
A 2013 Amnesty International report lists the most notorious cases of rights violations against political asylum seekers in Ukraine. These violations show the international community and the EU (with which Ukraine hopes to sign an Association Agreement) that in practice, Ukraine is not implementing a key European value: the protection of human rights and prevention of discrimination.
Kyiv ignored Ukraine's commitments under the UN Convention against Torture and the Refugee Convention when it tried to extradite Ruslan Suleymanov to Uzbekistan. He moved to Ukraine in November 2010 out of fear of an unfair trial, torture and violence in his home country after competitors tried to acquire Karavan Bazar, the development company where he worked. He was arrested in Ukraine on February 25, 2011 and placed in a detention centre when he came to the Chernihiv police station to apply for permission to work in Ukraine. Ruslan did not have access to a lawyer until May 18, 2011, although this was a violation of Ukrainian and international law. That same month, the Prosecutor General's Office confirmed that he would be extradited to Uzbekistan where he would be tried for economic crimes. His request for asylum in Ukraine was rejected, but the UNHCR recognized him as a refugee in May 2013 and took an active part in his resettlement to a third country that would agree to grant him asylum.
READ ALSO: A Human Life: Priceless No More
Another notorious violation surfaced in October 2012 when Russian special services kidnapped Leonid Razvozzhayev, a Russian citizen and activist of the Left Front, a union of leftist organizations in Russian and former soviet countries, in Ukraine. Alongside Konstantin Lebedev and Sergei Udaltsov, Leonid faced charges of "plotting mass disturbances" known as the Bolotnaya Square case. This occurred after he filed all of the required documents to apply for refugee status in Ukraine. His illegal extradition to Russia was followed by torture and violence to force him to admit that he and other activists were plotting mass disturbances in Russia. Subsequently, the Ukrainian Interior Ministry confirmed that Leonid was kidnapped by "law enforcement employees of a foreign country", qualifying this as "an act of cooperation between law enforcement entities" of two neighbour states rather than as a crime.
Almost ten months later, nobody can be say whether this will be an exceptional case that will never happen again, or a precedent followed by more similar cases and subsequently a blow to Ukraine's image in the world. Thus, many Russian, Belarusian and Central Asian citizens who fled to Ukraine due to actual or potential political persecution face the question: can Ukraine really protect them?
A matter of values
According to the State Migration Service, 2,435 officially recognized refugees from 47 countries reside in Ukraine today. This is nothing compared to the 16mn seeking shelter in 2012 according to the UN's estimates. Despite official statements whereby Ukraine is gradually becoming a destination for refugees, it is still just another transit country on the way to Europe, the US or Canada.
As they leave their native countries, asylum seekers leave the direct threat to their life and health behind, but face burdensome local bureaucracy in Ukraine, alongside a slew of linguistic and other technical issues Ukraine is not yet ready to solve. Equally unsolved are the issues of proper recording of incoming asylum seekers, provision of social assistance while their applications are considered and the lack of a real mechanism to integrate recognized refugees and people in need of additional protection into society.
READ ALSO: Ukrainian Justice – Perception and Practice
Sending peacekeepers to conflict zones is obviously not enough. Ukraine must properly receive refugees on its territory, just like most countries in the world do. To accomplish this, Ukraine has to make a long-awaited move and adopt the anti-discrimination law.
In its two decades of independence, Ukraine has managed to shift the responsibility for refugees to the UNHCR one way or another. The latter provides significant help but cannot solve the problem for Ukraine.
This issue is not simply about Ukraine's interest in the liberalization of the visa regime with the EU. It is about whether Ukrainians are living in a truly democratic country that will protect their rights.