What do Ukrainians think about Somali piracy? For many, the natural answer might seem "Maya khata z kraiu…"[1]
A scant two decades after the Soviet Union collapsed, Ukrainians can be forgiven for feeling isolated from far-away global events over which they feel little influence. Their thoughts are understandably closer to home, on getting (or keeping) a good job and good home, on their family's safety, on building their and their children's future. Talk of new security threats – of terrorism, failed states, cybercrime, piracy – can seem like stories of a far-away land, detached from the realities of everyday Ukrainian life. Yet the real impact of Somali piracy shows that these phenomena, like a stone thrown in water, cause ripples that have an effect thousands of miles away.
The impact of piracy on Ukraine is real. On 26 March, a Ukrainian crew member was among the 23 sailors taken captive by Somali pirates when they seized the MV Eglantine, a Bolivian-flagged merchant vessel that had been sailing near the Maldives. He joined five other Ukrainians in captivity – sailors captured on board of the Italian-flagged M/V Enrico Levolilast December. In 2011, six Ukrainians from the MV Blina spent ten months in captivity; since 2008, over 140 Ukrainian sailors have been victims of piracy. Many have suffered brutal torture and abuse; at least twohave been killed.
Of today's global security challenges, piracy may have the most disproportionately large impact on Ukraine. Although Ukraine's merchant fleet is relatively small (900 vessels or 1.8% of the world total) the country has between 80,000 to 100,000 merchant seamen – around 8-10% of the world's total. Supported by more than twenty higher education establishments that train seafarers, Ukraine is the third largest contributor of commercial crews in the world, second only to Russia and the Philippines. Taking into account demographics, Ukraine arguably has the world's greatest concentration of merchant sailors in its workforce. And thus the greatest exposure, as a country and a society, to the human cost of piracy.
The Ukrainian economy also bears substantial costs from piracy. Ukraine is a maritime country, with 2,782 km of coastline, one of the world's best navigable river systems, and substantial maritime trade. Much of Ukraine's maritime export transits areas affected by piracy – through the Suez Canal and into the Red Sea, the Gulf of Aden off the Somali coast, and the Indian Ocean. The risk is particularly acute in key export areas (see table).
With an outsized share of its goods exposed to piracy, Ukraine undoubtedly bears a disproportionate share of the estimated $7-12 billion dollar annual cost of piracy to the world economy. Insurance costs and protective measures add over $300,000 to the cost of each voyage. For ships that re-route around Africa, the cost is $1 – $10 million per trip – and additional transit time that reduces a ship's annual cargo lift capacity by 17%. These costs are passed on as increased transportation fees, cutting into profits for Ukraine's exporters, shippers, and producers – and raising prices for purchasers, thus lowering demand for Ukrainian products.[2]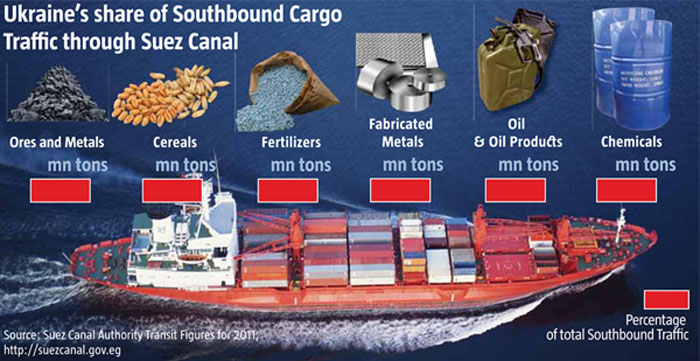 The only way that Ukraine can counteract the human and economic cost of piracy on its citizens and economy is through the framework of multinational cooperation. Of the international organizations with which Ukraine works, only NATO (and increasingly the European Union) has the capabilities to counter a piracy threat that covers an area of ocean as large as Western Europe.
I witnessed the dawn of NATO-Ukraine cooperation on countering piracy firsthand in October 2005, when a friend serving as duty officer at Ukraine's Ministry of Foreign Affairs called to request NATO's help in responding to the capture by Somali pirates of MV Panagia, a Ukrainian-owned vessel with 22 Ukrainian sailors on board. While NATO did not yet have its own dedicated anti-piracy effort, the headquarters for NATO's maritime Operation Active Endeavor quickly put Ukrainian authorities in touch with NATO member countries that had ships and aircraft in the area. These were able to monitor the track Panagia, which was ransomed some five weeks later, together with its crew.
In the ensuing seven years, Ukraine has become an active participant in NATO maritime operations. Ukraine's Navy has deployedships for extended operations with the Alliance's Operation Active Endeavour in the Mediterranean on five occasions. Based on that foundation built by joint efforts, Ukraine is currently preparing to deploy an An-26 patrol aircraft to participate in the EU's Atalanta anti-piracy operation this coming October. That aircraft's valuable sea surveillance capability will substantially increase the effectiveness of international anti-piracy patrols – and in doing so, directly contribute to protecting Ukrainian citizens from the dangers of piracy, and Ukraine's economy from its costs. A textbook case of how, in today's world, nations can only protect themselves by pooling their resource and pulling together.
EXPERT OPINION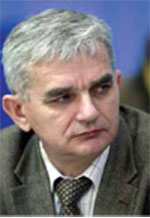 Oleksiy Melnyk, director for foreign policy and international security programmes at the Razumkov Centre
Just like any other complicated issue, the fight against piracy on the open seas requires a comprehensive approach. Attempts to simply use force quickly backfire and merely localise and reduce the threat while being unable to completely remove it. At the same time, this in no way diminishes the importance of international anti-piracy operations carried out by NATO, the EU and their partners. It is too early to report significant success, but military presence coupled with other measures to increase security and awareness of crew members have removed the sense of impunity that pirates used to enjoy.
The problem lies not only in the absence of necessary resources, even though these limitations together with a common understanding of the threat are the main incentives for international cooperation. Countries that have almost no cooperation in other areas have teamed up to fight Somalian pirates. Malaysian, Saudi Arabian, Pakistani and even Iranian military vessels serve on duty next to NATO and EU ships.
Piracy illustrates the global and extraterritorial nature of contemporary threats. To Ukraine, it poses a large-scale threat of disrupting the security and reliability of sea transportation and is a direct risk to our citizens who seem to suffer from pirate raids more often than others. Ukraine's own merchant navy was destroyed in the 1990s, but according to the sailors trade union, 50,000-60,000 Ukrainians continue to go to sea under the flags of various countries and thus there is a constant risk that they may be captured by pirates.
Rescuing them is largely up to vessel owners, but the state is sometimes forced to intervene. If an event makes headlines, it turns into an extraordinary situation, and often the government then steps in with material and nonmaterial help. Of course, this is a grand opportunity for some politicians to pose for photo-ops with rescued crew members. But if the problem is approached calmly and seriously, there is no alternative to active participation in international measures.
The armed forces will practice skills and adopt the best practices through participation in such operations as Atalanta (EU) or Ocean Shield (NATO), while Ukraine will make a contribution to increasing the security of sea navigation and the world in general.