For the last 25 years, Russia has methodically filtered bilateral trade flows with Ukraine in its own interests under various pretexts, gradually closing access to its market for finished products from a variety of Ukrainian industries, from pipes and sugar to dairy and confectionery. As a result, bilateral trade was gradually restricted exclusively or mainly to what Russia needs.
Almost all Ukrainian exports of alumina – a raw material for the production of aluminium in Russia that is then supplied mainly to Ukraine – are directed towards the Russian market (95.9% of exports from Ukraine in the first 5 months of 2017 for $200.8 million). All exports of radioactive elements and isotopes ($36.6 million) – the raw material for the production of nuclear fuel, which Ukraine then buys at a significantly higher price from Rosatom, Russia's state nuclear power company – also go to Russia. It receives 40.8% of Ukrainian kaolin clay ($7.4m in the same period) and even larger amounts of other clays and gravel.
For now, certain components required by Russian producers (turbo engines, train parts, engines, etc.) are sent there. But this will only last until they find a substitute. As soon as it became possible to opt out of importing components or engineering products from Ukraine, Moscow did this, regardless of the state of bilateral political relations and who was in power in Kyiv. For example, it was during Yanukovych's regime that Russia began to reduce locomotive purchases from Ukraine and sabotaged previously agreed-on projects to cooperate in aviation, insisting on the use of French engines in joint projects instead of the usual Motor Sich units from Zaporizhia.
On the other hand, Ukrainian approaches to trade with Russia were chaotic and inconsistent, mainly boiling down to reflex reactions to stimuli from Russia instead of imposing its own agenda in bilateral trade. Therefore, the negative consequences of such policies often outweighed the positive effect.
RELATED ARTICLE: How Ukraine can prepare for a halt of Russia's gas transit through its territory
Both manifestations of this chaotic and impulsive approach – from the complete suspension of trade in certain types of goods to uncontrolled "mutually beneficial" cooperation in sensitive areas because of a vulnerability to Russian blackmail – are equally wrong. It is necessary to either impose a total embargo on trade with Russia or subordinate policy to a long-term strategic goal – consolidation of its raw-exports status in bilateral trade. It is necessary to apply the approaches to dealing with pariah states that leading Western countries developed long ago. For example, the famous "oil-for-food" programme for trade with Iraq during Saddam Hussein's rule. Or at least pursuing the same approaches to trade policy that Moscow itself has used for decades against Ukraine. In other words, gradually restricting imports from Russia to the types of raw materials, intermediate products and components that will make important industries and manufacturing more cost-effective in Ukraine, without allowing them to reach critical amounts in their share of total imports and consumption in order to avoid threats to Ukraine's economic security. At the same time, it makes sense to phase out trade wherever it is more profitable for Russia than for us, as long as this will not cause serious problems for Ukraine or, on the contrary, will facilitate the transfer of the production/assembly facilities of multinational corporations from Russia onto our territory.
Chemical wars
Instead, we now have, by all appearances, the opposite situation. The Ukrainian chemical industry is a particularly revealing example. Much of it has long been controlled directly by Russian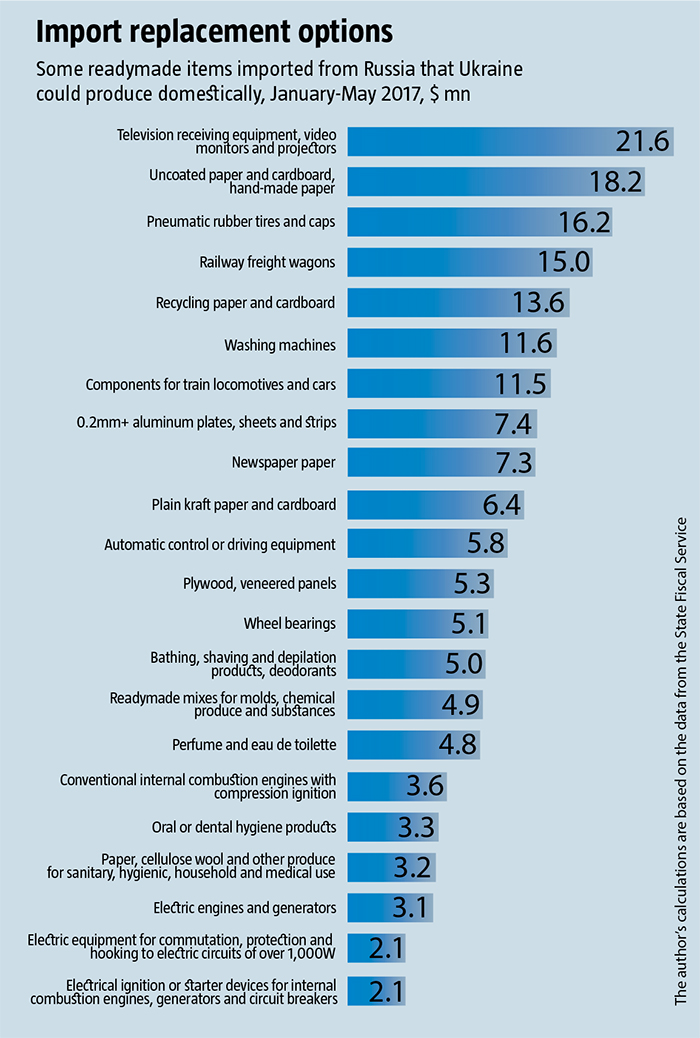 capital or through Ukrainian agents. For example, Dmytro Firtash's business empire was established with Russian money and was always controlled by the oligarch's Russian masters. After not being particularly concerned about upgrading facilities or creating new types of production that are less vulnerable to external shocks for decades, the owners are trying to compensate for this by lobbying for protectionist measures. Recently, structures that are essentially Russian (formally or practically), such as the I Prize group or Dmytro Firtash's Ostchem have been very successfully and cynically using the natural anti-Russian sentiments in the country to enhance their own monopolies and make windfall profits at the expense of Ukrainian consumers.
Anti-dumping measures on imports of Russian ammonium nitrate to Ukraine were first introduced in May 2008. In 2014, they were extended for 5 years – until July 2019. In June 2015, the Interdepartmental Commission on International Trade (ICIT) launched another investigation on imports of mineral fertilisers from Russia based on a complaint from companies that belong to Dmytro Firtash's Ostchem group: Azot in Cherkasy, the Severodonetsk Azot Association and the Styrol concern in occupied Horlivka. On 27 December 2016, the ICIT set new duties at 4.19%, 18.78% and 31.84% for various Russian manufacturers. Despite that fact that in August 2016 representatives of a large number of associations of agricultural producers, including farmers' associations (Agrarian Union of Ukraine, Ukrainian Agrarian Confederation, Ukrainian Agrarian Council, Ukrainian Club of Agrarian Business, Ukrainian Association of Farmers and Private Landowners), wrote an open letter to the government opposing non-market price regulation methods and demanding not only that additional duties on urea and urea-ammonia compounds not be introduced, but also that existing anti-dumping duties on ammonium nitrate be removed.
They also demanded an antitrust investigation of the domestic fertiliser market and sanctions for price fixers. In fact, after the introduction of anti-dumping duties on ammonium nitrate in 2014, Ukrainian prices for all major nitrogen fertilisers increased significantly, exceeding export prices by 14-17%. Despite the fact that there are additional costs when exporting, especially for logistics, so domestic prices should be lower. As a result, the total losses of Ukrainian farmers in 2014-2016 from the difference in nitrogen fertiliser prices alone can be estimated at $400 million. For its part, the Anti-Monopoly Committee of Ukraine (AMCU) has already confirmed the monopoly position of the two Azot enterprises in Dmytro Firtash's Ostchem on the urea market. In 2015, it began proceedings on the grounds that the company NF Trading Ukraine is abusing its dominant position on the ammonium nitrate market by setting prices in a way that would not be possible if there were significant competition.
Following a request from the Agriculture Ministry, on February 13 the ICIT determined that "national interests require the suspension of anti-dumping measures for imports to Ukraine of certain nitrogen fertilisers originating in the Russian Federation" and cancelled the duties introduced in December 2016. However, after Firtash resorted to radical blackmail methods and completely stopped the production and shipment of nitrogen fertilisers, the Interdepartmental Commission on International Trade nevertheless decided to establish 31.84% duties on imports to Ukraine of certain nitrogen fertilisers (urea and urea-ammonia compounds) from Russia.
Another Russian structure on the Ukrainian chemical products market operates in the same way. KarpatSmoly in Kalush, which is controlled by the Russian I Prize group of companies, initiated an anti-dumping investigation on imports to Ukraine of urea-formaldehyde products from Russia. Compared to the first half of 2014, the proportion of imports from Russia in Ukrainian consumption has increased in the second halves of 2014-15 and the first half of 2016 by 21%, 13% and 5% respectively. While the complainant's sales fell by 17%, 20% and 58% respectively. In April 2017, the Commission adopted a decision to launch an anti-dumping investigation on imports to Ukraine of urea-formaldehyde resin and urea-formaldehyde concentrate.
However, the economy is a complex organism. The introduction of such restrictions, of course, may help to maintain and even increase production at KarpatSmoly, but the higher prices for its products will jeopardise the competitiveness of their consumers. This not only threatens significantly higher economic losses in sectors with higher added value, but could also negate the positive effect of introducing prohibitive duties: the share of Ukrainian manufacturers on the market could rise, but in contrast to a significant reduction in consumption of more expensive products.
RELATED ARTICLE: Changes in Ukraine's banking sector: consolidation, different owners
Many Ukrainian chemical plants, above all fertiliser producers, have really been going through hard times over the last decade and especially in the past few years. Both the unusually sharp drop in prices for finished products on the world market and the adjustment of gas prices on the domestic market have made themselves felt. The latter, if it did not put an end to them, at least substantially undermined the schemes to burn natural gas "saved" by regional gas suppliers controlled by Dmytro Firtash and written off for the needs of the public at discounted prices at Ostchem plants that belong to the same oligarch. The above factors made the very prospect of survival dubious for Ukrainian nitrogen fertiliser producers in the context of a global market where they have to compete mainly with suppliers from countries with excessive domestic gas production and accordingly low prices for it (see Against the Current). Revenues from the sale of fertilisers abroad decreased almost fourfold in recent years: the first quarter of 2014 brought in €160 million, while the figure for the first quarter of 2017 was only €42 million. In 2013, 3.69 million tonnes of nitrogen fertilisers were exported for €0.85 billion, but in 2016 half of this amount (1.81 million tonnes) made only a third of the former revenues – €0.29 billion. The situation on the domestic market also became more complex.
It is also true that dependence on imports of Russian nitrogen and particularly compound fertilisers had indeed reached a dangerous level. Specifically, 78.1% (80.6% in value) of nitrogen fertilisers came from Russia in 2016. The lion's share of the rest is from Belarus, where enterprises are totally dependent on Russian gas supplies for production.
Nevertheless, it is important to avoid prohibitive tariffs and other mechanisms that create problems for customers and artificial preferences for certain monopolies. Especially if we do not want the objective loss of international competitiveness by the Ukrainian chemical industry, especially producers of nitrogen fertilisers, to pull other sectors of the Ukrainian economy, including the agricultural sector, into the abyss with it. Prohibitive duties are a bad path if we want to protect our economic security without undermining the sectors of the national economy that consume the corresponding products.
Unfortunately, it is a fact that the world market for nitrogen fertilisers is an arena for competition between producers from countries that have significant domestic resources of natural gas at prices below the world average (see Against the flow). Apart from China, none of the countries that set the tone on the global nitrogen fertiliser market buys gas for this purpose at world prices.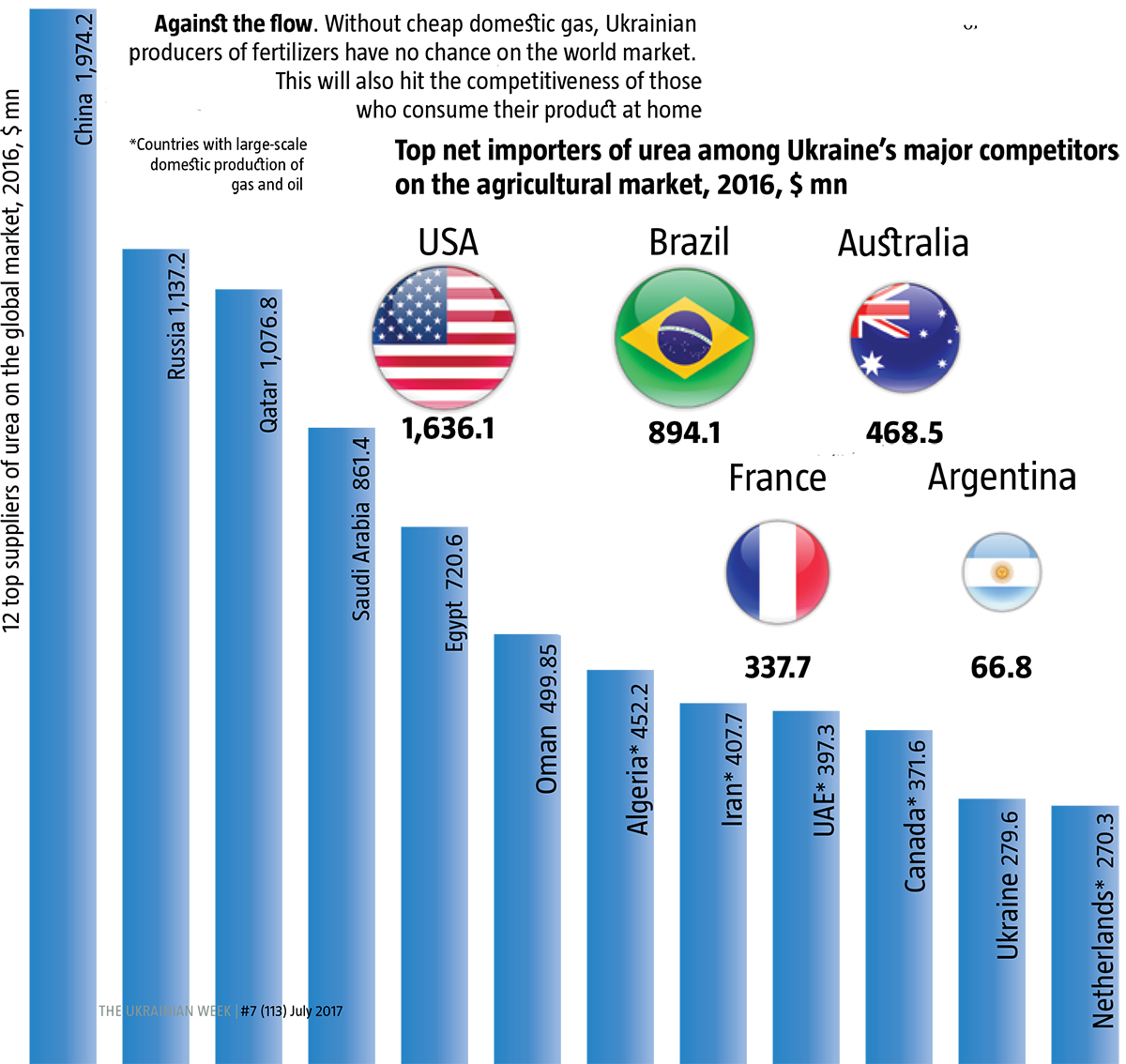 It is well known that gas represents up to 80% of the cost of fertiliser. So when prohibitive duties of over 30% increase production costs to 130% of the market price that would exist if competition were preserved, this actually means that Ukrainian consumers would pay more for the imported gas used to produce it (80% of the 130% cost of imported fertiliser = 104%) than for ready-made fertilisers. What is the point in making fertilisers if for each tonne of their production Ukraine will have to import gas for the same amount of money that could buy a tonne of fertiliser?
Instead, Ukrainian consumers are forced to fund this "life support" for fertiliser producers, or more precisely their owners' profits and wages that are a very small share of the final output. Then these Ukrainian consumers of fertilisers – agricultural producers – have to compete on the global market with agricultural companies from other countries who buy fertilisers at world prices (see Against the flow), which are lower than those set for the Ukrainian market by domestic monopolies.
After all, the agricultural sector is more important for Ukraine than the artificially supported production of fertilisers. The shares of the chemical industry and agriculture in GDP and employment are simply not comparable. While companies that produce nitrogen fertilisers employ only around 23,000 people and the entire chemical industry (production of nitrogen fertilisers is only part of it) provides less than 1% of GDP, the corresponding figures for agriculture are dozens of times larger. Only counting full-time employees, over 430 thousand people work in agricultural enterprises and their share in 2015 GDP reached 12.5%. In 2015, gross value added (i.e. officially recorded gross profit and employees' salaries) in the chemical industry was only 8.2 billion hryvnias compared to 239.8 billion in agriculture. Finally, agricultural products account for nearly half of all exports from Ukraine and therefore the lion's share of foreign currency revenues that ensure stability of the national currency.
Moreover, the few companies in the chemical industry (including the three Azot plants in Cherkasy, Rivne and Severodonetsk belonging to Dmytro Firtash's Ostchem) stand no comparison with the tens of thousands of agricultural enterprises, including more than 30,000 farms, that are consumers of fertilisers and whose costs – and accordingly competitiveness on the global market – depends on their prices.
A threatening "thoughtlessness"
Against the background of the "chemical wars", the continued dependence of Ukraine on supplies of a number of energy sources from Russia is much more critical, virtually making the country live with a constant threat to its economic security. After all, in its hybrid war against Ukraine the Russian side has repeatedly demonstrated a willingness to use limitations not only on supplies of our goods that are largely dependent on exports to the Russian market, but also on deliveries to Ukraine of raw materials and energy sources, a shortage of which would threaten the Ukrainian economy with serious problems.
For example, in January–April 2017 279,750 tonnes of anthracite coal out of a total of 283,030 were imported from Russia, 2.95 million tonnes out of 4.42 million of coking coal and 176,000 out of 393,000 tonnes of coke. Over the same period, 323,200 out of 330,500 tonnes of liquefied gas (propane-butane) and 1.8 million out of 2.25 million tonnes of petroleum products were imported from Russia and Belarus (which in this case are the same thing). This is a real instrument for energy and economic blackmail that we are leaving in the Kremlin's hands. All these products could be substituted by purchases elsewhere, but it would be problematic to do this quickly with current imports from Russia (sometimes together with Belarus) at 60-99% of required amounts. Therefore, it is necessary to reduce dependence on Russian imports of these product groups right now.
RELATED ARTICLE: Three years of Petro Poroshenko's presidency, comparison to his predecessors
However, there has not been any noticeable decisive action from the government. In April 2017 the Ministry of Energy, according to statements from minister Ihor Nasalyk, submitted a draft resolution to the Cabinet on banning the import of power-generating coal from Russia, however, looking at DTEK General Director Maksym Timchenko's comments, the company's lobbying was able to prevent the adoption of such a decision by the government. Moreover, in May 2017 418,700 out of 446,300 tonnes of power-generating coal came from Russia. Deliveries are primarily continuing from DTEK's Russian coal mines Obukhovskaya and Dalnyaya to the Luhansk combined heat and power plant belonging to the same company. What's more, such a supply scheme works fully in the interests of Russia. Indeed, according to the aforementioned Mr. Timchenko, the Obukhovskaya mine is in fact managed solely by DTEK. However, it is pledged to the Russian Sberbank as security and everything that it earns goes to pay back loans issued by that bank. In this way, the Luhansk combined heat and power plant is actually working for Sberbank Russia and the energy it produces at the enormous rate of 2 hryvnias excluding VAT is paid for by Ukrainian energy market.
If an unexpected suspension of Russian supplies of certain goods could provoke problems in Ukraine for political reasons, strict limits on the proportion of imports that come from Russia are required, as well as an urgent shift to other trading partners. In this case, the economic cost is not of fundamental importance. A restriction on deliveries of a certain product from one source (for instance, no more than 25% or 35% of imports) could be a universal long-term tool against the country's dangerous dependence on Russian suppliers. However, the actual and not formal country of origin should be taken into account.
This approach would not only solve security issues, but also objectively raise domestic prices to a level that would interest alternative suppliers that are farther away from the Ukrainian market than the Russians are. After all, the current approach of high tariffs on fertilisers from Russia has not been able to disrupt the monopoly held on the Ukrainian market by pro-Russian oligarch Firtash in tandem with his Russian competitors, despite the rebalancing of domestic market shares between them.
Translated by Jonathan Reilly