By signing the 2012 State Budget bill, the President has approved what appears to be a perfectly realistic budget with revenues estimated at UAH 332.8bn and spending amounting to nearly UAH 358.1bn. These figures are fairly conservative, yet this does not mean that the country's financial plans will be accomplished. The bill does not account for some very likely shocks both in and out of Ukraine.
As the 2012 State Budget was drafted, projections of real GDP growth sparked heated debates. In Ukraine, however, it makes more sense to look at the nominal indicator instead. The deflator, which is the ratio of nominal GDP expressed through market prices in the current year to the real GDP in prices of the base year, has not recently dipped below 15-20%. Under such circumstances, the index of real growth – whether it is 4% or 5% – does not really matter, even if it still has some impact on projected tax revenues. A slowdown in the development of Ukraine's key trade partners has resulted in a UAH 5bn decrease of expected nominal GDP growth.
Another troubling aspect is the growing national debt. Apparently, these concerns are justified even though the problems are purely theoretical at this point. In 2011, real GDP growth in Ukraine outpaced its debt growth. In mid-2011, the sovereign debt to DGP ratio hit 40% and later sank to 36-37%. This is a rather acceptable figure given the fact that it isn't likely to skyrocket any time soon, as lenders are reluctant to issue new loans to the country. Still, a significant portion of Ukraine's liability is denominated in foreign currencies further burdened by enormous foreign liabilities in the corporate sector. This has led to fears of hryvnia devaluation that could tilt the economic situation, multiplying the budget burden and fiscal pressure. Even printing money will be of little help under this scenario. Devaluation could be sparked by developments on foreign markets, including, among other things, plummeting demand and collapsing prices for Ukrainian exports. The price of Russian gas is a key issue for Ukraine in this context, and it remains unresolved. Therefore, the approved state budget is merely a working draft that could be amended many times as a result of various factors.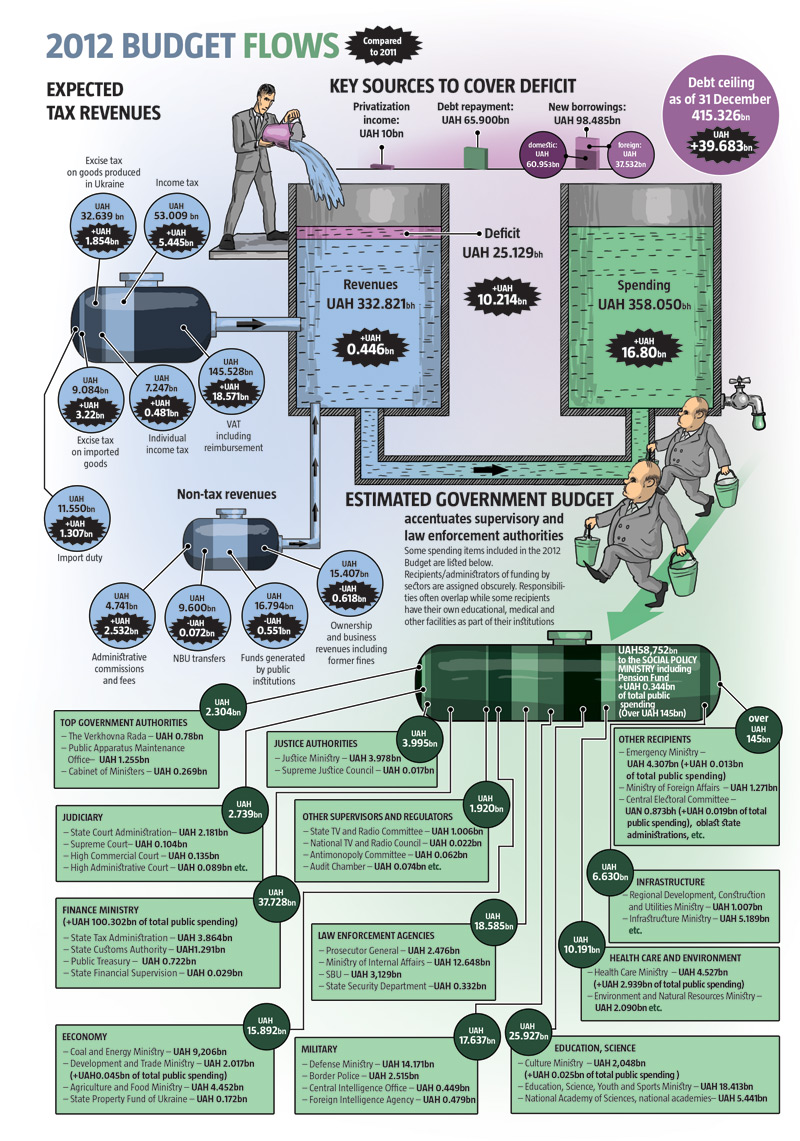 The parliament only passed the 2012 State Budget because it needed to do so in order to revive cooperation with the IMF, among other reasons. Apparently, the likelihood of hryvnia devaluation will be extremely high unless Russia makes some concessions in terms of gas price and Ukraine obtains foreign currency denominated injections from abroad. Moreover, the hryvnia could collapse well before the election, as purely administrative leverages will hardly help the NBU to maintain the current rate. This is unacceptable for those in power. In fact, given the current complex situation, it is worth noting that the government has not included any election "carrots" in the new budget. Yet, such incentives could still emerge in mid-2012 closer to the parliamentary election when the government gets a more realistic view of these developments.
The State Budget revenues are actually well-balanced. The government's tax hunger has fueled significant buzz, yet its growth has been much slower in 2012 than in 2011. This is despite the fact that inflation automatically increases corporate nominal income and due taxes respectively. The State Budget calculations are based on the assumed growth of corporate income by UAH 10.9bn to UAH 293.6bn in 2012. This is a realistic projection. Moreover, it might indicate the government's milder approach to business in 2012, particularly regarding the infamous advance tax collection. Still, it might search for extra resources to please the electorate in 2012. SMEs are most likely to keep hiding in the shadows, yet their share of budget revenue is fairly small. Two thirds of all taxes are paid by big taxpayers that have no way of hiding.
The budget deficit will be largely bridged through privatization. The government expects to sell state property worth UAH 10bn, a perfectly realistic expectation given the sale of VAT UkrTelecom for that amount alone in 2011. On 20 December, the President received a bill On the State Property Fund of Ukraine (SPFU), which, if signed, will remove the SPFU from the parliament's jurisdiction. Even if a surprise occurs and the Party of Regions loses its grasp of the Verkhovna Rada, the SPFU will remain under the President's control, and power consolidation is the next step to quick and "proper" privatization.
The approved public spending is a whole different story. Quite a few experts have criticized the decline of capital public investment, yet that is hardly a problem since capital public investment has always been ineffective and should not be viewed as an instrument of economic development. Still, the government plans to increase spending on law enforcement agencies prior to the election. In Russia, for instance, salaries for police staff have been tripled while in Belarus, KGB and police officers are paid more than many employees of Western corporations. Ukraine seems to be moving in the same direction.