Russia's undeclared war against Ukraine is into its fourth year now, costing, in addition to human suffering, 4% of the country's territory and 20% of its heavy industry, especially strategically important enterprises that produced ammunition, military devices, weapon guidance systems, and so on, that were located in Crimea and occupied Donbas.
All this time, Ukraine has had to rely on itself alone, since the bizarre—not to put it more strongly—policy of the West towards the aggressor has also restricted Ukraine's ability to acquire weapons and military equipment. Indeed, those restrictions remain in place to this day. And so, on one hand, Ukraine had to provide armament and military equipment for its fighting forces, and, on the other, to develop promising models of weapons, find a way to substitute imports that used to be supplied by Russia, and at the same time to reform its entire military-industrial complex (MIC).
At this point, there have been some clear successes in these areas, alongside the revival of Ukraine's armed forces. Certainly, there remain unresolved problems, but Ukraine's army has everything it needs to fight off the enemy.
Over September and October, a series of international arms exhibitions and conferences took place in Poland and Ukraine, including the XIV International "Arms and Security 2017" Show and the V International Conference on "The Challenge of Coordinating Military Technical and Defense Industry Policy in Ukraine. Prospects for developing armaments and military technology," held October 10-13 in Kyiv. A closer look at Ukraine's defense products presented at these events, the conference materials on current issues in re-equipping the military, and military technology cooperation with foreign partners in Ukraine offers a number of conclusions. Given the uncertainty over US promises to supply weapons such as Javelin anti-tank units, Ukraine's Defense Ministry plans to increase the purchase of Ukrainian-made Stugna and Corsar anti-tank guided missile systems, as well as BTR-4Es and Oplot tanks.
RELATED ARTICLE: What kind of model is needed for the de-occupation of ORDiLO?
What's new?
Just at the last exhibition, Ukraine's MIC showed several dozen new models of arms and equipment that take into account recently-acquired battlefront experience: many of the samples had just come back from the front. The most widely represented were armored vehicles, including: the upgraded T-72AMT tank made at the Kyiv Armored Tank Plant, a state enterprise; a heavy support vehicle for the Strazh tank made at the Zhytomyr Armored Tank Plant, the Kyiv Armored Tank Plant, and the Artem Holding Company, all state-owned; an upgraded BTR-4MN1 made at Kharkiv's Morozov Machine-Building Design Bureau; a light armored vehicles in the Kozak line, made at the Praktyka Research and Production Union, a private company. Also presented were such systems as the Bars-8 mobile mortar unit produced by Bohdan Motors; the Khortytsia mobile radio and radio surveillance unit and the Plastun 3D high-speed radio monitoring and tracking system made by the Infozakhyst R&D Center in Kyiv; anti-UAV systems from UkrSpetsTekhnika, a state-owned company; and the Kropyva combat control system made by TOV Lohika Construction Bureau.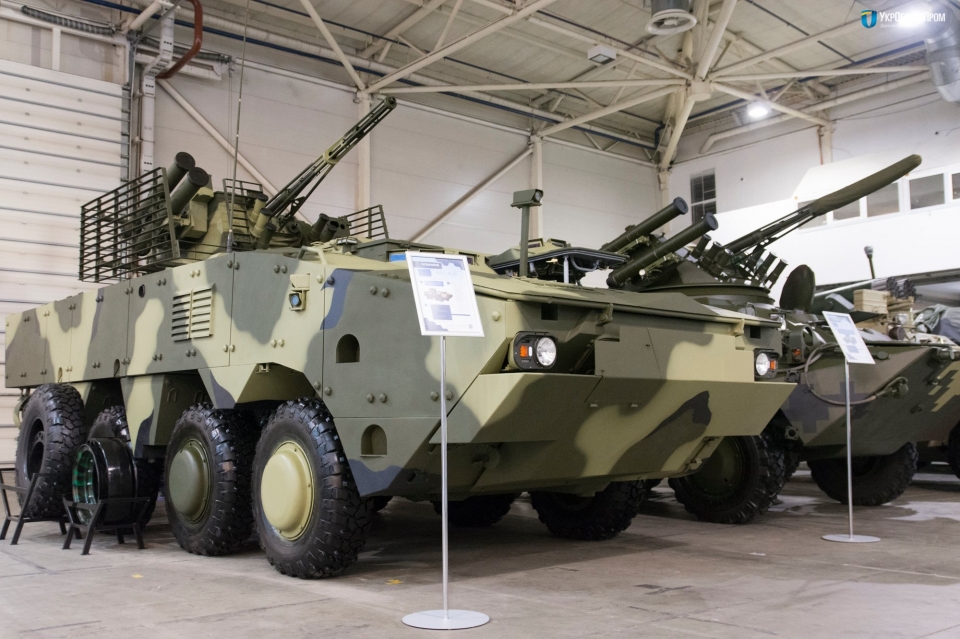 An upgraded BTR-4MN1 made at Kharkiv's Morozov Machine-Building Design Bureau
Working together with international partners, Ukraine has begun to produce new armaments and equipment, including the Polish-Ukrainian ZRN-01 Stokrotka 80mm MRLS called Margarytka; the new PT-17 Polish main battle tank, which will replace the T-72 and PT-91; M4-WAC-47 automatic rifles, and more. The new Margarytka was impressive, against both land and airborne targets like UAVs.
The question is how much of what the army needs can be produced in Ukraine and what is needed to ensure qualitative superiority against the enemy in the battlefield? The Defense Ministry says that, at this time, the Army has enough armaments and equipment to successfully carry out the missions it is being assigned. Still, it intends to re-equip the Armed Forces in 2018 with new and more effective models.
The rapid development of technologies and the appearance of qualitatively new types of armament and equipment affect the way that military action is planned tactically and has led to a reassessment of the role and place of all the components of the modern battlefield. At the top was the data component—the reconnaissance, control and communication systems that determine the speed with which command decisions can be made. Cutting-edge digital communications systems mean that a mobile unit from the US Armed Forces can be deployed 8 hours after getting executive notifications, whereas its Russian counterpart needs 24 hours or more. This critical issue is being addressed in Ukraine by procuring military digital communications systems from Turkey, which are manufactured to NATO standards. The signing of a contract was preceded by comprehensive testing at a training field where the Turkish models proved the most reliable and most effective. What's more, the manufacturer offered Ukraine a better deal than other providers, even Israeli ones.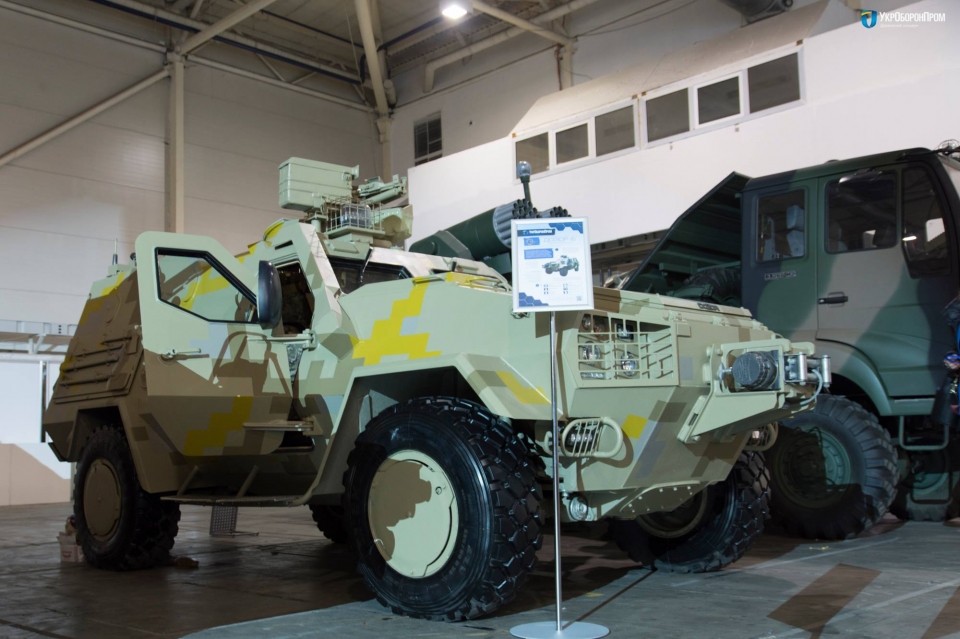 A light armored vehicles in the Kozak line, made at the Praktyka Research and Production Union, a private company
Citius, altius, fortius
These days, the quality of a weapon is judged not only by its calibre and reach, but also its accuracy and speed in hitting a target. Here, the advantage goes to high-precision ammunition that can hit a point target such as a reinforced firing position, armored vehicles, command headquarters, bridges and so on in one or two shots. This has the added advantage of seriously economizing on ammunition and resource containers: to destroy one and the same point target, ordinary ammunition may need as many as 100 shells. Meanwhile, the speed with which a mission can be carried out means that the gun can change position and avoid returning fire.
Among Ukrainian-made high-precision weapons with guided artillery shells using semi-active laser targeting systems include the 152mm Kvitnyk-E and 122mm Karasuk manufactured by the state-owned Progres R&D Complex. These two can destroy defended point targets at a distance of 20 and 12 kilometers. Moreover, all their components are Ukrainian-made.
The Pivdenne Construction Bureau in Dnipro is in the process of completing the Hrom-2, a mobile short-range ballistic missile system that can strike 250-450 km. It is somewhat analogous to the Russian Iskander. This project is being financed by an international buyer. Next year, plans are to put this SRBM through bench and field-testing. Based on the results, General HQ may decide to adopt this SRBM for the use of the Ukrainian Armed Forces. The domestic version of this weapon is expected to have better tactical specs than the version for export because of international restrictions. And so Ukraine's army will be able to relatively quickly have a very powerful non-nuclear weapon in its arsenal to hold back the enemy.
RELATED ARTICLE: The state of Ukraine's defense industry and plans for rebuilding it
Pivdenne is also developing two new high-precision AAD systems that can operate within a radius of 250 km and is working on completely upgrading its current MRL systems. For instance, the Ukrainian version of the 300mm Smerch —code-named Vilkha—MRLS can hit targets up to 120 km away. Its mobility and precision are also being improved.
The Luch Construction Bureau in Kyiv has finished preparations to test its domestic anti-ship cruise missile (ASCM) called Neptune for the Ukrainian Armed Forces. This December the first such missile will be launched to its maximum range. This will be a coastal version and next to be developed will be air-launch and ship-launch versions. Once these ASCMs are delivered to Ukraine's Navy, its attack component will be restored and combat capacity qualitatively improved.
Ukraine's Air Force is more in need of transport and patrol aircraft, which can easily be supplied by the domestic defense industry. There are also some options for upgrading the current fleet of helicopters and even developing new models at MotorSich in Zaporizhzhia. Drone technology is also actively evolving. The Antonov Corporation is working to developing the Horlytsia drone, but several other manufacturers, including private ones, have also been developing UAVs.
On the other hand, replacing the current fleet of fighter aircraft is a real challenge. Partly because of the high cost of promising fighter jets, the decision has been made to limit themselves to upgrading and extending the lifespans of the current fleet of soviet-era models like the SU-27, SU-25 and MIG-29 until 2030. Sooner or later, though, the acquisition of new aircraft will have to be on the table.
Prioritizing air defense
The military is insisting, however, that the priority be strengthening the country's air defense system, upgrading existing system and developing new ones for seeking and destroying airborne targets. This reflect broader trends in the world today, where technological progress has meant that air defense systems ensure the combat action of fighter aircraft and not the other way around, the way it was until not long ago. This was also testified by Ukraine's use of military aircraft in the war zone in 2014.
To establish an effective ADS, the government understands that it needs to set up and support an uninterrupted radar field over Ukrainian territory and the adjacent territories of neighboring countries at a wide range of altitudes. It also needs to constantly monitor and control the use of its airspace.
Today, Ukraine has the necessary resources and is actively developing new radar systems. The Iskra R&D Complex in Zaporizhzhia has taken the initiative to launch one such station in the 80K6T class mobile 3D surveillance radar system, preliminarily called Leleka, at its own cost. This station can detect and track up to 300 targets simultaneously at a distance up to 500 km at all altitudes: aircraft, helicopters, ballistic and cruise missiles. The Leleka is currently undergoing testing but has already attracted the attention of military attachés from a number of countries, including the US, where anti-missile defense systems are one of the top priorities.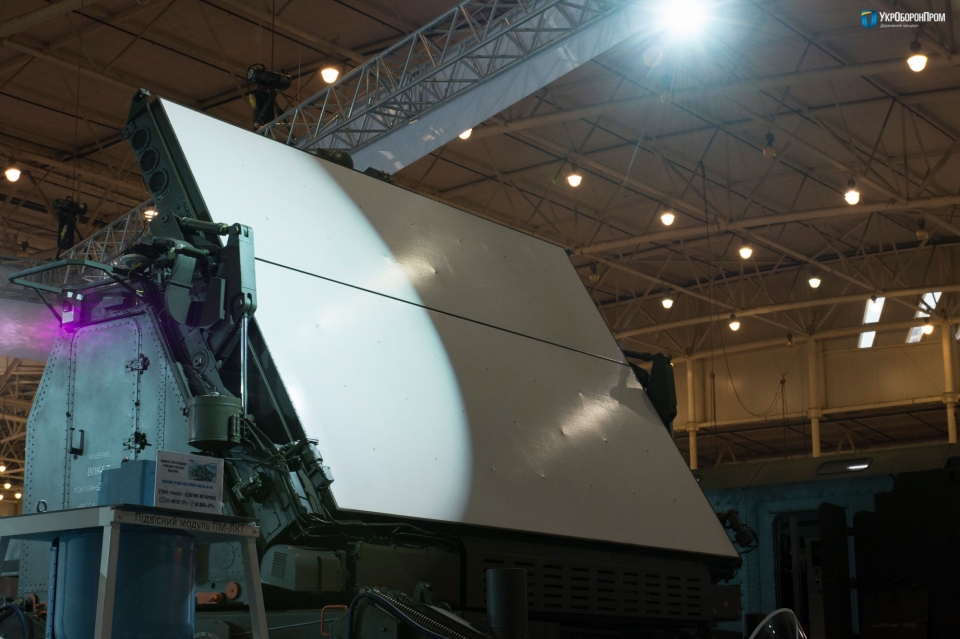 Ukraine is actively developing new radar systems. The Iskra R&D Complex in Zaporizhzhia has taken the initiative to launch one such station in the 80K6T class mobile 3D surveillance radar system, preliminarily called Leleka, at its own cost
Accenting technology
Another critical area is weaponry for Special Operation Forсes (SOF), especially radar equipment and electronic warfare devices. The development of the latter is leading to a switch to massive EW operations. There are already EW devices in circulation based on new physical principles: electromagnetic weapons and software weapons such as viruses, trojan horses, sniffers, exploits, and more.
In order to properly develop weaponry for SOF in Ukraine, certain options are being considered in the development of electronic weapons and increasing the effectiveness of combating electronic terrorism. This includes "… applying new physical and technological approaches in forming…small-scale high-energy impulse sources that can generate fatal electromagnetic and kinetic damage to the enemy's military installations."
Given that traditional weapons systems are reaching the limit of their evolution, major countries have been focusing more on developing weapons systems based on unconventional operating principles. In Ukraine, the priority has been to develop weapons that generate electromagnetic pulse or EMP for demining, bombs, guided missiles and so on; surface-to-air and surface-to surface laser-based weapons; high energy radio frequency weapons or HERFs based on high-energy generating devices; and non-lethal weapons.
One interesting approach used by Ukrainian specialists is the intelligent monitoring of land-based mobile and stationary objects using multi-agent air-based systems. This would use UAVs with computer vision that can monitor from the air using intelligence software. This has a number of advantages, including the capacity to monitor a larger territory and reduce the time needed for monitoring.
Now for the navy
The top priority for Ukraine's Navy is to expand its fleet of vessels as soon as possible to at least the minimum necessary number. Unfortunately, it's probably the hardest task. Firstly, the cost is enormous. Secondly, military vessels have very lengthy production cycles. The government's targeted defense program to develop weapons systems through to 2020 has two short-term objectives: expanding the building of small armored artillery cutters and modernizing the Hetman Sahaidachniy frigate.
In the medium and long term, the program calls for building Project 58250, the main multipurpose Volodymyr Velykiy corvette, landing and counter sabotage boats, a mid-range reconnaissance boat and Lan-type missile cutters. In addition a coastal surveillance system is supposed to be set up, equipped with Ukrainian-made CP-210 Delta 360° radar towers and mobile P-18 Malachite or Burevisnyk-1M units.
Unfortunately, despite the announced "priorities," the promised funding for 2017 to finish construction on the corvette was never released, and there is no guarantee that it will show up in 2018, either. This means that, for the foreseeable future, there's little reason to expect good news related to the corvette. It looks like, at the earliest, the Navy will get its long-awaited corvettes after 2020. In the meantime, while the Hetman Sahaidachniy is being upgraded, Ukraine's Navy will not have a single fully-functioning vessel in its maritime zone.
Another difficult issue is equipping the vessels with weapons, including weapons that are not made in Ukraine. And while some ASCM and SAM systems could gradually be produced by the domestic defense industry, medium calibre cannons, anti-ship torpedoes and mine-trawling equipment will have to be bought abroad. Given the international restrictions in place, the issue becomes even more complicated.
Repelling Russia's aggression effectively is impossible without expanding the country's marine capacities, which means mobilizing all resources and determination on the part of Ukraine's military and political leadership. Alas, the latter is very doubtful: the draft Marine Strategy of Ukraine, which is key to developing Ukraine's navy and all the country's maritime activities, and put together by specialists, has been gathering dust at the Cabinet of Ministers for more than a year now.
Next comes expanding the defense industry as part of the overall economy, reforming Ukraine's MIC, expanding joint ventures in military technology with foreign companies, and so on. Given Ukraine's own military technology potential, the country should be able to move up to the social, economic and financial level of European countries and to be an equal partner on global markets. This means joint efforts on the part of all stakeholders—the government, science and business—, identifying specific steps to encourage innovation, and providing it with the necessary government support.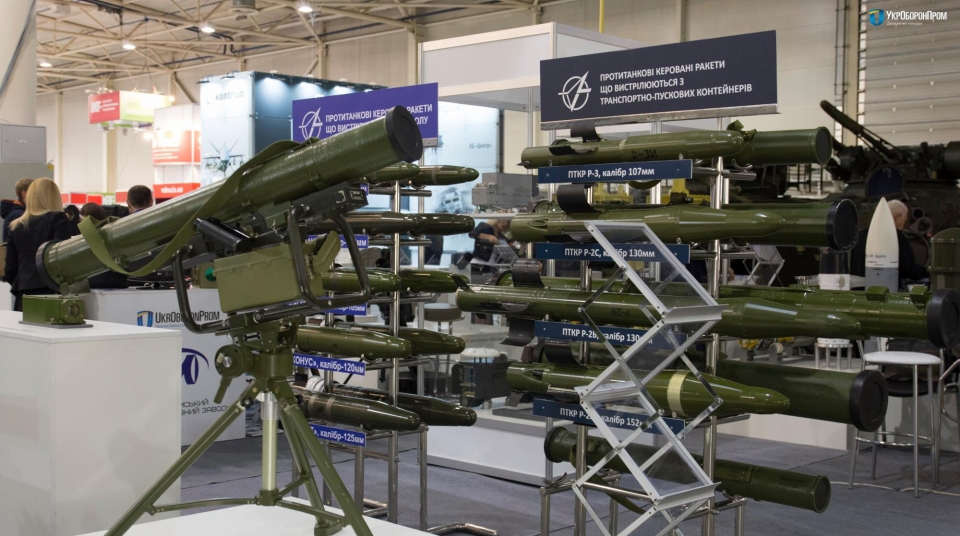 Given the uncertainty over US promises to supply weapons such as Javelin anti-tank units, Ukraine's Defense Ministry plans to increase the purchase of Ukrainian-made Stugna and Corsar anti-tank guided missile systems
The government also needs to pay more attention to domestic critical technologies, which are a particular priority in terms of ensuring national security and economic growth. Ukraine needs a state system run by a coordinating agency and customer, a national strategy, a critical technologies development program, and mechanisms for supporting it. Using leading EU countries and NATO, defense CTs are the dominant factor in national security or the security of a group of nations, so state financing is provided at the national level, while at the international level, a group of states finances it, such as through NATO or the EU.
In addition to supplying the country's armed forces, Ukraine's defense industry is a major player on global markets, as this is one of the key areas where high-tech products are exported. According to UkrOboronProm, the state-owned defense giant, Ukraine currently supplies dual use weapons systems and equipment to 68 countries and is in negotiations with another 83. As of July 1, 2017, total orders were worth US $2.365 billion.
What's more, this is a channel for communicating with potential partners, and gaining access to new technologies and investments. This is significant, as, right now, high-tech products have only around a 7% share of all of Ukraine's exports. Fortunately, this share is growing steadily.
Integrating with NATO
Given the need for its enterprises to advance joint projects and accelerate the move to manufacturing products to NATO standards, UkrOboronProm has been expanding its cooperation with the Alliance. Already 70% of its companies are certified to ISO 9001 standards and are instituting the AQAP 2000 management and quality control systems.
40 UkrOboronProm enterprises have been given access to the NATO Master Catalogue of References for Logistics. Ukraine is currently carrying out 37 different defense projects under NATO programs, including at the Kyiv Politechnical University. In December, Ukraine's MIC will be presented at NATO headquarters in Brussels. The company recently announced its strategy for reforming the defense industry—corporatization, audits, clusterization, comprehensive technology security actions, and the launch of HARDA, the Main Agency for Cutting-Edge R&D—and a large-scale program for import substitution that will involve 400 companies in 21 of Ukraine's oblasts.
At this point, the legislative and regulatory base needs to be improved. Although changes to the Tax and Customs Codes have already been introduced to streamline the import process for all of Ukraine's defense enterprises, without exception, another 40 regulations still need to be revised. Key here is to adopt the Law "On cooperation in military technology" and to amend Cabinet Resolution #170 dated March 16, 2016, "On the procedure for importing, first deliveries and targeted use of goods identified in Art. 287 of the Customs Code of Ukraine for use in the manufacture of products for military use."
A number of key questions also need to be legislated:
removing legislative restrictions on setting up enterprises on state-owned properties;
transforming state enterprises into public stock companies;
acquiring the instruments necessary to restructure liabilities;
applying mechanisms for private capital to be involved in stock companies;
simplifying the process of setting up a JV with foreign capital.
Last, but not least, there is the growing role of private defense manufacturers, which has become a serious trend. Being more flexible, efficient and a lot less corrupt, private business is capable of raising Ukraine's MIC to a new level of quality. Changes for the better are primarily being driven by the establishment of horizontal ties and cooperation, the broader engagement of scientists, and the growing experience of the manufacturers themselves. The result has been qualitative changes in the private part of the defense industry. Today, it's no longer just individual products, as before, but entire defense systems and assemblies with high added value.
All that's left is to hope that qualitative changes at its enterprises will slowly but surely bring Ukraine's MIC to a real hub. That, however, can only properly happen after fundamental reforms.
Volodymyr Zablotskyi is an expert at Defense Express journal/think tank
Translated by Lidia Wolanskyj
Follow us at @OfficeWeek on Twitter and The Ukrainian Week on Facebook