Over the last few years, messages about the reorienting on trade with the EU and shedding Ukraine's traditional FSU markets—meaning mostly the Russian market—as a disaster in the making for the country have persistently and consistently been injected into the domestic media field. They implied that the result has been an even deeper commitment to being a raw materials supplier. Skepticism about the competitiveness of Ukrainian goods on European markets has been common even among those who are completely against a return to Russia's orbit.
Meanwhile, the real trends in trade with the EU contradict claims that Ukraine's economy is becoming more concentrated on producing and supplying raw materials because of its strong orientation on the European market. Nor is there any basis for concerns that Ukrainian-made goods are uncompetitive and that Ukraine's market will be flooded with cheap European goods. First of all, most European goods are significantly more expensive, even with the current UAH/Euro exchange rate. Moreover, Ukraine's currency will most likely continue to slip in value compared to the Euro.
RELATED ARTICLE: New growth areas in the Ukrainian agricultural sector are gradually changing the industry
In fact, quotas and restrictions do limit the delivery of domestic products to the EU. Still, they affect a relatively narrow range of commodities that are sensitive for European manufacturers and mostly concern those goods that critics of eurointegration call raw materials. Even if we look at the changes in trade with the EU over 2013-2016, it turns out that there has been a marginal shrinkage in Ukraine's overall export—from €12.5bn to 12.2bn or 2.4%—precisely because of a reduction raw materials and semi-finished products. For instance, exports of unprocessed ferrous metals fell more than 20%. By contrast, exports of finished products have increased severalfold, from sugar, processed meat and fish, and butter to furniture, glassware and even shipbuilding products. Deliveries of electronics, equipment and machinery, and consumer goods have increased by double-digit percentages.
2016 turned out to be the first year after the economic part of the Association Agreement with the EU and the DCFTA came into effect. The trend for exporting goods to European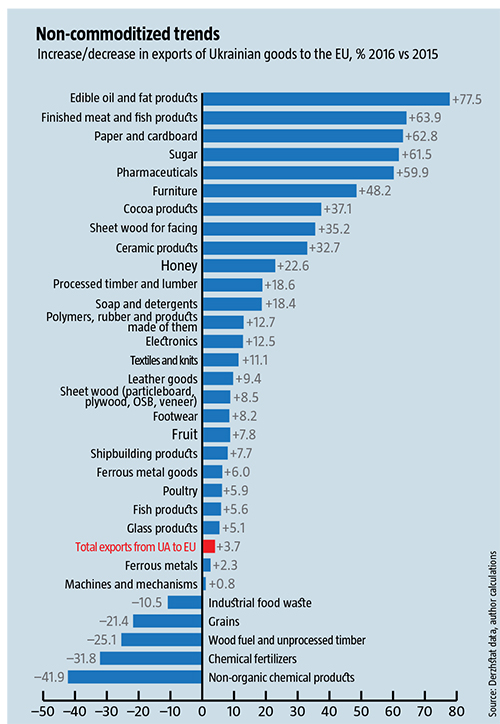 countries has become stronger and demonstrates more and more clearly that there are positive changes in its composition: from raw materials and semi-finished products to finished goods representing a broad range of sectors in the Ukrainian economy. These changes in deliveries of specific domestic products to European markets are pretty demonstrative (see Non-commoditized trends).
Although overall Ukrainian exports to the EU grew only 3.7% in 2016, according to official dollar figures from Derzhstat, a slew of non-commodities increased severalfold and even exponentially.
Thus, after the economic part of the Association Agreement came into effect, at least three key branches of the machine-building industry showed significantly higher growth as overall exports to the EU expanded: electrical engineering, shipbuilding and equipment and mechanism manufacturing. What's more, the strongest growth was in electrical engineering: US $1.6bn in 2016, compared to US $1.4bn in 2015, putting it in first place.
Growing exports in the steel and chemicals industries also illustrates that finished products made in Ukraine are successfully finding a place in European markets. For instance, ferrous metal product deliveries grew 6% in 2016, whereas exports of raw materials and semi-finished products grew only 2.3%.
RELATED ARTICLE: Which model Ukraine could apply in its further economic interaction with Russia
Exports of Ukrainian fertilizers fell 31.8% over 2015, down to US $106.5mn, while non-organic chemical products dropped 41.9% to US $56.6mn. Instead, chemical products exported from Ukraine to the EU with a higher added value and greater energy efficiency grew: pharmaceuticals rose to US $14.0mn, up 59.9%, while soaps and detergents rose to US $14.6mn, up 18.4%. A clear positive dynamic was seen in exports of plastics, polymers and products made of them, going from US $94.2mn to US $106.2mn, up 12.7%.
Despite the active battles over the export of timber from Ukraine, exports of processed logs to the EU noticeably increased, while exports of unprocessed timber shrank: where deliveries of fuel wood and unprocessed timber fell from US $169.1mn in 2015 to US $126.7mn in 2016, deliveries of processed lumber and boards increased from US $224.8mn to US $266.6mn. Even more impressive has been the growth of exports of Ukrainian furniture to EU countries, which brought in nearly 50% more in 2016 than they had in 2015: US $272.4mn vs US $183.8mn.
Other wood products from Ukraine grew modestly, but still several times faster than overall Ukrainian exports to the EU: sheet wood for facing went from US $99.1mn to US $107.1mn, while particleboard, plywood, OSB and veneers went from US $100.9mn to US $109.5mn. Domestic pulp and paper products also continue to successfully win over European markets: in 2016, exports jumped 62.3%, from US $52.5mn to US $85.4mn.
Ukraine's light industry is also confidently moving ahead. For instance, sales of textiles and knits to EU countries grew 11.1%, from US $508.5mn to US $562.2mn; leather goods went up 9.4%, from US $32.4mn to US $35.5mm; and footwear rose 8.2%, from US $116.0mn to US $125.5mn. EU countries are exhibiting greater demand for Ukrainian-made ceramic products, which grew 32.7% from US 20.6mn to US $27.4mn, and glass products, which rose 5.1%, from US $64.7mn to US $68.0mn.
Food exports are no exception. Products with lower added value are losing position. For instance, grain exports went from US $1.63bn in 2015 to US $1.28bn in 2016, while food wastes and other products to feed livestock went from US $490mn to US $440mn. But sales of sugar to EU markets have jumped 61.5%, from US $32.9mn to US $53.15mn, vegetables have gone up 67.8% from US $11.9mn to US $20.0mn, honey has gone up 22.6% from US $59.8mn to US $73.3mn, processed meat and fish have jumped 63.9% from US $4.0mn to US $6.5mn, and poultry meat has gone up 5.9% from US $64.8mn to US $68.7mn. Exports of oils and fats skyrocketed 77.5%, and 2016 was a breakthrough year for deliveries of milk to the EU. In the first year since the economic part of the AA came into effect, exports of creamery butter to European markets were worth US $2.6mn; earlier Ukraine's dairy products never even made it there. Meanwhile, the number of certified dairy exporters in Ukraine keeps growing steadily.
RELATED ARTICLE: How reforms have changed the banking system
The fact that commodities still dominate Ukraine's exports to the EU is not the result of the Association Agreement or of Ukraine's reorientation from Russia to the EU, but simply the persistence of past traditions. Thanks to economic integration with the EU, the tendency to growing exports of finished products is clear while sales of raw materials and semi-finished products are slowly shrinking. This is completely logical, given that the majority of finished industrial products are currently not restricted by any quotas.
Moreover, Ukraine is slowly integrating into the production chains of major transnational corporations. Their parts manufacturing plants are beginning to pop up in western oblasts. Still, if officials and business managers in other regions were to exert the necessary effort, this trend could easily spread to other parts of the country. This includes the southeast, which is going through difficult times as its hopelessly outdated manufacturers die off. A much larger share of Ukrainian-made products could be entering the European market and see its export volumes grow if not for the inertia of the management at many companies, who were too used to depending on "traditional" FSU markets.
Even though the EU share of overall Ukrainian exports is already around 50%, Ukraine is quite capable of increasing that tenfold, because the EU market will remain one of the most solvent and sophisticated markets in the world for a long time to come. For instance, total imports to EU countries were €4.7 trillion in 2016, hundreds of times more than what Ukraine exported to the EU in 2016—€12.1mn. To win over even a few percentage points of this huge market would mean multiplying deliveries by several times for Ukrainian producers.
Translated by Lidia Wolanskyj
Follow us at @OfficeWeek on Twitter and The Ukrainian Week on Facebook