Whenever a candidate or party running in the parliamentary election gives food packages worth UAH 50 to voters, someone could take a video and take it to the police to have the guilty person(s) answer before the law. Yet, no instruments work for top officials who bribe millions of voters and play with billions of taxpayers' money before elections. Eight months before the upcoming parliamentary election, the president announced a raise of social spending worth dozens of billions of hryvnia (officials estimate the amount needed to cover the raise by the end of this year at UAH 16-17bn, or nearly USD 2-2.13bn). The government's concern with the income of pensioners as the most proactive group of voters surprises no one, even though the Cabinet of Ministers quite recently cut benefits paid to privileged categories based on their own lawsuits after the okay was given by the Constitutional Court, which is controlled by the party in power, thus violating the Constitution of Ukraine.
A BUNCH OF PENSIONERS, PLEASE
"It's not right for those who retire just 5-10 years earlier to get a much smaller pension only because they worked for a shorter period," said Viktor Yanukovych pointing at financial troubles of future recipients as one of excuses for raising social benefits. That seems right, but why did the president remember the unfairness just before the election after having already served two years in office? Also, Mr. Yanukovych instructed the government to increase benefits for war veterans, another privileged category, promising to add 30-50% to the pensions of over a million such pensioners in May 2012. Even with the lowest rates taken into account, the government will have to increase public spending by UAH 2.1bn to cover these payments in 2012. Another category of pensioners whose life is being improved before the election includes families of late war invalids: which stand at 173,000 in Ukraine. The president is going to raise their benefits by an average UAH 119 over May-December 2012. Even with a gradual raise, monthly payments to this category should be increased by at least UAH 20.5 starting in December. The total extra budget benefits for these purposes will be at least UAH 100mn in 2012. This looks like a badly camouflaged bribe to voters which just happens to be worth nearly UAH 9.3-9.4bn of taxpayers' money in 2012 alone. Even without this sum, the deficit of the Pension Fund will be at least UAH 9.5-10bn under optimistic estimates of the government.
Another social promise intended to please the target audience, who have become strongly disenchanted with their leader lately, is to pay aid to miners, even if indirectly. The president has assured the voters that 190,000 workers of the highly-traumatic industry will get an average of UAH 500 financial aid in 2012. This adds another UAH 95mn to the budget burden.
RISKY PLAGIARISM
A classical mechanism of Ukrainian election populism is speculation on the repayment of deposits which were lost after the collapse of the USSR's Savings Bank. And Viktor Yanukovych is no exception, promising to pay UAH 1,000 to 6 million Ukrainians. Only four years ago, the Party of Regions criticized the tactics of Yulia Tymoshenko, now in prison for identical promises, as populism. This will cost taxpayers at least UAH 6mn by the end of the year. Moreover, these payments will only imitate the solution of the problem of deflated deposits. By passing the Law on 'Government Guarantees to Repay the Savings of Ukrainian Citizens', the Verkhovna Rada once admitted that the debt of official Kyiv before USSR Savings Bank depositors was worth UAH 131.96bn. Under Art.2 of the law, "the government shall ensure that the real value of citizens' deposits is preserved and restored" meaning that the abovementioned amount should be multiplied five or six as a result of inflation.
Cheap mortgages are yet another component of bribing voters. According to Viktor Yanukovych, "loans will cost people no more than 2-3%. The government will pay the rest to banks and the loans will be issued for 10-15 years." This initiative is nothing new. Mr. Yanukovych's predecessors, including Viktor Yushchenko and Yulia Tymoshenko, also promised cheap mortgage loans. After all, meeting its earlier commitments would be quite enough for the current government before spreading out new ones. Before the early 2007 parliamentary election, the Party of Regions promised to provide free access to housing for public sector employees that did not have their own home: "Teachers, doctors, employees of cultural institutions, police officers and the military will get keys to apartments once they sign a contract to work in the sector for 20 years," they claimed. "They will be able to buy the apartment for 50% of its cost after 10 years in office, 25% after 15 years and become owners in 20 years," said the Party of the Regions' 2007 election platform. So far, though, no public sector employee has had this opportunity.
Now, President Viktor Yanukovych has made yet another promise of mortgage loans with a 2-3% interest rate. Obviously, he is not going to meet his promises. Iryna Akimova, his Deputy Chief of Staff, has clarified that the expected amount of funding for cheap mortgage loans is no more than UAH 1bn for 2012, while nearly 1.3mn people are waiting for such apartments. Thus, government-subsidized mortgage loans will only go to a few chosen ones, using a corrupt scheme of course.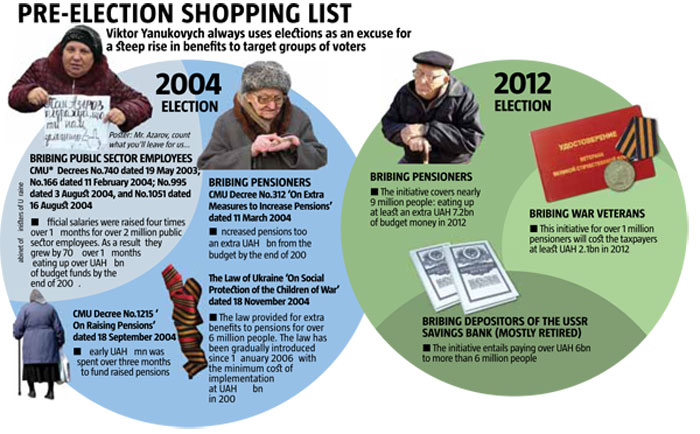 MANY A LITTLE…
The project of massive bribery of voters puts the source of funding under question. Iryna Akimova claims that "we already have UAH 10-11bn based on the Ministry of Finance's approximate estimates, mainly from higher than planned revenues from VAT on imported and domestic products and income tax revenues." Well-informed sources at the Ministry of Finance claim that this statement is simply not true. Both Tax Administration and Customs Service are already working harder than ever to bring at least the planned amount of revenues to the budget. One possible option is to increase pressure on entrepreneurs to pay taxes in advance, similar to what happened in 2004. Another source of revenues top officials mention is a tax on luxury or wealth. Many statements from government officials signal that the tax inspires their high hopes, yet it will in fact only bring UAH 0.4-0.5bn at the most over the next six months. Counting for more makes no sense: millionaires and billionaires in the parliament will never agree to a higher tax on themselves. The newly introduced real estate tax has proven this: the owners of thousands of square meters will pay peanuts to the budget, and not now, but later.
The most realistic scenario for accumulating resources to bribe voters planned by Mr. Yanukovych's team both in 2004 and now is still to make the national mint work harder. In fact, the process has already begun: public sector employees and pensioners are paid their salaries in newly printed bills signed by Serhiy Arbuzov, the new NBU Chairman. Meanwhile, even the government admits that the announced social benefits will add at least 1.5% to the annual inflation rate without printing money. Earlier experience of social election populism proves this. This means that every family with the annual income of even UAH 50,000 (USD 6,250) will pay at least UAH 750 for the votes for the Party of Regions, and this is not the limit.
PRE-ELECTION REFORMS
On 12 March, Viktor Yanukovych approved the 2012 National Action Plan to implement a 'Rich Society, Competitive Economy and Efficient State', a program of economic reforms for the years 2010-2014. However, research by The Ukrainian Week proves that all reform-oriented efforts the government has taken over the past two years mostly went down to re-directing budget funds to the right pockets, creating advantages for big business and re-channeling social benefits, i.e. cutting them for some categories while raising them for others.