Khata-Maysternya, a workshop cottage, is an old Hutsul house turned into a modern hostel in the Carpathian Kosiv County, Ivano-Frankivsk Oblast. Anyone can go there to live and work, or participate in the various training sessions that are regularly held. All this activity started in Rivne, an inconspicuous city in north-eastern Ukraine, where most founders of the Social Initiatives Workshop come from. The organisation arranged informal educational events for seven years, until two years ago its members had the idea of creating their own "seminar house". They were joined by a Belarusian man, as well as girls from Donetsk, Crimea and Poland.
"We went on several expeditions around the Carpathians, because we wanted to find the exact right place," says Taras Kovalchuk, one of the 20 founders. "This house was half-ruined and had sunk into the ground following flooding – nobody lived here. We made a long-term agreement with the owner to rent it free of charge in exchange for tidying it up."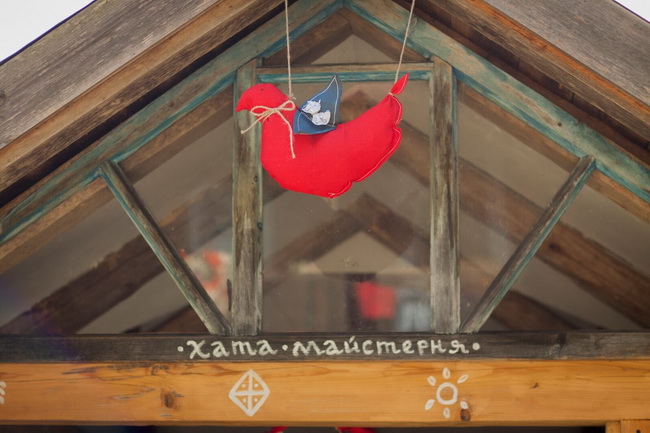 The group has made the Workshop Cottage into a real masterpiece, though from the outside it looks just like it did a century ago. Inside there are comfortable shower rooms with hot water, a projection screen, Wi-Fi, spacious rooms with the smell of fresh wood and a fireplace, a separate kitchen, some rooms for classes. The organizers plan to make a bar upstairs, although the first floor is caved in at the moment. But the most important thing is the place where the Workshop Cottage is located. Only mountains and the tops of hills can be seen from the window and there are no paved roads – it is a half-hour walk uphill from the village. Wonderful people who run their own farms and are happy to help with advice live nearby. There are no fences around the houses; no one shields themselves from their neighbours. Small groups of tourists have flocked to the area in the wake of the young people who unexpectedly settled there, which brings some income for the local Hutsuls too. Every day, the visitors buy homemade milk, sour cream, cheese and meat from the locals. A few old ladies that knit socks and gloves live nearby, and the guests of the Cottage Workshop Cottage are now among their main customers. That is how 20 young people made themselves a country residence and gave the village a second wind.
"Communication with the village is very important for us. We take some things from them, but have to give back too. Locals are always invited when we organise events. We want to set up a summer camp that kids from the area will be able to come to. We seem to be hidden away from civilisation here, but people that we consider our neighbours live just a few kilometres away. This is our common home, our meeting point. Each of us is supposed to stay here at least a few weeks a year for maintenance."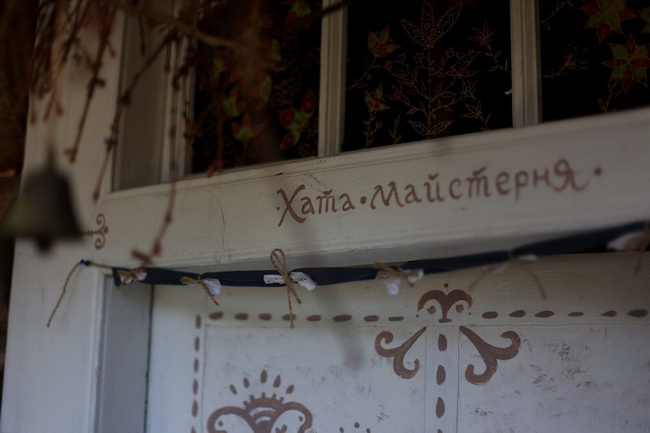 The 20 founders chipped in about $2,000 each, invested a huge amount of physical and creative work into the house, and in the space of one year turned an old hut into an incredible modern and energetic place that you cannot wait to hurry back to.
It has its own incredibly interesting story that was unearthed by Taras Hrytsiuk, a historian from Rivne who was one of the first to come up with the idea of restoring the house. It was built in the 1930s by Vasyl Paliychuk on land owned by his wife. Vasyl was from a poor family and could not afford what was at the time such an expensive plot of land. But he fell in love with Yelena, from a wealthy family. They might never have married, but the girl had a serious injury: she was blind in one eye. So her parents doubted whether they could give their daughter away to a man as respectable as themselves, and the poor Vasyl was lucky enough to marry wealthy Yelena. The wedding must have looked absurd: the groom walked to the church on foot, while his bride was on horseback.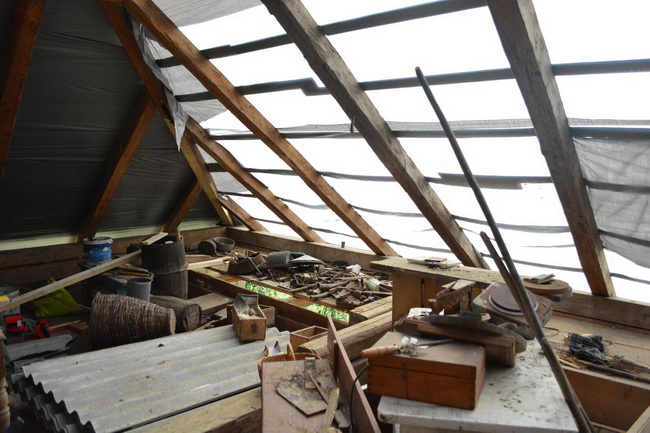 Vasyl was a carpenter and builder. Despite his manual work and humble background, he was recognised as an intellectual, having many connections with local bohemians. In 1935, he laid down the foundations for this house on one of the best pieces of land belonging to Yelena's parents. Incidentally, in the very next year, 1936, Paliychuk worked on a construction project that was extremely important for Poland – the observatory on Pip Ivan mountain.
Vasyl was a "blogger" of his time and wrote about it in his diary: "When I got onto Pip Ivan, there was no observatory. Two large stones were standing there with branches on top of them, covered by tarpaulin. I went inside this hut, which was lit by an oil lamp… When I worked there, I spent the night in that hut. It was freezing, winter had already started. We made a fire in the hut, but the wind put it out. I dressed up warm, nailed a board to the floor, put down some moss and slept there."
The very same Vasyl Paliychuk, builder of the observatory, lived until 1999, and his descendants remained in the cottage until 2008, when floodwaters washed away the soil and the building caved in. Vasyl was closely connected to the intelligentsia and held many open-air air festivals there. He opened his doors to the followers of repressed painter Mykhailo Boychuk and the Sixtiers. Priests and Ukrainian Insurgent Army partisans found secret shelter in his home. It had false walls that were used to hide food and books from the Communists.
RELATED ARTICLE: Alternative travels: Stories of people who create museums in Ukraine
At a time when historical sites in Ukrainian cities are being destroyed to make space for awful high-rise buildings, somewhere on the mountainside in the Carpathian village of Babyn, a good half-hour uphill from the nearest farmhouses, where there is no public transport and access is even difficult on foot in bad weather, 20 young people have restored an ordinary rural cottage with an incredible history. And not only for themselves – they have not walled themselves off from the community, because that was never the way things were there. The house was restored not only as a nice piece of property – it now continues the legacy of the man that built it. What Taras and co. have put back on the map of Babyn is not just an old shabby hut, but an entire invigorating organism that interacts with the village, welcomes guests and tourists, and is an incredible role model.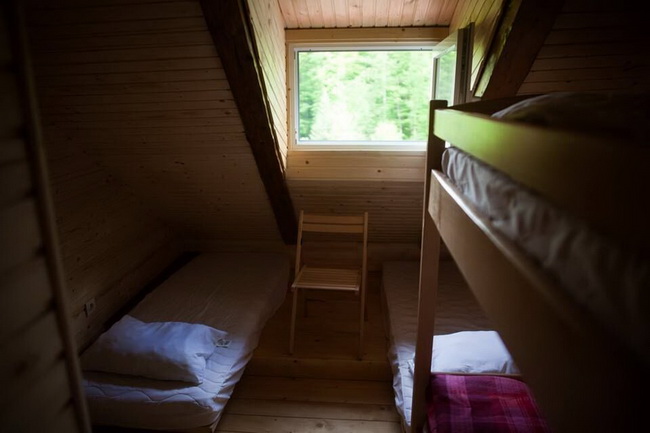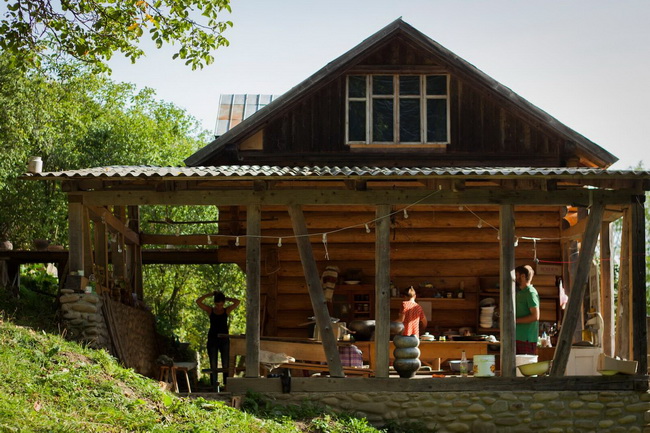 Ecotourism
Michel has just turned 33. He comes from Kiel in northern Germany, between Hamburg and the Danish border. His parents are entrepreneurs and have their own companies, while his brother recently opened a factory. The young man went down another path: he studied to be a forest ecologist in Freiburg, but saw no sense in remaining in Germany.
"It seemed to me that in Ukraine I would be able to find the ecological conditions of our ancestors, because they do not exist anymore in Germany. People are supposed to live near nature. That is what I want to show by example."
In Ukraine, Michel took an interest in buffalo. He found out that at the beginning of the 20th century there were several thousand of them in just three villages of what is now Khust County in Zakarpattia Oblast: buffalo were kept in each yard just like cows were. But this tradition was almost completely lost after collectivisation. Buffalo are too sensitive to keep as pets and do not meet the production needs of a collective farm in the same way as cows, goats or sheep.
Michel now has two winter farms (in the villages of Steblivka and Chumalevo, Khust County) and one summer one (in the mountain valley near the village of Kvasy, Rakhiv County). His business partially relies on tourists and volunteers.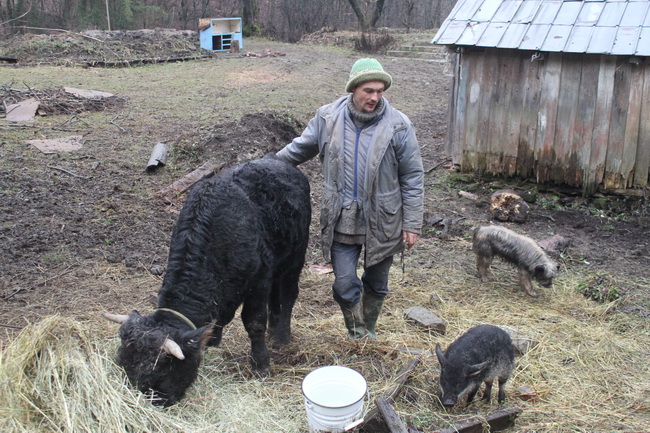 The farmer is always ready to take on those willing to work hard. He says this is an awfully tough job in itself. People are sometimes harder to handle than animals, whose behaviour is more predictable. Volunteers come for a short time, and have to go back home as soon as they really get into the process. He is often helped by foreigners: French, Germans and Americans. They try to live like real shepherds in the Ukrainian valley, milking the buffalo. Michel teaches everyone.
All of the buffalo have names. The calf is called Romko. Michel soothes them in Transcarpathian dialect. He tells guests about every female and introduces them to the bull, although he advises them not to get too close to him. Tourist groups visit again and again, bringing gifts to the German that looks after Ukrainian buffalo. Coffee and sugar are in short supply in the valley.
Michel is one of the first to take in volunteers and tourists in such slightly wild conditions. But there are more and more ecofarms, just like people wishing to get out of the city, who, if they do not have grandparents in the countryside, are happy to do a bit of work on someone else's farm. After all, Michel's occupation is not just work, but also has noble objective – the preservation of Carpathian buffalo.
Bed&Bike
Alisa Smyrna and her husband for some time organised cycling trips around the Carpathians, then realised that they could make their own place to host guests. They owned an old collective farm warehouse in the village of Dubrynychi near Perechyn (Zakarpattia Oblast). On the ground floor, they have made a huge hall for banquets, traditional weddings or a simple breakfast for those staying upstairs. A comfortable hostel with a massive room is located on the first floor. There is an outdoor shower in the yard. It is now known as Bed&Bike or Dobra Nuć, which comes from name of the village.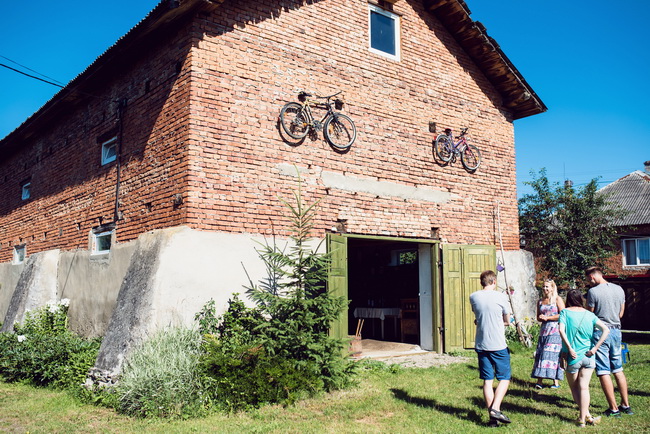 After a long day in the mountains, they are happy to welcome dirty and tired tourists, travellers and backpackers who are used to saving money on accommodation and are often uncomfortable in traditional hotels. The eco-friendly Bed&Bike preserves the traditions of Zakarpattia, fascinating foreigners and giving them the chance to celebrate a highland wedding with a proper Carpathian marriage certificate.
Alisa has also made a small "insect hotel". For now, it is just a box, but it will soon be home to several ant families. One time, the hoteliers found a wounded owl and nursed it back to health until it returned to the forest. The wooden box, similar to a birdhouse, where it lived remains high up under the roof.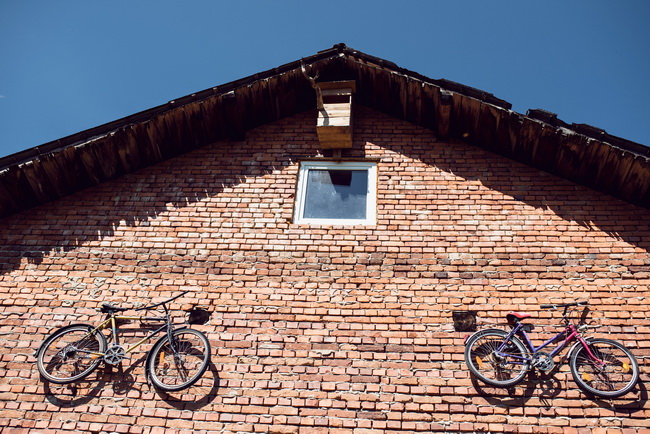 "We spent a long time renovating the premises," says Alisa. "We installed PVC windows in the attic. And then I realised that the bats had disappeared. I started to read about how to bring them back. I'm scared of these animals, but didn't want to disturb the ecosystem. I had to knock out a window in the attic and let them live there again."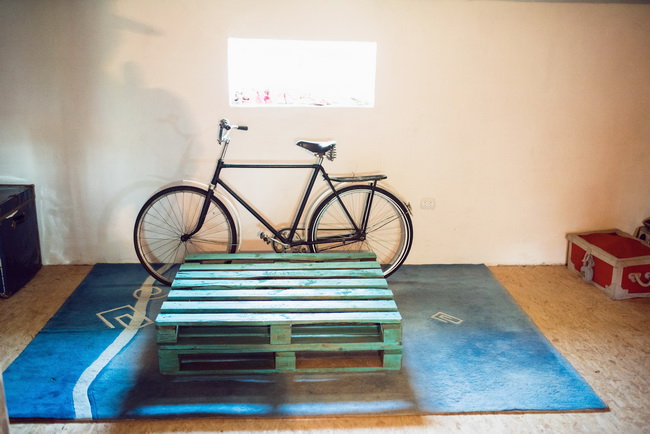 The woman says that almost no Ukrainians stay there. She is, frankly, even a little afraid of domestic tourists. Everything at Bed&Bike is in several languages: they know English and German well. You can rent a motorbike and ride around the picturesque landscapes of Zakarpattia.
The Rider
Two girls, Halyna Tanai and Olha Honchar from Kryvyi Rih in south-eastern Ukraine, came up with the original excursions under the "Yizdets" brand. They tours are mainly literary in nature, although the guides do not just talk about books: there is also music, obscure facts and history. Today, they have a few active routes: Kyiv, Lviv, Ivano-Frankivsk–Buchach, Ivano-Frankivsk–Kolomyia and Uzhhorod. The organisers consider the latter, led by well-known writer Bandy Sholtes, to be the most "in depth". New ones will be added in the autumn: Kharkiv, Zaporizhia, Kramatorsk–Sloviansk.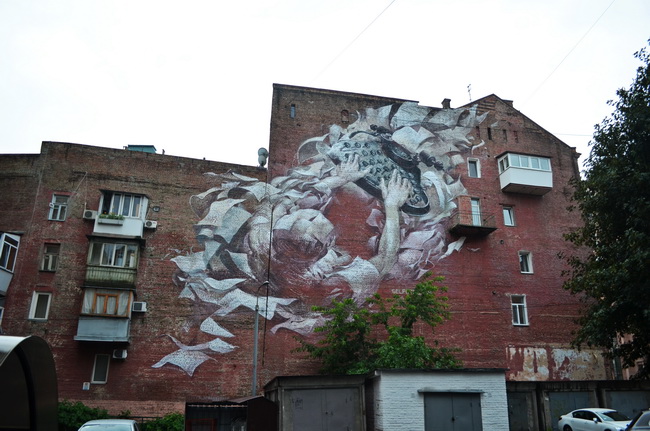 Halyna and Olha at first had the idea of making ​​a literary guide. Two in one: travel tips and a collection of short prose pieces by Ukrainian writers about interesting towns and villages. Then well-known writer Taras Prokhasko based in Western Ukraine's Ivano-Frankivsk became a Yizdets guide and the girls almost completely switched their focus onto the tours, leaving behind work on the guidebook. Now they want to go back and plan it again from scratch, guided by their newfound experience.
"The overall concept has not changed," says Halyna. "But now I realise that there should be more text and information about each region, because it is impossible to fit Kharkiv Oblast or Zakarpattia into one story by one writer. In addition, I see the end product a little differently: it should be a premium souvenir with certain extras, besides the texts and illustrations, and a mobile app."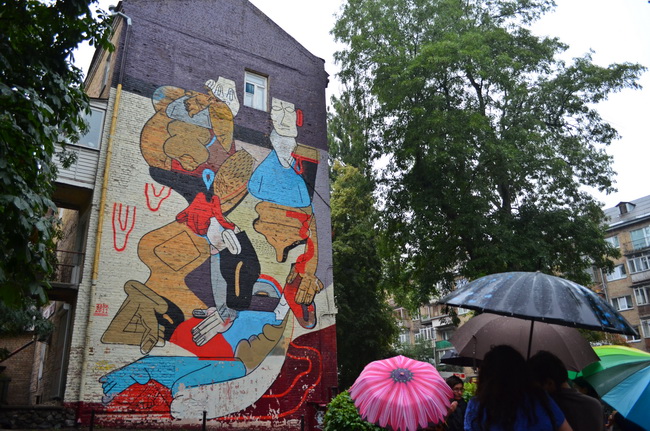 Olha claims that introducing travellers to literature is the easiest thing to do, because this aspect of Ukrainian cultural history has probably been researched more than any other, and writers' houses and apartments are usually the best preserved.
The hardest thing that the organisers of these trips have to deal with is infrastructure and the quirks of Ukrainian Railways. They use public transport so that other travellers can follow in their footsteps.
"Tickets are an eternal headache for us, because some people are not ready to plan a two-day journey three weeks in advance, and are then faced with the fact that there are none left. I won't say anything about coaches: they're more like a constant 'anthropological study'. It's not so hard when you go by yourself. But when you're in charge of a group, you see everything a little differently. For example, there are some great buses to Kolomyia, where you have to give everyone an earful, including the controller, because they all ignore the tickets: the first people to sit in the bus get to travel. Everyone buys them from the driver, only we get them from the ticket office. We were sort of lucky with hotels and hostels – the most striking was a hostel in Vinnytsia without a computer. The receptionists write everything down in a logbook, because only the boss has a computer. And when they mix something up, there's an ideal excuse: the other receptionist has bad handwriting.
Yizdets works with publishers too. For example, during a trip to Lviv a meeting was organised with the chief editor of Old Lion Publishing House, Maryana Savka. For publishers, this is an opportunity to sell books and communicate directly with their readers. The trips are also a good opportunity for Vasyl Karpyuk, writer and director of Discursus Publishers in Ivano-Frankivsk, to show the results of his work and meet his readership. The girls are planning to adopt another format – accompanying tourists to cultural events, and are developing a programme for the Zaporizhia Book Toloka festival. These joint efforts benefit everyone: tourists and publishers, as well as the initiators and visitors of cultural events.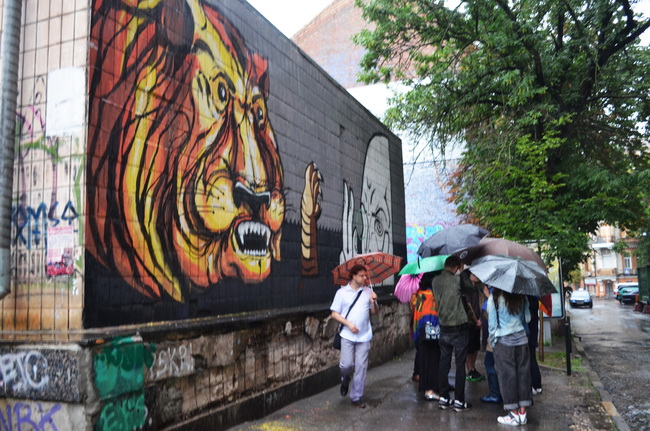 The organisers say that in order to promote reading, people should be given more than just advertisements for books. Everyone wants to touch, feel and become part of the process. In the future, Yizdets plans to run educational trips for schoolchildren, so that their literary journeys can go beyond their textbooks.
Photos by Nata Koval, Taras Kovalchuk, Daria Synelnykova
Translated by Jonathan Reilly
Follow us at @OfficeWeek on Twitter and The Ukrainian Week on Facebook