A rich man once bought 250 bikes and scattered them around Paris for people to pick up, get to their destinations, and then leave for others to use. Today, the resource sharing movement has gone global. Drinks, food, clothes, lodging, books, postcards and countless other items are all subject to free exchange.
CHARITY CAFÉS
The "Give if you can, take if you want" movement has been spreading across Ukraine at an exciting rate. Ukrainians are encouraged to share kindness and warmth with their neighbors, and the coffee cup has become the embodiment of things nice and warm. Now we can treat others to "prepaid" coffee.
This tradition, known in Italian as caffè sospesoor "suspended coffee" was first described by French writer Tonino Benacquista in his novel Malavita: "While vacationing in Naples, I heard about an ancient custom that was still honored by some of the bistro owners: customers would often fish loose change from their pockets and buy two cups of coffee, drinking only one. The bartender would then mark the second coffee as reserved for a visiting beggar." This idea "blew up" on social networks after being posted by a blogger. In late November, Kharkiv-based journalist Zurab Alasania shared the idea with the owners of the Shoti café in Kharkiv and became the first person to "prepay" a cup of coffee in Ukraine. That same day, 1,300 km away in Uzhgorod, another café owner decided to join the cause.
Concurrently, designer Serhiy Mishakin created a logo – two overlapping hands with the overlapping area in the shape of a green leaf. Now anyone can join the project in a matter of minutes: simply download two signs, print them out, paste one on the door and the other on the counter and explain the whole thing to the staff and clients. The Tiramisu café in Uzhgorod had the sign on its door the next morning. The staff put a board on the wall to which magnets were to be attached to mark coffee, tea and cakes that were available for free. One can simply glance at the board and ask for a tea to be taken off. Waitress Diana Pitkoviat says that not many drinks were put on the board in the first days. Now they have more visitors, and it's common to have five coffees, two teas and two cakes on the board by midday. "Students and pensioners are mostly the ones that ask to take the freebies off the board," she says. The homeless also drop in, but the owner does not see it as a problem, because drinks and food can be served in disposable cups and dishes to be taken away.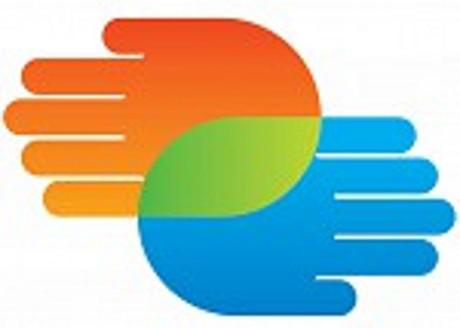 Logo "Coffee for Free"
The Medelin coffee shop in Lviv (see photo) joined the project after Kharkiv and Uzhgorod. "We announced the launch of this service on our Facebook page. There was a person with a notebook sitting in our coffee shop who read the information and immediately came up and put up a coffee," says the owner, Sviatoslav Stets.
This can now be done in Kyiv, Donetsk, Odesa, Yalta and Bilhorod-Dnistrovsky as well. New cafés join the movement almost every day, and each claims the campaign elicits slight euphoria among their clients. However, the owner of the Lviv café is sure that things will smooth out over time and several drinks will be "prepaid" every day.
Psychologist Hanna Boichenko believes that not all Ukrainians truly understand why they are joining the movement. "Historically, we first join something and then ask ourselves why we need it. In Soviet times, people would get in lines [in stores] in this fashion: they did not know what was on sale, but they did it anyway," she explains. The Italian origin of this tradition flatters people, enabling them to feel European. Furthermore, we all think of ourselves as good and kind, but in ordinary life, few take the time to express their humanity through concrete deeds. "Charitable activity requires time, money and a certain degree of self-sacrifice. In contrast to this, 'prepaying' a coffee is simple, quick and cheap, and requires no other commitments. The fact that it's done anonymously encourages participation. Moreover, there is also an egoistic satisfaction: 'I'm doing a good thing, so I'm a good person,'" Boichenko argues. She also believes that this process is more useful and satisfying for the person sharing than it is for the one receiving a free coffee.
COUCH SEEKERS
Is it possible to feel you are an invited guest if you're traveling to a foreign country for the first time? Yes, that is, if you're a "couch surfer." The practice of couch surfing began back in 1947. An international organization, Sevas, was set up for those who wanted to welcome travelers at their homes. Instead of booking a hotel room, couch surfers spend nights in the homes of locals – on couches, mattresses, or on the floor—whichever is made available to them. There are many websites today where one can register and find a host in any country of the world or welcome foreign guests at one's own home. Anna Bodrova, a Sevastopol resident, could earn a pretty penny putting up tourists at her flat. However, as a true couch surfer, she does so absolutely free of charge. Since the spring of 2011, she has had around 10 guests from Argentina, Armenia, Canada, the USA, Poland, Russia, Ukraine, Austria and France. She says her experience has been positive. "I gave a separate room to all guests, as well as keys. I let them use the kitchen and the Internet and do not set any curfews. I'm interested in their life experience and stories about the cities and countries they have been to or traveled through. And of course, I like exchanging culinary traditions and practicing languages. I have to say that my English has greatly improved," Anna says.
GIVING OBJECTS A NEW LEASE ON LIFE
Not only people but also their possessions are traveling across the world. Originating in Britain, "dresscrossing" is an organized way to exchange clothing. In Ukraine, the first dresscrossing session took place in March 2011. According to the rules, items of clothing that are exchanged this way should be in good condition, clean and ironed. Participants pay a membership fee of UAH 50 and must exchange only seasonal clothes – shorts in summer and coats and warm caps in winter. There is a website for Ukrainian dresscrossing, and exchanges are arranged in clothing stores, coffee shops and via social networks.
Mariana Suchok, a Zhytomyr resident, has been doing something slightly different – giving her clothes away to strangers. The website for the DaruDar project lets users give or accept any kind of gift item – from dresses to rolls of wallpaper. "The most important thing is not the pursuit of new outfits, but rather the joy you experience in seeing your old things get a new lease on life," Mariana says.
BOOKS SET FREE
Bookcrossing intends to make the whole world a library. Its motto is "If you love your book, set it free." After finishing a book, a bookcrosser leaves it in a public place—from bus stops to park benches. In 2001, American Ron Hornbaker left 20 books in the hallway of his hotel. Six months later, 300 activists were registered on his website for having "released" their books into the wild. Four years later, the idea was picked up in Ukraine. The best-known hotpots in Kyiv are the Ye and Smoloskyp bookstores, and the Babuin coffee shop is joining in. Ivano-Frankivsk and Uzhgorod are also coming along, as they arrange "live" bookcrosser gatherings. Bookstores in these cities encourage readers to "release" books they have read, because books only live when they "travel."
A POSTCARD ON THE MOVE
Postcrossing, a project to exchange postcards, was inspired by bookcrossing. Look at it as a kind of nostalgia for the days when letters were handwritten and eagerly expected. A simple click of the "Send postcard" button on postcrossing.com, and the system will pick a random addressee. You receive his or her profile and address and your postcard is assigned a unique ID. All you have to do now is write all of this on an envelope and send it to the stranger. The official postcrossing site now has 7,411 registered participants from Ukraine. Student Olha Tkach learned about the project from a friend of hers and was immediately won over by the idea of contacting people who live thousands of kilometers away. She sent out postcards to 27 countries, received them from 32 and made friends with people in China, Ireland and Japan.
Information spreads across today's world with a single click, and new projects are born almost every day. They may, however, disappear just as quickly. Trading has long been practiced by society but was driven by materialistic motivations. In contrast, contemporary exchange projects are geared toward fulfilling people's spiritual and emotional needs. Despite the superficial similarity of these concepts, the essence and motives for their existence are different. However, they have one thing in common: people have discovered a way to have everything in the world and, at the same time, nothing that they would regret losing.