Eco-villagers believe that living in a safe environment and keeping the whole family healthy is possible even in the mine-polluted region of Donetsk.
AN ESCAPE FROM SLOW "SUICIDE"
Vira Palienko, a former businesswoman, lives in a non-electrified wattle-and-daub house with no indoor plumbing on the outskirts of Nyzhne Lozove, a deserted village near the town of Debaltseve in Donetsk Oblast. Before moving there, she had lived for 40 years in the mining town of Torez, working as engineer and later switching to business. Her current assets include a hectare of land with medicinal plants and a freshwater spring (photo 3). Vira and her husband, Yuriy, who worked at a utility service company for 20 years, set up their new homestead named Chudyesnoye (Wonderful) in the eco-village. They support themselves by selling goat milk and cheese. People often travel 100km from Donetsk to purchase their healing herbal teas. The couple says that it is the favourable environment that makes everything grown in the village tastier and healthier and boosts the demand.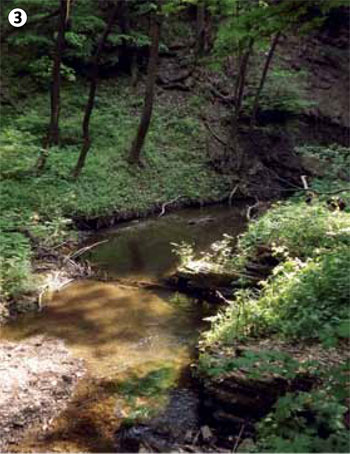 Photo: Natalia Kommodova
Sipping fresh milk at the Wonderful homestead, one feels like a real outdoorsman. The ubiquitous buzz of urban traffic is replaced by the singing of nightingales and the faint murmur of a stream. It is this same stream that serves as the couple's source of fresh water; they drink it un-boiled and plunge into the freezing cold stream every morning to energize for the day.
Nyzhne Lozove, where the census lists less than 15 inhabitants, is a pleasant surprise amidst the smog-shrouded towns of Donetsk. 20-30km away from the nearest factories, it grows plenty of orchard fruit and vegetables, herbs and rare plants. Fieldstones often used as construction material are scattered around the village and often resemble cliffs, hence the name Skelevoye: Cliff Village.
In fact, it was more than just nature's beauty and benefits that encouraged Vira to quit her profitable business and sell her spacious apartment in the city. She was attracted by the concept of self-reliant kin estates promoted by Siberian-born author Vladimir Megre in the 1990s. According to his theory, only an environmentally friendly lifestyle can save mankind from global catastrophe. To achieve this, people must leave their cities and settle down on a plot of land far from the pollution of factories, where they can grow their own trees and orchards and create a "loving environment" for their families.
"This is not a utopia,"Vira explains. "It's real. Modern cities offer no conditions for harmonious and proper human development. We lack time for the most important things in life, such as self-cognition and the development of natural talents. As a result, we have degraded, lost the ability to survive outside the city and turned into urban slaves. Routine work that makes us physically and mentally ill, and the devaluation of family and family ties are just a few drawbacks of modern urban life. My health has improved since I moved to the hamlet and quit my urban routine. My eyesight and sleep are much better now. Moreover, I have time and inspiration to work on my creative ideas," she happily told The Ukrainian Week.
RECRUITING NEIGHBOURS
Vira learned about Rassvet (Dawn), the eco-village in Nyzhne Lozove, from the Internet. She came to visit and fell in love with the place. Most downshifters-to-be pick a place for their hamlet, form a "core" of family members and friends, and start looking for like-minded neighbours in the web. 100 families is the best number for comfortable life in an eco-village. They prefer candidates who are ecologically-oriented, not just people who want to live close to nature. To expand their hamlets and share experience, Rassvet arranges festivals and celebrations every year. Eco-villagers (photo 4) from all over the country have been coming to Rassvet for four years now, while wary urban citizens come there merely to rest and look around.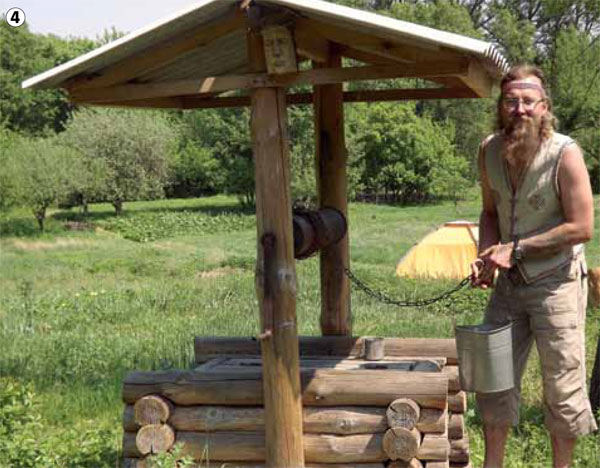 Photo: Natalia Kommodova
Business owners, martial arts teachers, doctors, professors, builders and miners… Around 20 families from different towns in Donetsk Oblast and Kyiv decided to build their "kin estates" near Debaltseve in the early 2000s. After some bureaucratic snags, they got their legitimate one or two hectares per family from the local council, as provided by the Law on Individual Farming. For various reasons, though, only six families have settled on their land so far. Some bought abandoned village houses for peanuts and have been living there temporarily as they plant family orchards and woods around their homes, while others have yet to collect the courage or the cash to afford the move.
Rassvet is arranged as an autonomous self-governing social community where common issues are resolved at a community council. The villagers help each other out as neighbours, but every owner runs his or her household alone. Every household is free to decide how environmentally friendly their home is based on what they think is necessary. Some, like Vira, do not use electricity or utilities and sleep outdoors during the summer, while others cannot survive without lights and a washing machine. Nobody will intervene or try to change their minds unless they harm the environment or their neighbours.
Eco-villagers have learned organic farming (photo 1) and various artisan crafts, such as apiculture and carpentry, as well as how to make clothes and footwear (photo 2). They also practice traditional medicine and employ family labour, and plan to open a school in the village to raise their children using their own innovative system.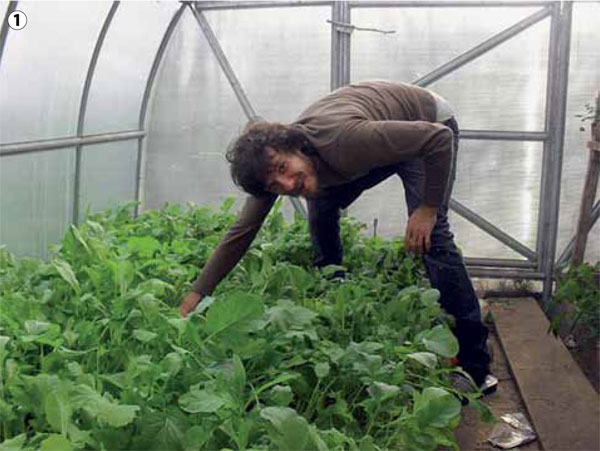 Photo provided by Mykola Voronin
GOODBYE, JUNK!
Eco-villagers have stopped producing garbage and that is the main difference between them and average rural people. They use natural materials, make pure organic products and save energy to minimize their impact on the environment. Moreover, they avoid having "junk thoughts" – what they describe as the problems that we create for ourselves, therefore we must clear our minds of negative thoughts and fears.
"We don't plough the land, instead we co-exist with it in harmony and learn from it," Vira explains. "10 years ago, our yard was a deserted ploughed patch. Then flowers and rare edible plants began to grow on it, and birds settled here."
Most eco-villagers are vegetarians. They treated The Ukrainian Week to a tasty porridge made of nettle and a mix of herbs, and a vitamin cocktail of honey, linseeds and nettle. According to the eco-villagers, this diet guarantees long life and protects against diseases. Flour, oil and sugar are the only products they buy at a store 10 kilometers away.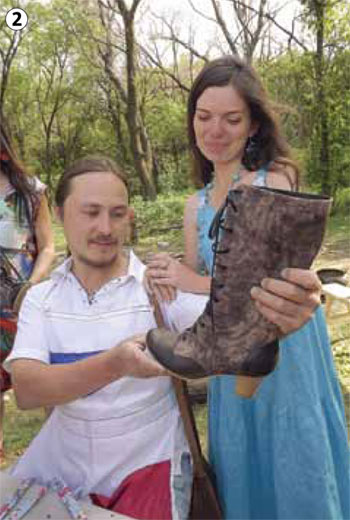 Photo: Natalia Kommodova
Naturally, Vira's home is no place for chemicals, plastic or polyethylene. She uses mustard powder or stinging nettle to wash greasy dishes while a lovage-leaf infusion adds shine to her gorgeous long hair. The locals go to bed with the sun and wake up at dawn. As close to the natural schedule as possible, this life is like a battery giving people powerful energy and strength. TVs here are replaced by books, guitars and meditation. However, the locals still use cell phones and the Internet to stay in touch with civilization. They say they do not reject some helpful human inventions. Celebrations are all environmentally-friendly here, including workshops in artisan crafts, team games, singing and dancing, with no alcohol or conventional overeating.
A BURROW WITH INTERNET ACCESS
At one celebration, The Ukrainian Week met a young family of "extreme" eco-villagers originally from Horlivka, a town in Donetsk Oblast known for its huge Stirol chemical plant. Mykola and Vika Voronin (photo 7) created their kin estate called Vedrusy in the village of Batmanivka near Horlivka several years ago and started an amazing experiment. Two years ago, the couple spent seven months living in a burrow (photo 6) that was one meter high and two meters wide. They could not stand up inside but had a laptop connected to the web that they used to stay in touch with the world and watch cartoons on winter nights, charging it at friends' homes. The family subsisted on goat milk and food grown in their garden.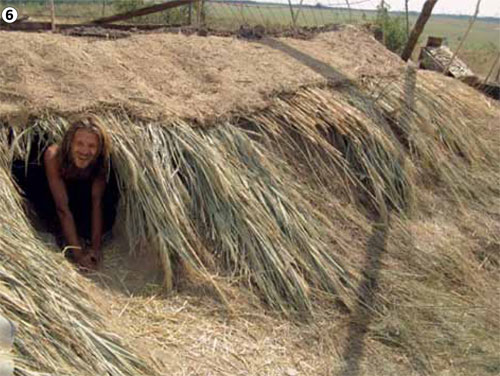 Photo: Natalia Kommodova
"We were curious about living in a place that provides for complete fusion with nature. Also, we wondered if we could survive in such conditions—and we did," Mykola comments. Eventually, a fire forced the couple out of their shelter. As they tend to their two hectares of land, the Voronins are going to build a new eco-house. Meanwhile, they live in their parents' home. Young eco-villagers claim that they live in a clean environment despite being close to a chemical plant.
Some regard them as strange or insane. It even took a while for their parents and family members to accept their lifestyle. Not surprisingly: both young people used to have a very decent life by generally accepted standards. Mykola, 32, holds a degree in ecology and physics from Kyiv-Mohyla Academy. Initially, his dream had been to run his own business. Later, he decided that it was ecology, not economics, that would save Ukraine from the crisis. Today, he is a "sun bard" singer-songwriter, forager and proactive civil activist. His wife Viktoria, 26, is a lawyer specializing in land law. She owned a private company before meeting Mykola. After falling in love with him, she quit her business and joined the Sun Singers Caravan that travels around singing their original songs. They have already hitchhiked across Ukraine, Russia and other post-soviet states. Today, they earn their living with their music. Mykola performs at gigs and produces his own CDs and books. Soon, the couple is going to adopt two eco-village children from Israel and have their own baby.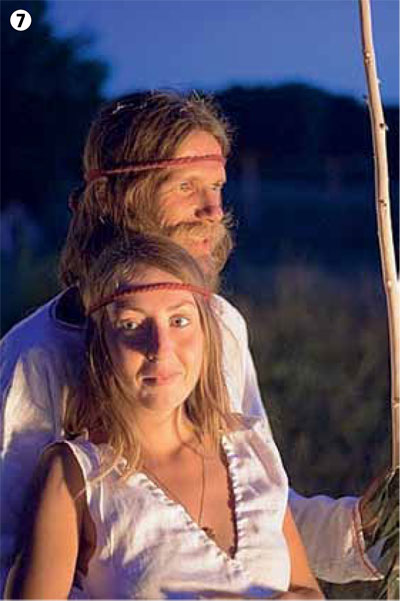 Photo provided by Mykola Voronin
"We're never short of money. Life gives us as much as we need. You can fill your life with wellbeing through your thoughts and will. The main thing is to shape your thoughts clearly and confidently," Mykola notes.
He believes that people can save deserted and polluted land, as well as dying villages, by creating eco-villages there. Yet, experienced eco-villagers recommend that those willing to settle down close to nature first "try out" the lifestyle. Before buying hectares and starting an eco-home, they should live a month or two in their chosen place to get used to the land and make sure that they can handle the lifestyle. According to eco-villagers, some of their neighbours have failed the test.
ECO-VILLAGES AND COMMUNITIES
Eco-villagers do not belong to a particular religious group. They create their villages with no ideological basis and live according to environmentally friendly practices. They use the benefits of civilization and technology to save energy, build eco-homes, and do organic farming. They conduct open trainings where young eco-villagers are taught to survive in nature and build eco-homes.
Communities are based on the concept of kin estates following the model first promoted in Russia by Vladimir Megre's series of books. They, too, have eco-friendly routines and eat only pure home-grown organic food, while also leaning toward ancient Rus household traditions and family order. They call themselves Anastasiyevtsy after Anastasiya, the protagonist in Vladimir Megre's series.