After what was advertised as significant renovation before Euro 2012, Ukrainian roads were supposed to last for at least a few more years. However, the snowy winter has left most full of potholes. The government has not yet paid for some of the repairs done before the championship, while some roads were already being patched in some oblasts, such as the Donetsk Oblast, in February 2013.
READ ALSO: Ten Donetsk Stereotypes
The Euro 2012 Department still exists and functions at the Lviv City Council. On April 1, it signed a contract for taxi services worth UAH 97,000 with a local company. A helipad in Pekari, a village in Cherkasy Oblast, that cost taxpayers UAH 123mn and was built as part of Euro 2012 preparations, has operated 14 flights over almost a year according to the Infrastructure Ministry's reply to an inquiry from MP Oleksandr Bryhynets. One flight to the helipad cost the state almost UAH 10mn.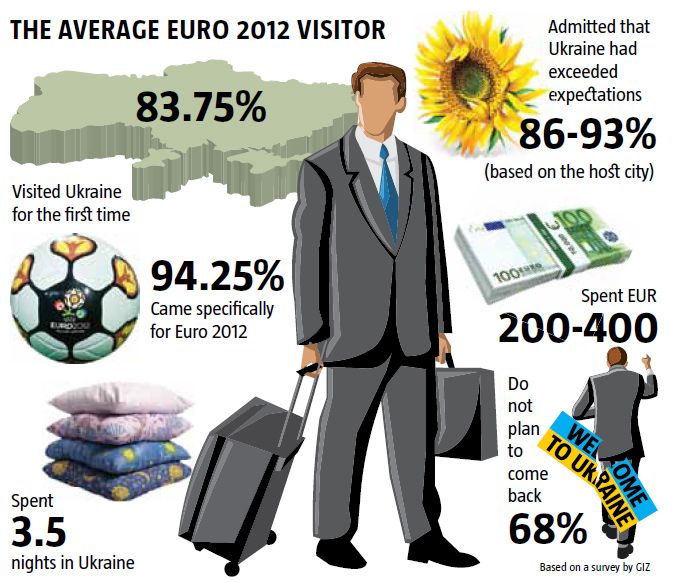 Hyundai high-speed trains are another notorious symbol of Euro 2012 preparations. While the government has admitted that they are "completely unprofitable", it is launching new ones, including the Kyiv-Ternopil service at the end of May, instead of replacing them with domestic trains that are cheaper and more reliable in cold weather.
READ ALSO: National Project Watch
THE FAILED PLAN D
The Audit Chamber of Ukraine recently accused Boryspil, the international airport in Kyiv, of the inefficient use of UAH 3.7bn allocated for the Euro 2012 programme. It found that the doubling of Terminal D's capacity and the construction of a VIP area that boosted Boryspil's outstanding loans by UAH 2.6bn was unjustified.
According to the government's plan, Terminal D, built specially for Euro 2012, was supposed to accept all leading international airlines. However, many attempts to put this into effect failed miserably last year. Airlines simply refused to switch to the new terminal that lacks a transit area, has ramps that are too small to accommodate a large number of airplanes at the same time and the location which is too far from other terminals and infrastructure facilities. As a result, Terminal D was barely accepting ten flights per day by the end of 2012. By the end of March 2013, airlines were eventually forced to switch to the inconvenient terminal albeit with the promise that there will be transit area there.
READ ALSO: Life After Euro 2012
The annual capacity of the country's main airport today is 25 million passengers, including 15 million in Terminal D, while actual passenger traffic is 33% of the projected capacity at peak times. In 2012, Boryspil serviced 8.478 million passengers, up 5% from 2011. In 2013, passenger traffic is unlikely to increase as Q1'2013 saw a decline in the number of passengers arriving at Boryspil. The bankruptcy of Aerosvit is one of the reasons for this. In January-March, all Boryspil terminals serviced 1.24 million passengers compared to 1.58 million over the same period in 2012, i.e. down 21%.
In Q1'2013, the airport reported a net loss of UAH 60.6mn while the same period in 2012 saw a net profit of UAH 167.5mn. The Audit Chamber's concern today is that the airport will be unable to meet its loan commitments, estimated at nearly UAH 4.3bn, leaving taxpayers to foot the bill.
MEGALOMANIA
In 2012, passenger traffic at Lviv Danylo Halytsky International Airport was 570,000 – a record-breaking number due to the championship and up 94% from the previous year. The airport's press-service reported that it was expecting as many or more visitors in 2013, which may well be the case. In Q1'2013, passenger traffic hit 108,100, 55.76% up on the same period in 2012.
Yet, the increased passenger traffic in the renovated airport does not justify the extent to which the airport was expanded. 108,100 passengers divided by the 90 days of a quarter will give an estimated 1,201 passengers daily. The airport was able to handle this number before Euro 2012 when it had a capacity of 250 passengers per hour. For the championship, it increased eight-fold to 2,000 passengers per hour. This means that the expanded airport is working at 50% of its daily capacity.
UEFA's recommendations regarding the construction of the Lviv airport were exceeded by more than a third. According to the Audit Chamber's estimates, its current traffic is 8% of the projected annual capacity of 7.3 million passengers. The explanation for this "slight exaggeration" is the Infrastructure Ministry's unjustified decision to increase the capacity of Lviv airport. The thirst for large-scale construction probably comes from the desire for bigger kickbacks stemming from a larger cost-estimate for a more ambitious project. Meanwhile, relevant authorities are turning a blind eye to corruption here, opening only several cases on relatively insignificant abuse, to give the impression that they are on top of the situation. Since the beginning of this year, the Lviv Oblast Prosecutor's Office has initiated less than 10 criminal cases on abuse of office by officials of the Directorate for the Construction of Euro 2012 Facilities in Lviv State Enterprise, other administrators of state funding and private subcontractors. Total losses under these cases amount to UAH 10mn.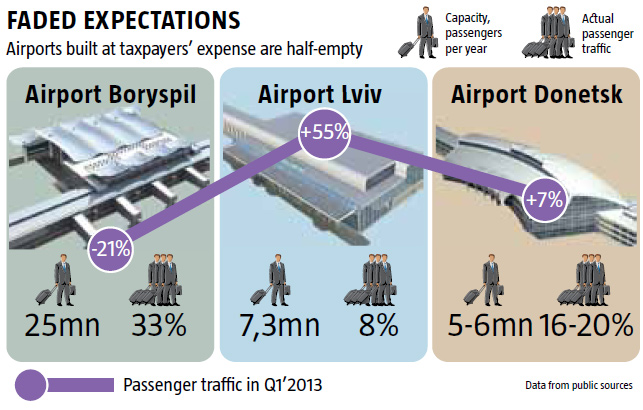 Government officials pledged that the Donetsk airport was to become a transit point for flights from Europe to Asia. A year later, new airlines are not exactly rushing to the airport, while old ones, such as Czech Airlines and Polish LOT refuse, claiming unprofitability. Airport display panels are evidence of the failure: on May 4, they only show a few dozen flights to resorts in Turkey and Egypt, some to Kyiv and Moscow, and one flight to Munich.
In January-March 2013, its passenger traffic was 197,000, i.e. 7% up from last year. Apparently, the airport welcomes nearly 2,200 passengers daily, while its capacity is 3,100 per hour.
The airport in Kharkiv, where the government paid for the airdrome and private investors built the rest, proves that not only did the latter spend much less than the government – the construction of a temporary terminal exclusively for the championship helped, but have also been more successful afterwards, as passenger traffic at the Kharkiv airport grew by 46% over the first quarter of this year.
THE LIGHTS ARE GOING OUT
The stadium in Lviv cost taxpayers UAH 2.9bn, including over UAH 83mn from the city budget. Today, Lviv taxpayers are paying off both the principal and interest – the latter alone totaling UAH 18mn per year.
However, Arena Lviv brings no profit to the city or the state, nor does it earn enough to support itself. Last year, Director Oleksiy Zhukovin claimed that maintenance costs alone are UAH 20mn annually. In 2013, he said that the stadium required UAH 11mn, but that the government allocated just UAH 5mn in 2012. This means that it earned the remaining UAH 6mn on its own, although it was officially confirmed that just UAH 2mn of maintenance cost was paid. The administration had to stop renting it out for weddings because this requires a restaurant, but could not afford to pay the staff on an ongoing basis. "We've held many conferences here," said Zhukovin in explanation as to where the income came from. Rent for holding a conference at the stadium costs UAH 3-5,000. To earn at least UAH 2mn on conferences, Arena Lviv has to host at least 400 conferences a year.
Rent for one football match is UAH 160,000, but it has hosted about ten games since it was built. The game between Ukraine's and Poland's youth teams – the first one in the past few months – had to be postponed because of a blackout. The authorities cut off the electricity supply to Arena Lviv because of its huge debt which has only been covered in part. The stadium's miserable financial position is easy to explain: the government has refused point blank to provide any funding for it this year, while last year, FC Karpaty – the local football team and the stadium's only hope – said that it brought bad luck. Now they admit it is also economically unfeasible. According to Karpaty's estimates, the maintenance of Karpaty's current home stadium, Ukraine, costs UAH 3mn annually compared to UAH 20mn for Arena Lviv. The football club has suggested taking over 17 hectares of land and a neglected field near Lviv where it could build a shopping mall and an entertainment complex to pay for the maintenance of Arena Lviv. Local authorities say that this is blackmail. They may have a point, but while they wait, the local media suggests that the new stadium in Lviv may soon be dismantled for construction materials.
READ ALSO: The Mysteries of Lviv
One way to have avoided this scenario would have been to invest in the renovation of Ukraine, the old stadium, before Euro 2012, not build a new one out of town. FC Karpaty supported this, and investors were eager to participate in the project. It would have been much cheaper – 25% of the new stadium budget was spent on new communications alone. Notably, there is still no state order for the facilities to be put into operation.
However, it appears that Arena Lviv has already performed its key function. AltcomKyivBud, with clear links to the party in power, has earned UAH 1.85bn, i.e. more than half of Lviv's annual budget, on the construction. One of its two owners is Serhiy Pavlichev, a Party of Regions' MP in the Donetsk City Council. Altcom, another company with close ties, has earned UAH 1.5bn from the construction of Lviv airport.
PLAY FOR YOUR HEALTH
NSK Olimpiysky in Kyiv manages to support itself thanks to concerts, parties, conferences, "contributions from partners" and FC Dynamo. The club does not pay rent for use of the stadium. Its administration claims that the stadium gets 50% of box office revenues from national championship games and 25% from European cup games.
READ ALSO: Police vs Football Fans
Things look good at first glance: Olimpiysky covered all of its expenses in 2012 (Infrastructure Vice Premier Borys Kolesnikov says the stadium's budget is UAH 120-125mn) and even managed to earn an extra UAH 1.5mn. This suggests that Dynamo games earn the stadium nearly UAH 60mn annually. Borussia Dortmund, for instance, used to pay EUR 17mn annually for the rent of the similar Singla Iduna Park stadium. This is UAH 177mn more than what Dynamo is paying. Borussia subsequently bought the stadium.
While Dynamo President Ihor Surkis uses the stadium, rebuilt at the taxpayers' expense almost for free, officials openly admit that Olimpiysky will never pay back the UAH 5bn invested in it. The net profit of UAH 1.5mn (apparently, the huge stadium, with its plans to train "professionals for stadiums abroad", is earning UAH 125,000 monthly) will be spent to upgrade mobile communications at the stadium and the online ticket sale system.
TOURIST ATTRACTIONS
So far, Lviv is the only city that has seen an increase in tourism: it grew by 20% during the Christmas holidays compared to 2012. Based on a survey of foreigners by GIZ, a German federal foundation, and volunteers, 32% of those polled said they would visit Ukraine again. 68% said they would definitely revisit Lviv; 54% would come to Kyiv again; 41% of those who went to Donetsk would also give Ukraine a second chance. Only 17% of the fans who visited Kharkiv would go there again.
Given the inefficiency of the facilities built for Euro 2012, many say that the only benefit from the championship was its contribution to Ukraine's image as a tourist destination. But how long will this last? According to Olena Shapovalova, Head of the State Tourism and Resort Agency, the average annual increase of tourists to Ukraine is 10-12%. "We expect this to hit 15% thanks to the championship," Shapovalova says. It appears that a tourist boom is hardly an option.