European law enforcers lament the increasing smuggling of drugs, especially hard drugs and cocaine, from Ukraine: their amount has doubled – or tripled according to some estimates – over the past few years. Official data provided by the Ukrainian police confirms this: drugs accounted for 70% of all smuggled goods in 2012.
Attempts to transfer drugs through the territory of Ukraine have indeed grown more frequent lately. Compared to 2011, the rate of drug-related criminal cases was 6.1% higher in 2012. The police found 2,172 instances of the illegal transit of psychotropic drugs and precursors through the Ukrainian border in 2012, seizing almost 7kg of heroin, 104kg of cocaine, 0.5kg of opium, over 30kg of cannabis, 8,795 pills, 1,568 capsules and 0.3l of narcotics, the circulation of which is restricted. However, official statistics do not reflect the scale of drug trafficking, since most banned drugs are freely transported through the territory of Ukraine.
THE CHANGE IN THE RULES
Back in 2001, the US Central Intelligence Agency and military intelligence cut off a huge drug route from Columbia to Europe through CIS countries. Sources linked it to the notorious arms smuggler Viktor Bout. Airplanes were delivering cocaine from Columbia and taking back weapons. A military airfield near the village of Krasnohvardiyske in Crimea was one of the places from which they took off. Between the late 1990s and mid-2000s the police shut down a few more similar schemes whereby South-American drugs were supplied to the EU through Ukraine.
READ ALSO: A Human Life: Priceless No More
The situation changed dramatically shortly before 2010. "Earlier, attempts to transport cocaine through our country were rare," an ex-employee of the Interior Ministry's Illegal Drugs Trade Department says off-record. "But once the European police launched a serious campaign against the Albanian mafia, which used to deliver the lion's share of drugs to Europe through the Balkans, Columbian cartels and Afghan opium kings started looking for new ways to ship drugs. This was done through several Black Sea ports, including Varna – Bulgaria, Constanța – Romania as well as Odesa and Illichivsk – Ukraine. The traditional heroin route through Turkey and the Caucasus region has also switched to the Black Sea, since the Albanian and Nigerian mafias that used to work on this route, now face huge pressure not only from the police but also the Roma and Russian mafias. Ukraine is turning into the drugs gateway to Europe and this is no good for European integration. I know how many reports European police have written, begging the authorities not to introduce a visa-free regime with Ukraine because of the threat of a "flood" of drugs into Europe. In the future, our country may face another serious threat linked to potential integration with the Customs Union. Because of the integration processes within it, Russia is currently experiencing a heroin boom, since it has become so much easier to deliver drugs from Afghanistan through Central Asia to the Russian market. Ukraine's closer integration with the Customs Union will bring all this heroin and hashish here."
THE MAIN DRUGS GATEWAY
Volodymyr Hoshovskyi, Head of the State Service of Ukraine for Drug Control, says that in 2010-2013, international drug syndicates have become more active and the consumption of synthetic drugs from China and India has risen in Ukraine. Another important "novelty" of the past few years is ferry transfers to Georgia and Russia during holiday seasons. Drug dealers use these to deliver heroin to the EU that comes through the Caucasus from Afghanistan. Also, they use eastern borders with Russia to transport Afghan heroin and hashish although sometimes this route stands idle when precursor deliveries and heroine processing in Afghanistan is suspended. However, Black Sea ports, especially Odesa, Illichivsk and Skadovsk, are currently the biggest transit points in international drug trafficking.
READ ALSO: Embraced by Lawlessness
Europol's 2012 EU Drug Market Report mentions the Black Sea as the new cocaine entry point to Europe. "While the majority of shipments of cocaine from South America continue to be directed to Western Europe, substantial seizures of cocaine, often concealed in containers, have occurred in recent years in important Bulgarian, Greek, Romanian and Ukrainian ports on the Black Sea," the report claims. According to estimates by international experts, Ukraine used to account for 5-6% or over USD 2bn-worth of total drug trafficking in Europe. Now, its share has doubled to 10% and USD 4-5bn per year. Cocaine has the biggest share in smuggled drugs, followed by synthetic drugs from India and China as well as Afghan heroin. In addition, dealers smuggle large quantities of cannabis from Maghreb and African countries through Moldova and Ukraine to Russia.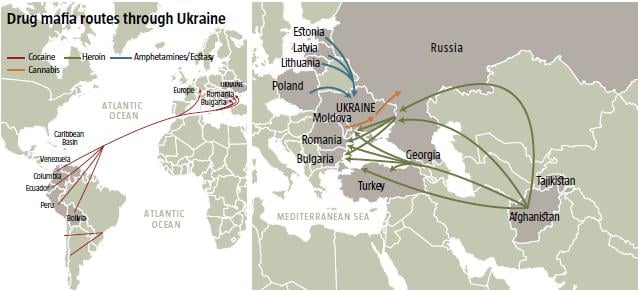 "I transport cargos from the Skadovsk port," Oleksiy, a truck driver from Kherson, shares his drug trafficking experience. "Someone once came up to me shortly after a ferry arrived from Turkey and offered me USD 800 (USD 300 as an advance payment and USD 500 on delivery) to take a big package along with the packs of fertilizer I was delivering. I saw white powder in it and asked them what it was. They told me to not ask anything, just agree or not, while they guaranteed that nobody would touch me – I simply had to deliver the cargo safely to Burgas in Bulgaria. I agreed because I had to pay for my mother's surgery. Indeed, I had no problems at any of the four borders I crossed". Oleksiy says that he has not dealt with drugs since, because he's afraid to. But he knows some people who do this regularly once the holiday season begins and ferries start arriving in Skadovsk from Turkey, Georgia and Russia. They deliver cocaine and heroin to Bulgaria or Romania and sell them to the locals, mostly the Romas.
TOP PROTECTION
Cocaine is currently the most expensive drug in Ukraine, costing at least UAH 2,000 per gram. Heroin starts at UAH 800 per gram while home-made opium injections are UAH 15 per "cube" – a standard dose is two to three cubes. Amphetamines or MDMA – the favourite drugs of young clubbers – cost UAH 300-400, while drugstore pills with codeine or morphine that are particularly popular in Donbas cost up to UAH 100 per pack. Ukrainian drug addicts cannot afford the pricey cocaine so almost this entire South-American drug is transited to other countries. However, such big transits require significant protection while a transit country will one day inevitably turn into a consumer country. Drug traffickers often take some of the product as payment or reward. So, even if the drugs are only transited through a country, some of them stay on the territory, generating demand, which is boosted by cutting prices on the one hand, and seeking reliable protection in high office on the other. "Ukraine was previously a purely transit country, so anything that ended up here would get to the destination point fully packaged," says the ex drug police officer. "Now some drugs stay here. The worst thing is that the scale of cocaine transit has grown immensely and now enjoys protection in top offices."
READ ALSO: No more treatment for AIDS patients in Ukraine
The Ukrainian Week contacted an executive at one of the top customs clearance brokerage firms in Odesa. He said that this scheme is now used in just about every port. Each has two or three offices which, with support in the government, clear cargo without any control by customs, border or SBU (Security Service of Ukraine) officials. Such services cost two to three times more than the official clearance procedure, ranging from USD 5,000 to 20,000. In return, the company's owner gets a full guarantee that controlling bodies will not interfere in the clearance procedure – at most, they will just check the documents without inspecting the cargo.
The executive claims that the brokers are backed by top officials in Kyiv, not just local ones. "According to my information, these companies and the whole issue are supervised by the National Security and Defence Council. Of course, I don't know whether these "state protectors" are in direct contact with drug dealers. But I'm sure that these top officials realize who uses their clearance schemes in all Ukrainian ports. Drug cartels always seek the most reliable protectors in governments to transit their goods seamlessly – they find it easier to deal with one top official than to bribe a clerk and risk their entire shipment. Given how rotten and corrupt Ukrainian officials generally are, you can be certain that they know what's going on."
READ ALSO: You'd Rather Be Dead
"Over the past three years, the system battling the illegal drug trade in the country has been virtually destroyed," the ex drug police officer claims. "Up to 90% of my colleagues were either dismissed or left voluntarily. Oblast departments are left with about ten people who simply shuffle papers around because they lack the staff or experience to actually do the work. Experienced officers were replaced with young and inexperienced people with "Donetsk" connections that just joined the police for the money. In many places, they now sell seized drugs. Moreover, now, when the State Service of Ukraine for Drug Control is about to take over the functions of the Illegal Drugs Trade Department, and the SBU, which is very unprofessional, is in charge of drug transit, this issue hangs between three law enforcement bodies. As a result, there is virtually nobody to fight it."