n September 27, Fédération Internationale de Football Association (FIFA) ordered Ukrainian national football team to play its upcoming game against Poland – decisive for it in the 2014 World Cup qualifying campaign – behind closed doors. In addition to that, the Ukrainian Football Federation has to pay a fine of EUR 45,000 and the stadium in Lviv is banned from hosting qualification tournaments with the national team through 2018. This is the punishment for the actions of Ukrainian fans at the Ukraine against San Marino match on September 6.
What caused the tough sanctions was not so much the use of pyrotechnics during the game (FIFA bans it in games under its aegis and one of its delegates reported that Ukrainian fans used it). It was the report of a Football Against Racism in Europe, FARE, delegate. FARE is a London-based European network that campaigns against racism and xenophobia in football since 1999. In 2006, it established a "strategic alliance in the field of anti-discrimination" with FIFA. Ever since, it has been providing reports on signs of racism and neo-Nazism at football matches. Based on these reports, FIFA takes its disciplinary decisions.
READ ALSO: Football and Racism
The Lviv report by FARE observer said that Ukrainian fans raised the banner of SS Galizien Division depicting the Halychyna (Galician) lion on the 14th minute of the game. "The division was formed of Ukrainian volunteers and fought for the Nazi Germany in WWII," the observer lays out his view of history. On the 15th minute, he noticed the anti-communist banner saying "Good night, left side". On the 55th minute, he saw a man wearing a T-shirt with 88 on it. He interpreted this number as Heil Hitler, h being the eighth letter in the English alphabet. Also, he saw signs of racism when Ukrainian fans imitated monkey sounds after a Brazilian player in the Ukrainian team scored a goal. In addition to that, the observer saw several young men making Sieg Heil moves.
He carefully recorded all these facts on video and photo cameras.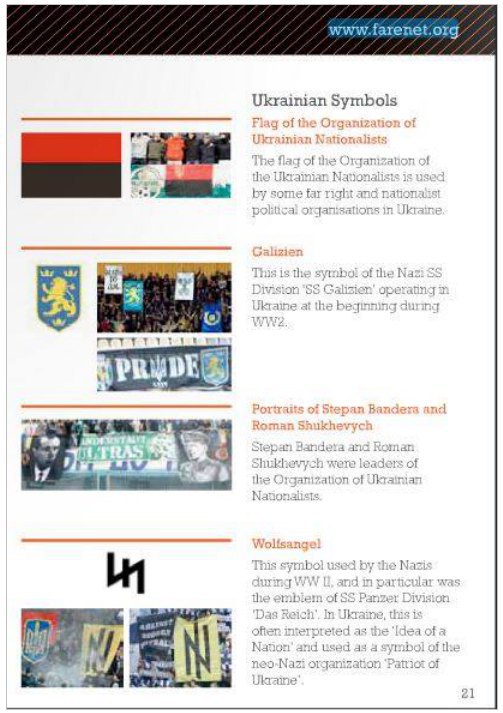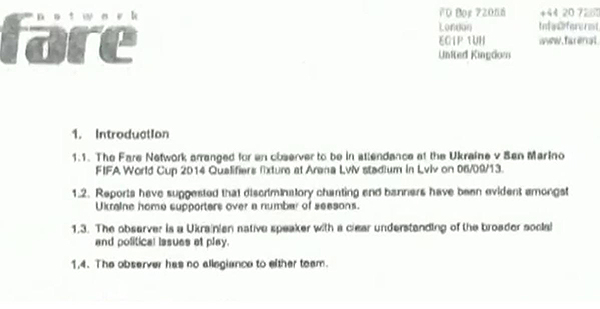 FARE recommends punishing the national federation of Ukraine for the red and black flag used by Ukrainian insurgents during the liberation struggle in the 20th century and the portraits of insurgent movement leaders, Stepan Bandera and Roman Shukhevych, spotted during football matches
WITHOUT DECLARATION OF WAR
By contrast to FARE, Ukrainian fans did not notice their own racism. They had no idea that the symbols of SS Galizien Division were banned. They claim that they read all FFU's recommendations on effective bans, including that on the swastika, Ku Klux Klan symbols and the like. These bans never mentioned SS Galizien.
Taras Pavliv, the leader of Lviv ultras, admits that the first time he saw the "updated" bans was on the Big Football TV show on September 21, two weeks after the game. Anatoliy Binkovsky, Kyiv Dynamo security officer, says that the Union of European Football Associations (UEFA) officially provided the updated list to Dynamo fans on September 25.
The banners of SS Galizien Division are not the only thing Ukrainian fans should be punished for according to the new list of banned symbols. These now include the red and black flag of the Organization of Ukrainian Nationalists (OUN) used by insurgents in the 20th-century liberation struggle, as well as portraits of Stepan Bandera and Roman Shukhevych, two leaders of the insurgent movement.
READ ALSO: The Undefeated
"Stepan Bandera and Roman Shukhevych were OUN leaders," FARE's guidelines explain briefly. However, neither SS Galizien Division, nor Bandera or Shukhevych were condemned at the Nurnberg Trials. Surprisingly, FARE's bans do not cover liberation movements similar to the OUN or UPA (Ukrainian Insurgent Army) in other countries.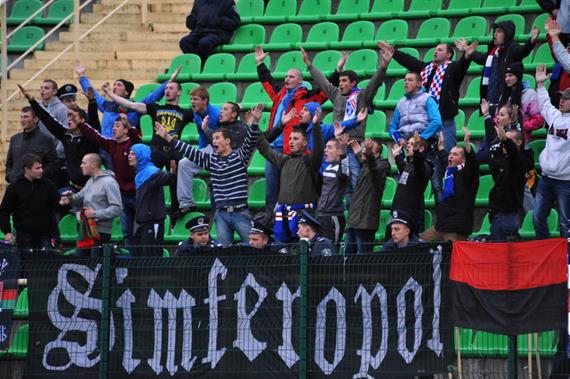 Ukrainian ultras have called on fans of all clubs to bring red and black flags to games to protest against the ban on national symbols at the stadiums. On September 29, the fans of Simferopol FC Tavria brought red and black flags to the game against FC Karpaty in Lviv from Crimea. On September 30, fans unfolded a huge red and black flag at a game between Poltava FC Vorskla and Kyiv FC Dynamo in Poltava. Many smaller red and black flags were spotted at this game
THE MISSING EXPERTS
FARE observers are not interested in the banners of Belgian, Latvian or Estonian SS divisions (SS Galizien Division and the Spanish Blue Division are the only ones in their sight), nor do they mention any other symbols of national liberation campaigns. It does not prohibit the banners of IRA, the Irish Republican Army, or the flags of the Russian Liberation Army. For Russia, which does have problems with race intolerance and nationalistic sentiments, especially in football, it has just one taboo on the flag of the Slavic Union which is generally banned in Russia. The black, yellow and white flag which was the official national flag of the Russian Empire and is now used by nationalists and monarchists, is not mentioned
According to FARE's Executive Director, Piara Powar, the organization does not have Ukrainian experts, only "organization members". Associated members of the network (160 today) from Ukraine include the Kyiv-based Congress of National Communities, the International Foundation for Health Care and Environment in Mukacheve, Zakarpattia; the Kharkiv-based People's Ukrainian Academy; and a mysterious organization called Football Against Prejudices which does not even have a website in Ukraine. So far, none of these confirmed that they participated in the preparation of FARE's report on the Lviv game. Yosyp Zisels, President of the Congress of National Communities, suggested in his comment for Radio Liberty that this looks very much like a provocation against Ukraine. He said that the Congress would take a closer look at the quality of FARE's work: "If this was a provocation, we will not be part of it."
READ ALSO: Police vs Football Fans
As soon as FARE faced the first accusation of poor knowledge of history, the list of insulting and discriminating symbols in European football (it included the OUN red and black flag, portraits of Bandera and Shukhevych among others) that serves as the basis for FIFA's punishment disappeared from its website. FARE described the wave of indignation in Ukraine sparked by its report to FIFA as "speculation" and stated that all observers it sent to the Ukraine-San Marino game were neutral and unbiased international experts.
This does not match FARE's report, however. The introduction mentions "an observer" and "the observer". This "international" observer "is a Ukrainian native speaker with a clear understanding of the broader social and political issues at play." His name is never mentioned. However, another one is.
WHO IS WHO?
Pavlo Klymenko is FARE's coordinator for Eastern Europe. In his interview for The Jewish Chronicle Online (Tjejc.com), Klymenko said that his "struggle against Nazism" began in 2004. He claimed to have been fighting against neo-Nazis in Kyiv as a teenager, and to have won the fight. "We fulfilled our so-called role… the domination of neo-Nazis on the streets stopped," The JC quotes him.
After he saved Kyiv from the fascist occupation, Klymenko moved on to the stadiums all over the country – now for grants. FARE and other organizations he was involved with provide grants on a regular basis. Also, Klymenko is one of the key people at the little-known yet fairly well funded Ukrainian Marochkina Human Rights Protection Foundation. It receives grants from the German Rosa Luxemburg Foundation, among others.
As soon as the first article about Klymenko's ties with various leftist organizations appeared in the press, someone began to swiftly delete his contacts on the Internet. His email address was removed from the Contacts page of the Marochkina Foundation.
READ ALSO: The Hools are Coming
Some other facts point at his involvement with the Marochkina and Rosa Luxemburg foundations. The UNIAN website contained an announcement of a roundtable the two foundations held in Chernihiv. Contact persons for it were Pavlo Klymenko and Vitaliy Dudin, a lawyer at the communist trade union Protection of Labour and a contributor to the "main analytical website of Haslo (Slogan), the leftist opposition". The Protection of Labour is headed by a well-known Kyiv-based doctor, Oleh Vernyk. He also chairs the International Organization for Elections Observation CIS-EMO. "The president of CIS-EMO is Alexei Kochetkov, a Kremlin political analyst," says Yevhen Karas, the journalist who wrote about Pavlo Klymenko.
Indirect evidence suggests that Klymenko is connected to the Eurasian Youth Union, a pro-Russian organization banned in Ukraine (its members destroyed Ukraine's coat of arms at Hoverla, the highest peak in the country, in 2007). "In his article for a communist website, Klymenko mentions his friend Anatoliy Shekhovtsov, a researcher of political radicalism, who publicly claimed in interviews for the foreign press that Ukrainian fans "place portraits of fascist Stepan Bandera". "Shekhovtsov was, member of the Eurasian Youth Union," Yevhen Karas claims.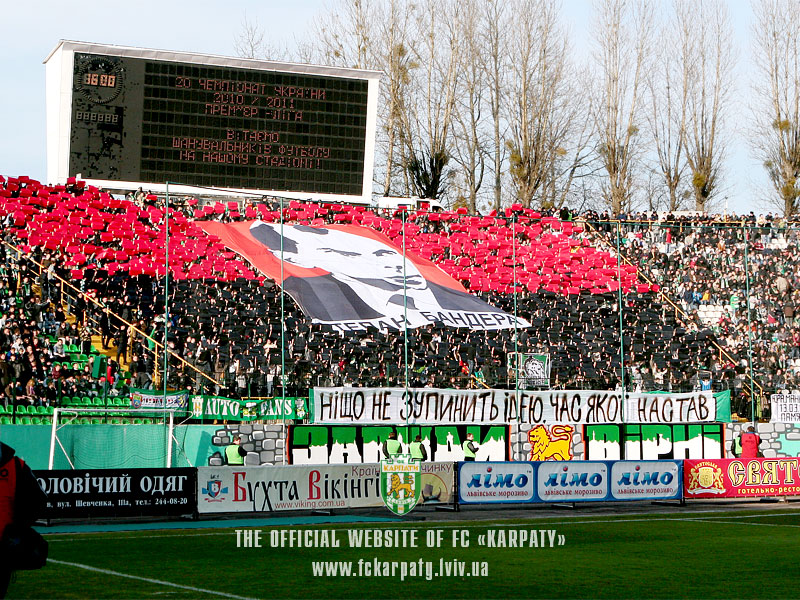 Kyiv Dynamo and Lviv Karpaty ultras have sent an open letter to FIFA where they questioned FARE's knowledge on Ukrainian history and noted that it was not FARE's competence to evaluate historical figures whom many Ukrainians see as national heroes
WHO NEEDS THIS?
Several scenarios as to FARE's attempts to ruin Ukraine's image have come up lately. Many believe that Poland may have influence on FARE since it is where it publishes its report on Eastern Europe. Poland's attitude to Ukrainian liberation movement is a complex issue. And it is Poland against which Ukraine will play its upcoming decisive qualification tournament behind closed doors in Kharkiv.
Another interpretation is that the party in power – especially the pro-Russian group within it – may be drawing FARE's attention to Ukraine and ensuring its "accurate" vision of history. This scenario is based on the Party of Regions' antifascist rallies (see Anti-Fascism & the Yanukovych Regime), the request of some of its MPs along with the Communist Party of Ukraine for the Polish Sejm to recognize Volyn tragedy as genocide earlier this year, and "internal instructions" Ukrainian fans complain about (one is the unofficial ban on pulling out red and black flags at stadiums in Eastern and Southern Ukraine enforced by the police). "The government is struggling against fascism which people don't actually see, that's why it wants to raise and fuel this issue," Taras Pavliv explains. "They say, here it is, fascism in Lviv, and once again divide East and West. International companies are involved for a stronger effect."
Most experts speak of the possible trace of the Kremlin which is taking every opportunity to disrupt the Association Agreement with the EU. For this, Moscow is now exploiting left forces in Ukraine. Serhiy Parkhomenko, Director of the Centre for Foreign Policy Studies, recalls that Gazprom is now the official sponsor of football tournaments under the FIFA aegis. It signed a multi-billion contract for this on September 14 in the presence of Vladimir Putin, FIFA President Joseph Blatter and Gazprom CEO Alexey Miller.
No matter what, average Ukrainians are concerned about new attempts to attach "fascism" and "racism" labels to all things Ukrainian, including patriotic forces that fought against two totalitarian systems in the Second World War. The government has not duly reacted to this informational campaign. Nor has the opposition despite its pro-Ukrainian rhetoric.
CONFUSING SELECTIVE APPROACH:

Surprisingly, international football associations and FARE do not react to obvious signs of xenophobia and racism in other countries. They did not respond to the recent burning of the Chechen flag at the game between St. Petersburg's Zenit and Groznyy's Terek in Russia (see top left photo) or the burning of the Croatian flag at the Serbia-Croatia match (see top right photo). Quite often, FARE's reports that mention clear signs of racism at football matches do not result in tough sanctions. On August 29, FARE's observers noticed an "ultra-right banner" and heard "xenophobic songs" in the sector of Spartak (Moscow team) in the game against Swiss FC St. Gallen. Ever since, there has been no news of sanctions for Spartak