Backed by annual statistics, top officials are boasting an unprecedented fight against corruption. Ukraine's Security Service alone revealed over 600 crimes committed by police in 2010-2011. The Prosecutor's Office discovered even more. In reality, however, these anti-corruption efforts are less comprehensive than they appear to be. In Lviv Oblast, for instance, as elsewhere in Ukraine, police officers tried for criminal activities rarely end up behind bars.
WELCOME TO THE POLICE
Illegal arrests are a widespread habit of Ukrainian police—one that nobody seems to be willing to eliminate. In some cases, police officers are exempted from criminal liability for illegal arrests and their criminal cases are closed. Lieutenant Colonel Volodymyr Kyrpach, for instance, was released from criminal liability under a ruling by the Shevchenkivsky District Court in Lviv. At the time, he was working as an Assistant to the Lychakiv District Police Chief. He was accused of arresting a guard and security chief at a company and keeping both employees behind bars for 13 hours with no legitimate reason. Based on a comprehensive forensic test, one of the arrested employees needed medical help but the police refused to provide it.
Mr. Kyrpych never admitted any guilt, claiming that he was acting as instructed by the chief of the district police department. Judge Vasyl Katsaviuk referred to Art. 48 of the Criminal Code to back his verdict. The article provides for moderate first-time offenders to be exempted from criminal liability if, during the course of the trial, their circumstances change and they cease to present a danger to society. Mr.Kyrpach had retired by the time a verdict was issued in his case, so he no longer had the capability to put people behind bars, and was no longer a danger to society.
CONSPIRACY OF SILENCE
Another frequent police crime is the failure to record information about an offense. Serhiy Konchuk, ex-Deputy Chief of Kamianka Buska County Police Department in Lviv Oblast was accused of hushing up a reported crime. A pre-trial investigation found that Mr. Konchuk knew of a theft of UAH 90,000, yet failed to record and verify it immediately, thus allowing the offender to avoid criminal liability.
However, the Chervonohrad Court disagreed with the prosecution. Unlike the investigators, Judge Stepan Meleshko saw no abuse of power in the officer's actions and qualified the offense as mere negligence, changing the punishment from 5-12 years in jail to a simple fine and community service or a shorter jail term—quite a difference indeed! In the end, Mr. Konchuk received a UAH 5,000 fine from which he was later exempted through amnesty.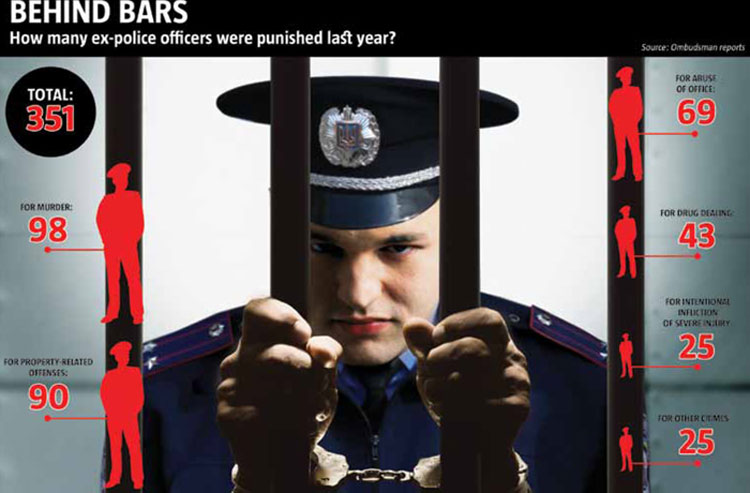 If your car gets stolen, the police may demand that you pay a few thousand dollars to get it back, while also concealing information about the theft. Yet, the bribe is no guarantee that your car will even be returned. An officer in Zhydachiv County Department failed to record a reported car theft, which qualifies as criminal assistance under Art. 364.3 of the Criminal Code. The car's owners paid him $3,500 to return their Mercedes. After he got hold of the cash, committing what qualifies as large-scale fraud, the officer never found or returned the car to the owner. Judge Vasyl Borakovsky sentenced him to 21 months in prison, although the official punishment for this sort of crime ranges from 3 to 12 years in a penal colony.
HIGH WAY ROBBERY
It's long been known that the State Road Inspection or highway patrol has a penchant for taking bribes. Aside from this 'supplemented income,' officers are never held liable for breaking traffic rules. In addition to cash, bribes can be paid in the form of office equipment. Rostyslav Harkatyn, Chief of Peremyshl Road Police Department, got a multifunctional Samsung printer as a bribe from a driver who had broken the rules.
The prosecution accused Mr. Harkatyn of demanding and receiving a bribe. The law requires a 5 to 10 year prison sentence for such a crime. However, Maria Oleksiyenko, a district court judge, spotted no demands for a bribe in the case. According to her scenario, the driver offered the bribe voluntarily. As a result, Rostyslav was sentenced to a fine rather than a prison term. Judges at the Higher Specialized Court accepted the verdict.
Some road police departments inflate their statistical reports to show how well they operate. They have nothing to fear, as judges approve of the process. One bold road inspector was acquitted by the Lviv Oblast Court of Appeals after compiling nine fake protocols for traffic violations by drivers he picked randomly out of a database of car owners. Yet, the judges ruled that no abuse of power had occurred. "The criminal case materials provide no proof of an offense," the judges wrote in their verdict. "This undermined the respect for authorities, yet no proof was found that the act of forging caused significant damage to the rights, freedoms and interests of citizens or interests of the state."
FRIENDS IN HIGH PLACES
The abovementioned cases represent only a small fraction of the reported abuses that signal that judges too often tend to issue probation terms rather than proper punishments.
Volodymyr Musiyevsky of the Pustomyty County Court released local police officer Oleksandr Rubtsov on probation after the court found him guilty of demanding and receiving a bribe in return for not assigning an probation officer to a convicted criminal.
Thanks to Judge Ihor Ptashynsky of the Sambir Court, an investigator who received a $5,000 bribe for shutting down a criminal case had his sentence reduced to a probation term. The prosecution provided proof that the investigator had abused his office, yet the judge qualified the bribery as fraud because the investigator had taken the bribe to shut down the case of another investigator. Judges often qualify serious crimes as lesser offenses, especially in bribery cases. Those tried for bribery often end up punished for mere fraud. By law, a police officer that accepts a bribe for a case he is personally assigned to qualifies as bribetaker, but if another police officer is in charge of the case, the offense is interpreted as fraud. The former offense entails 5 to 12 years in jail. If convicted of fraud, however, the offender may simply end up with a fine, community service or a short jail term. Therefore, officer Vasylenko takes bribes for officer Petrov's cases, and vice versa. Such schemes allow the police to protect themselves from severe charges and long imprisonment if caught red-handed, and judges use this practice to interpret serious offenses as lesser ones.
For instance, Serhiy Boreyko, a judge at the Sykhiv District Court in Lviv, released officer Vasyl Pryshliak on probation after trying him for bribery. After a bank employee reported the receipt of a fake income statement from a loan applicant, Officer Pryshliak demanded a bribe from the suspect in exchange for preventing prosecution. As it often does, the court qualified the officer's offense as fraud rather than bribery because he was not directly involved in the case.
By giving corrupt police officers probation and conditional sentences, judges have an adverse impact on the struggle against police corruption. The fired traitors in police uniforms are simply replaced by new ones while the beatings, bribery, illegal arrests and systematized "protection" continue to flourish.