One video that was posted on the Internet, shows a soldier of the National Guard entering a shop in the Donbas warzone to buy food. When he asks if there are any sausages, the clerk says that none have been delivered for a long time and probably won't be delivered for a long time to come. This is the consequence of war – in peacetime, shop owners would always have this popular product in stock to keep up with competition from nearby traders. And it is hardly the only one. Military operations in the Donbas are not only crippling the lives of hundreds of thousands of people, but are also ruining the long-established mechanism for the functioning of the national economy in the region. Production, supply, consumption, savings and investment – everything changes under the influence of war.
The Donbas economy is primarily based on industry and export-oriented production. This largely determines the current economic situation in the region. Since local enterprises generally do not produce consumer goods, but semi-finished products, often raw material (largely coal, coke, metal, mineral fertilisers, etc.), and less frequently, capital goods, such as machinery, terrorists are not interested in actually taking their products. This is possibly why most of the large plants in the Donbas manage to continue operation almost as normal. Some do heroically. For example, the Novokramatorsk Mechanical Engineering Plant (NKMZ), located in Kramatorsk, the epicentre of military action until recently, continued to operate as usual. On July 1, the managers of its subdivisions unanimously voted to continue to work in spite of the battle to liberate the city at the peak. On July 4, NKMZ held an expanded meeting of the board, supervisory board and trade union, at which the intent to continue production was approved, and already within one day, the city was liberated from the militants.
Large enterprises in the region are feeding millions of residents in Donetsk and Luhansk Oblasts and at present, will remain to do so, regardless of who is in power. They probably understand that the terrorists are not hampering their operations. However, there are exceptions. For example, armed fighters of the Donetsk People's Republic (DNP) came to that very NKMZ and removed some engineering equipment, which could be used in military action. Reportedly, terrorists entered the Lysychansk Oil Refinery on July 15, (which is surprising as it is owned by the Russian Rosneft) and expropriated 40 vehicles. But this stealing of private property is not massive enough to influence the operations of plants in the Donbas.
RELATED ARTICLE: Fixing the Donbas
The owners of these enterprises are a significant reason why fighters are not ruining the facilities. For example, on the morning of July 18, information appeared in mass media of saboteurs that had seized the Adviyivka Coke Plant (AKKhZ), owned by Rinat Akhmetov. Within a couple of hours, the plant itself published a denial, noting that the Donetsk People's Republic representatives had actually arrived at the checkpoint, but "left after a short conversation with Director General of AKKhZ, Musa Mahomedov". Civil society in Ukraine has often accused Akhmetov and other oligarchs with assets in the Donbas, of complicity in the war in the region, which they allegedly support, defending their own political interests and property. The brief dialogue at AKKhZ's checkpoint is the latest proof that some of them, even if they did not participate in the organisation of the Donetsk or Luhansk People's Republics, are not taking action against the terrorists, who, with act friendly towards one-time "masters" in the Donbas.
A strange fact: separatists are shelling mercilessly cities and towns in Donetsk and Luhansk Oblasts, but for some reason, the ammunition only seems to hit residential buildings and social infrastructure facilities. Cases of significant damage to plants and factories are rare. The Slovyansk Thermal Power Station (TES), part of Public Joint-Stock Company (PAT) Donbasenergo has been ruined; the Lysychansk Oil Refinery has been fired on and set on fire; AKKhZ has been significantly damaged by shelling, resulting in a 50% decrease in production. These are probably all the facts about large-scale damage of big enterprises in Donbas (ammunition and shrapnel have also hit Energomashspetsstal steelwork, NKMZ, Kramatorsk Heavy-Duty Machine Tool Building Plant PSC, Luhanskteplovoz (Locomotive Works), Severodonetsk Azot and so on, but not seriously and without significant consequences for their operations).
Many large plants in Donetsk and Luhansk Oblasts are outdated and rundown. So, if they were completely destroyed in a military operation, not all of them would be economically viable for reconstruction. Local oligarchs, who ruthlessly exploit facilities in order to pump profits abroad, see no prospects in restoring many of them. So they are making every effort to protect their existing property and, possibly, have contact with the terrorists, whispering in their ear where they can and cannot shoot.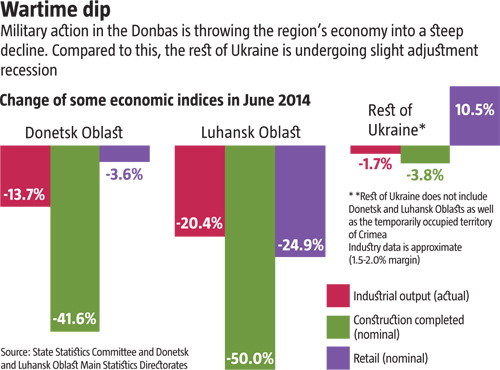 Thus, plants in the Donbas have virtually no problems with organising almost uninterrupted production. Otherwise, industrial output statistics in June would have been significantly worse than it is now (see Wartime dip). Problems faced by enterprises lie elsewhere. First of all, many people are resigning and going on unpaid leave in order to leave the anti-terrorist operation area for the period of military action. For example, NKMZ has changed its work schedule to allow people get to work and home in daylight hours. Bomb shelters have been established at plants, personnel have been given relevant instructions on how to use them. The personnel problem is currently being resolved with available backup, but should the conflict escalate, the shortage could become more acute. Secondly, since terrorists regularly blow up roads, railways and bridges, enterprises are experiencing difficulties with logistics. For the most part, large plants have alternative routes and types of transport, but even they are experiencing problems, let alone small and medium-sized businesses. Luhansk TES risks running out of fuel since the bridge and the railway line used to deliver coal there have both been destroyed. Several days ago, it changed to a save mode, but the risk of it being closed altogether still remains. Thirdly, the Donbas has a lot of facilities that, if damaged, could ruin the environment. A cut-off of energy supply for a chemical-recovery plant for two hours will lead to the emission of coal gas; a blackout for Stirol, a chemical plant, can cause the emission of ammonia. All of these are everyday risks, and battle conditions increase the likelihood of extremely dangerous consequences.
RELATED ARTICLE: Money of the Donbas
On the other hand, the rest of Ukraine has surprisingly gained certain dividends from military action in the Donbas and from the Russian occupation of Crimea. Defence enterprises have significantly increased their output. The Shepetivka Armament Repair Plant, the Mykolayiv Diesel Locomotive Repair Plant, and the Konotop Aircraft Repair Plant are fixing military equipment that has stood idle for dozens of years and is now need in the anti-terrorist operation area. Recreational areas in the Carpathian Mountains, near Odesa and close to the Shatsky Lakes are filled to the brim with Ukrainians, particularly those from the Donbas, who had probably never heard about these holiday destinations in the past. Economic indices in other parts of Ukraine do not reflect the depth of the crisis, but rather an adaptation to the recession, which will inevitably be followed by vivid development and economic growth.