At the beginning of this fall, yet another State Programme for the Reform and Development of the Ukrainian Armed Forces was passed. This one covers the years through 2017.
The text of the programme has not been disclosed yet, but the laconic yet resolute statements of the Defence Minister, Pavlo Lebedev, have shed light on the strategic changes that the military will undergo under the latest Army 2017 project. The major aspect of the reform is the inevitable and complete switch from mandatory annual conscription to a volunteer contract-based service. According to official statements, this change will occur next year, so the conscription campaign that kicked off on October 1 will supposedly be the last of this kind in Ukraine. Another innovation is significant downsizing. Ideally, this should provide Ukraine with a smaller but highly professional and well-equipped army. The planned total of personnel will be 122,000, of which nearly 70,000 men are combat troops and 50,000 are in maintenance. Today, according to various estimates, there are nearly 180,000 people in the Ukrainian military, with 100,000 in maintenance and 80,000 combat troops.
ILLUSIONARY SELF-SUFFICIENCY
The new professional army should be based on contract service, and the state is supposed to provide relevant incentives for people to join it. These include financial rewards, housing, employment benefits and opportunities to train with new weapons and technology. Proper patriotic education is necessary, too. Overall, military service should become interesting and rewarding.
READ ALSO: Strategic Incompatibility
Today, however, the wages of Ukraine's Armed Forces contract serviceman ranges between UAH 1,463 and UAH 2,926 (USD 180-360). This is below the existing average wage of UAH 3,000 to UAH 3,304 (USD 370-408). Still, we may soon see an intense promotion campaign for contract-based military service, and a flow of new promises to increase financing for the military. Politically, the timing is perfect as the 2015 presidential election campaign has already kicked off unofficially.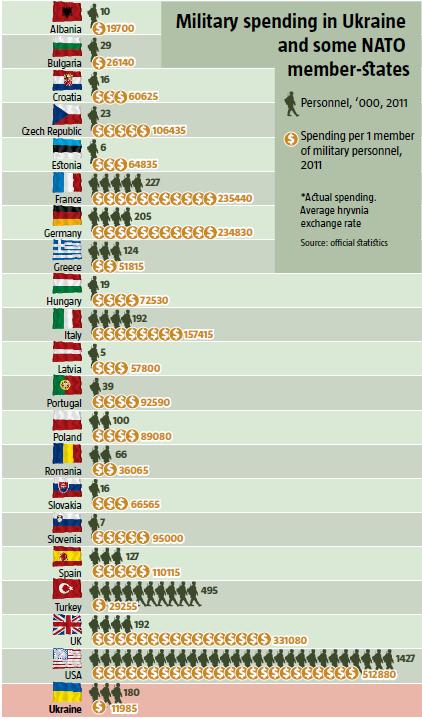 Initially, it is likely to draw quite a few volunteers, given the high unemployment among young people, especially in the rural regions of Ukraine. In the long run, however, disappointment may follow, and many volunteers are likely to leave the army. The populism traditionally used for the military throughout the years of independence and promises not grounded on sufficient resources may take a heavy toll on the country. With time, Ukraine may end up with much of the taxpayers' money wasted on disappointed servicemen who will quit the army eventually, and depleted military professionalism since no volunteers will be willing to serve longer than three to five years.
READ ALSO: Dmytro Salamatin, a New Ukrainian-style Blyukher
Last year, the Chief of Staff of the Ukrainian Army, Volodymyr Zamana, mentioned that the wage for contract-based servicemen would reach USD 750-800 starting from 2014. However, the state budget will most likely afford to pay what Defence Minister Pavlo Lebeved promised this August. According to him, the pay for a contract infantry soldier will be UAH 3,005 (USD 370), UAH 3,641 (USD 449) for unit commander and UAH 4,340 (USD 535) for a tank commander from July 1, 2014. The wage for officers is supposed to increase as well. The government may indeed manage to pay this before the election. However, it is hardly comparable to wages in Russia (nearly USD 1,600 for a lieutenant) or over USD 4,000 for an officer in Germany.
Another potential problem is what to do with those transferred to reserve units? Many of the military are ill-fit for civilian life since their only skill is to protect their country. The estimated number of those becoming reservists in 2013-2017 is nearly 42,000. Only 21,000 of them (with 10 and more years in service) will be entitled to the state adaptation programme. Preliminary estimates show that it will cost the government over UAH 100mn. It is unlikely to spend that much, however: the 2013 budget programme for the professional upgrade of social defence employees and social adaptation of reserve military staff entails UAH 50,000.
READ ALSO: Potatoes For the Top Brass
Moreover, the functions of the social and professional adaptation of the military have been taken away from the Defence Ministry and transferred to the Social Policy Ministry. With just one section comprised of six people within the Department for Social Protection of Chornobyl Victims and Other Categories (the military are listed as Other Categories), it is unlikely to be able to effectively deal with the influx of former servicemen. As a result, many of them may find themselves forgotten by the state. Some will go to the security services of Ukrainian business owners and tycoons who have by now formed thousands-strong private armies that can well be viewed as a threat to national security. Others will end up on the streets. Given their experience with weapons, they could pose another threat.
ILLUSIONARY PROFESSIONALISM
Over many years of attempts to create an army with a new format in Ukraine, the concept of switching from national to contract-based service has been confused with professionalism. These two things are not always identical. A well-trained military, regardless of enlistment procedures, plus modern weapons and technology, are two fundamental elements of a professional army. In other words, Ukraine should now think about a professionally trained army with daily training that uses new or modernized equipment, not just a contract-based army. However, Ukraine is not planning a large-scale overhaul of its weaponry anytime soon. On paper, authorities allocate huge sums for rearmament, but this year's defence budget provided just about USD 111mn to buy new weapons. Meanwhile, Ukraine needs at least USD 500mn annually to actually rearm its army effectively – and these are optimistic estimates. This amount is scheduled to increase to USD 1.2bn by 2017, when the supply of new weapons for the Armed Forces, including that being currently developed by local engineers, is scheduled for.
READ ALSO: An Army for Sale
There is no certainty with the three long-term military engineering projects: the Sapsan Tactical Missile System; the An-70 military transport aircraft; and the multipurpose battleship Korvet. The military recently stopped Sapsan – thus taxpayers' money has long been wasted with zero outcome, and it is unlikely that someone will be held responsible for this. The system was supposed to become virtually the only instrument of protection from possible military aggression in a non-aligned Ukraine. An-70 became yet another bargaining chip in the political confrontation with Russia – alone, Ukraine is unable to place enough orders for Antonov, the aircraft manufacturer, to be able to finish the project. The first Korvet should be completed by the end of 2015. However, the issue of the weaponry it will be equipped with is still open. As a result, it could be launched without armaments.
Overall, the Defence Ministry's financial needs have never been fully met throughout the years of independence, even though the military always requested less than they needed. In 2013, the defence budget was UAH 15.6bn (USD 1.9bn) of the necessary UAH 20bn (USD 2.5bn). It is still unknown whether the whole amount will be allocated by the end of the year. The situation was no different in 2012 with UAH 16.3bn (USD 2mn) being estimated for allocation and UAH 14.7bn (USD 1.8bn) actually being allocated of the nearly UAH 20bn requested. The Defence Ministry's request for UAH 24.5bn (USD 3bn) for 2014 will obviously follow suit. After the President approves the State Complex Programme for the Reform and Development of the Armed Forces Through 2017, the military will receive similar resources to keep more servicemen afloat for five more years. Experts are convinced that the army reform will fail with a budget of under USD 2bn.