Crimean human rights group presented in Kyiv a report entitled "Nonconforming Freedom" and dedicated to the violations of the right to peaceful assembly during the three years of the occupation of Crimea. It combines thorough analytical work, facts, consequences and recommendations.
Leonid Kuzmin, the founder of the Ukrainian Cultural Center NGO based and operating in Simferopol, Crimea, came to Kyiv to present the report. A school history teacher that stayed in Crimea after the Russian annexation, he is one of those who wear an embroidered shirt on March 9, Taras Shevchenko Memorial Day, on May 18, the anniversary of Crimean Tatars deportation, and on Ukrainian Independence Day, although risking to end up in prison one day for such activity.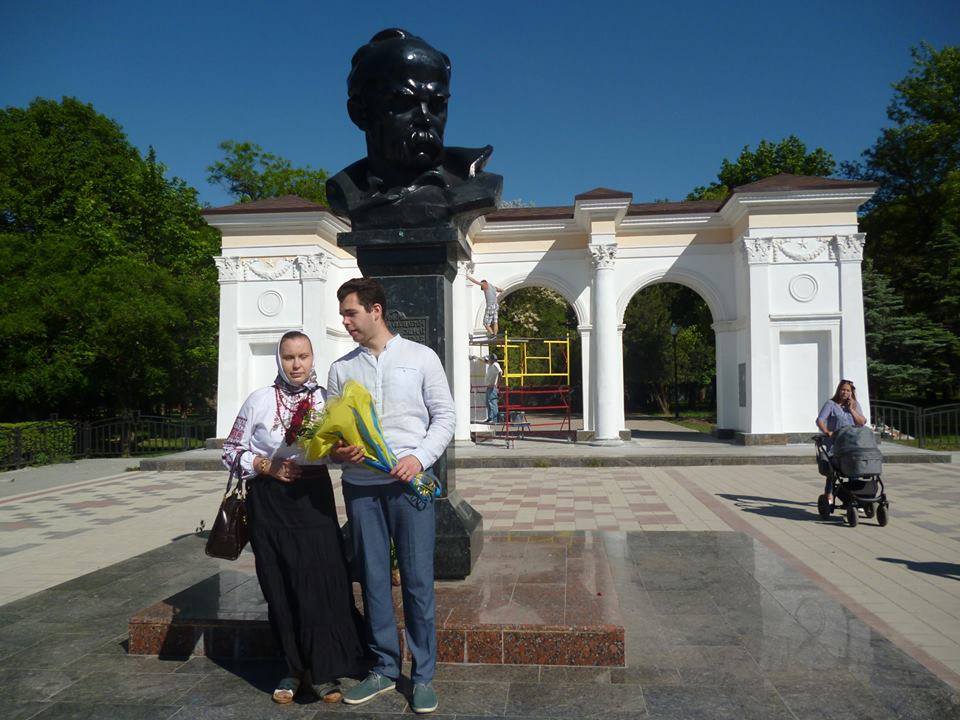 Photo from Facebook/Leonid Kuzmin, 18.09.2017, Crimea
"Of course I feel in danger. I understand perfectly well that if there is no criminal case against me today, it may be filed tomorrow."
Over these three years, 17 people went missing in Crimea, 12 were killed and 39 became political prisoners (according to the data provided by the Kyiv-based Crimea-SOS NGO). Not only Ukrainian and Crimean Tatar activists are now in danger, but also some Russians, as well as the holders of Russian passports obtained three years ago, who try to hold peaceful rallies in Crimea.
"Students wanted to hold a rally against corruption. As a result, the organizer was sentenced to 15 days of administrative arrest, and within a month, when he did not organize anything, he received the same sentence a second time."
Life is easier for civic activists when they are united. That is why two years ago Leonid created the Ukrainian Cultural Center in Crimea. In the last three years, its activists filed applications with local authorities to hold a rally eight times, but were granted the official permission only once. This was on March 9, 2015. After it, three participants of the authorized rally were sentenced to 40 hours of correctional labor.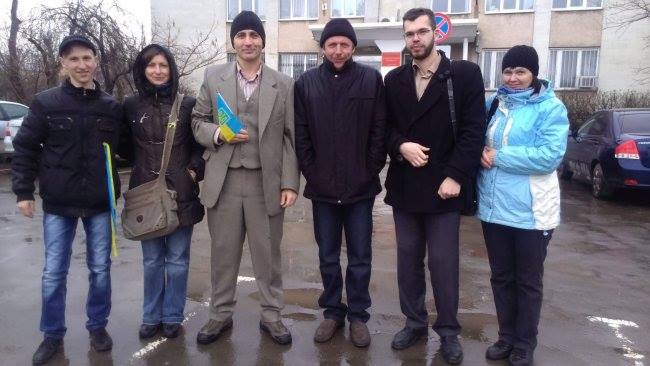 Facebook/Leonid Kuzmin, March 2015 Crimea, O. Kravchenko (first from left), V. Shukurdzhyyev (third from left), L. Kuzmin (second from right)
"We applied to hold a cultural event, the celebration of Taras Shevchenko's anniversary, in 2016. We were denied permission, because 'the state of emergency has been introduced in Crimea due to problems with electricity supplies.' Nevertheless, we did hold the rally, and our activists were detained, without making entries in records. On Ukrainian Independence Day in 2016, Maksym Kuzmin and I were detained for laying flowers. We were kept for three hours at the police station and then released. It is actually a form of psychological pressure, to keep a person in a cage."
Despite refusals, intimidation and prohibitions, Leonid applied to hold a rally in Simferopol next to the monument to Taras Shevchenko this year as well. The local quasi-authorities refused, because, according to them, "the organizers did not submit all the documents, namely, criminal history clearances of the rally participants."
The analysis performed by the Crimean Human Rights Group shows that most prohibitions and persecutions in Crimea concern the Crimean Tatars. They are banned from celebrating their national holidays or commemorating victims. On the eve of May 18, 2016, the day of commemorating the deportation, some schools in Crimea officially banned both students and teachers to be absent from school on May 18. School administration was instructed to inform about the number of people absent and the reasons for their absence. "Ethnic Tatar children" were specifically targeted.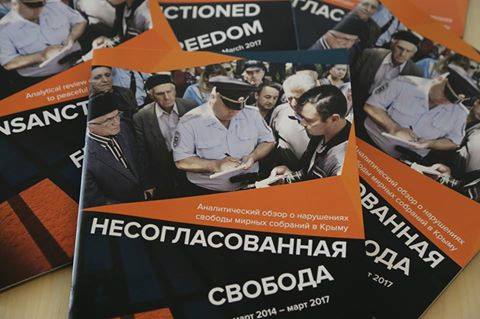 Unauthorized Freedom. The analytical report by Crimean Human Rights Group (photo provided by the group)
People who dare to speak or express their position publicly understand that thereby they put at risk themselves and their families. Osman Izmaylov, a Crimean Tatar who also stayed in Crimea, tells how he was stopped on the road because of the mourning ribbon on May 18 this year.
"I attached a Tatar flag with a wide black ribbon as a sign of mourning to my car, to show and remind to all city residents that this was the day of mourning. I was stopped by the traffic police four times. They brought absurd charges that "the car is not a means of transporting flags," "it is prohibited by technical guidelines" and that "the flag distracts drivers." I was also told that I violated the law on peaceful assembly, although I was driving my own car, which is not a demonstration or a rally. After lengthy discussions, they let me go. I took a video and posted it on Facebook. I think this kind of action is intimidation to make sure that people don't show their stands."
For three years, Crimean Human Rights Group has been monitoring the situation in Crimea. Experts say that by contrast to the Ukrainian legislation, the Russian law, by which the Crimean quasi-authorities abide, requires the organizers to ask permission to hold rallies, not notify local authorities about them. That is, you first need to apply and wait for the decision. In most cases, the right to hold a peaceful assembly is denied. The reasons for denial are sometimes quite absurd: "bad weather on the day of the rally" or "activists will interfere with street cleaning." Rallies are also prohibited in places not intended for assembly. While back in 2015 there were 700 items on the list of permitted locations, today only 360 are left.
"Perhaps the only exception are the rallies associated with professional activities. This includes plant or factory workers. For example, in May this year, employees of Kerch Iron and Steel Works rallied to have their salaries paid that had been delayed by three months. They were allowed to assemble, and this could be due to the fact that they had criticism not of the Russian leadership or the local "authorities," but of the plant managers. They were listened to, promised that everything would be fine, and that was it," says Crimean Human Rights Group analyst Oleksandr Sedov.
"The right to peaceful assembly, by all international standards, is one of the fundamental and basic human rights. Without this right, there can be no even the minimum level of democracy. Here, this right is actually denied. In Crimea, this right is under the ban through systematic, planned and deliberate actions of the "authorities," says Oleksandr Burmagin, expert of Human Rights Platform NGO.
Not all Crimean activists can withstand the pressure and intimidation of the "Center E" or Center for Combating Extremism employees. One of the participants of the rally held on March 9, 2015 near Taras Shevchenko monument, Oleksandr Kravchenko, was forced to leave the peninsula shortly after a court ruled against him. I remember well what he said after a meeting with a man who called himself a judge. "This is a farce!" he said briefly and emotionally. In a year, in spring 2016, we met accidentally in the ATO area not far from the occupied Horlivka. Oleksandr volunteered for military service. We had long conversations between duty shifts. He recalled his youthfully bold decision to wear an embroidered shirt at the court hearing in Crimea. Back then, he still hoped that Crimea would soon return under the Ukrainian control.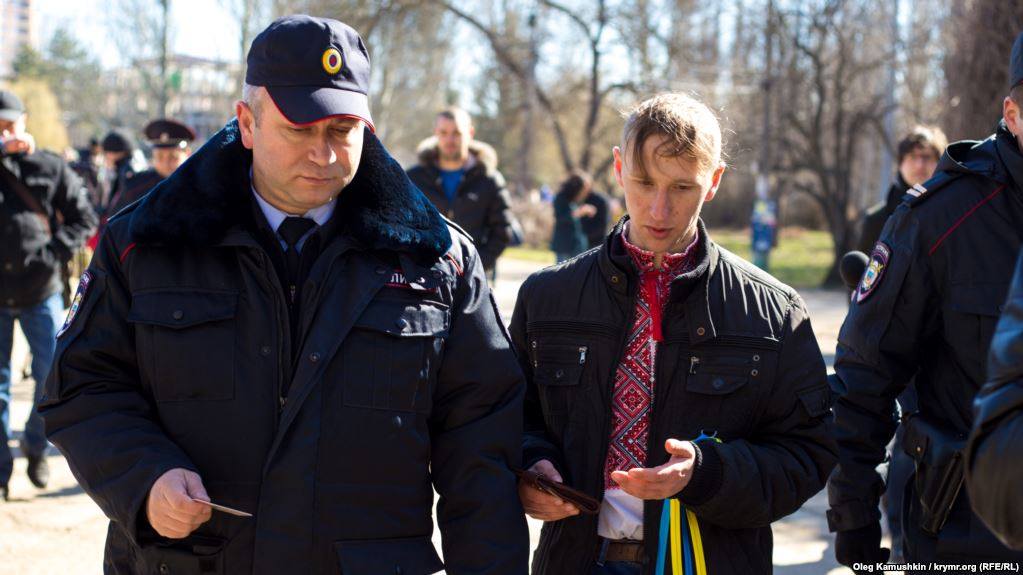 Photo by Oleg Kamushkin/krymr.org, 9.03.2015, Crimea, Oleksandr Kravchenko
Unlike Oleksandr, Leonid Kuzmin still lives in Crimea. The morning after our conversation in peaceful downtown Kyiv, he will return to his home city of Simferopol. At least, Leonid hopes so. When crossing the so-called border, he says, it is better not to make any plans in advance. After all, you can become a "Cyril." This is how the FSB staff call people who can be denied entry to the occupied peninsula. This is the code word during the ID check, after which you are invited to a separate building. There they ask you about the purpose of your visit, tell you not to take part in rallies and, all the more, not to organize them, and send you back. So far, for the Crimean occupation authorities Leonid Kuzmin is "Mykyta," which simply means disloyal. Such people are allowed to enter Crimea, after a special mark is made in the database.
Translated by Anastasia Leonova
Follow us at @OfficeWeek on Twitter and The Ukrainian Week on Facebook