Yuriy Lutsenko injuired by Berkut during clashes in front of the Kyiv Sviatoshyn District Court
Yuriy Lutsenko, leader of the Third Ukrainian Republic initiative and politically persecuted ex-Interior Minister in Yulia Tymoshenko's Cabinet, is beaten and injured by Berkut riot police in the clashes on the night of January 10-11. Ten more people are injured, five taken to hospitals.
Yuriy Lutsenko was conscious when he got to the ambulance car, but his head was bleeding badly. Apart from Lutsenko, Berkut fighters injured over ten people in clashes during the protest after the so-called "Vasylkiv Terrorists" were sentenced to 6 years in jail on January 10 at the Kyiv Sviatoshyn District Court. UNIAN, a news agency, reports that give people were hospitalized after the first late afternoon clashes between protesters near the court. More than ten other activists fell victim to the clashes, including two journalists.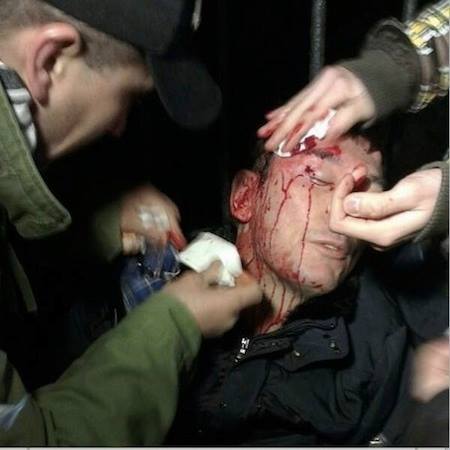 Svoboda (Freedom) party reports that three MPs were beaten by the riot police in those clashes, including Eduard Leonov, Yuriy Bublyk and Pavlo Kyrylenko. New clashes happened at midnight. Berkut riot police was blocked in its buses and as they tried to get out of the buses, new clashes happened. At least two protesters were seriously beaten. They are now hospitalized. Yuriy Lutsenko was injured in the clashes. The case against Ihor Mosiychuk, Volodymyr Shpara and Serhiy Bevz, all members of the Patriot of Ukraine organization, is based on charges of plotting the explosion in "Kyiv and Kyiv Oblast" . The case started in 2011 and lasts till present.
READ ALSO: Bohdan Futey: "The beating we saw is not just physical, but mental, too. The government wants to evoke fear in people"
On August 22, SBU (Special Service of Ukraine) in Vasylkiv, a town in Kyiv Oblast, arrested five activists of the Patriot of Ukraine organization upon charges of plotting a terrorist attack which, according to the prosecution, was to blow up the monument to Vladimir Lenin in Boryspil, an airport town near Kyiv, despite the fact that the monument had been demolished by then. Later, the arrested men were released. Then, three organization members were arrested again, including Vasylkiv Town Council deputies Serhiy Bevz and Ihor Mosiychuk, and Volodymyr Shpara. Eventually, they were accused of plotting the terrorist attack, public appeals to coup d'état, and illegal handling of arms and explosives. Today, they were sentenced to 6 years in jail. The verdict comes into effect since the moment of arrest, so the accused men have to serve 4 more years in prison. The trial began in January 2012. Witnesses in the case reported pressure from the SBU on numerous occasions. Suspects claim that the evidence against them was falsified.
---
By subject:
---