21 November, 2013 19:50
▪
Western politicians on suspension of preparations for the Association Agreement: Ukraine's government bows deeply to the Kremlin
Swedish Foreign Minister Karl Bildt believes that the decision of the Ukrainian government to suspend preparations for the signing of the Association Agreement is pressure from Russia, he writes on Twitter
"Ukraine government suddenly bows deeply to the Kremlin. Politics of brutal pressure evidently works," wrote Carl Bildt on his Twitter

MEP Pawel Zalewski also responded to the decision: he accused the EU of allowing Putin to "turn the table" around which association negotiations were taking place.
Marek Menkiszak, President of the Russian Department of the Polish Centre for Eastern Studies (OSW), commented that "Russia's pressure was key, but it's not Putin that is Ukraine's President." Jacek Saryusz-Wolski, member of the European Parliament's Foreign Affairs Committee, shares this opinion.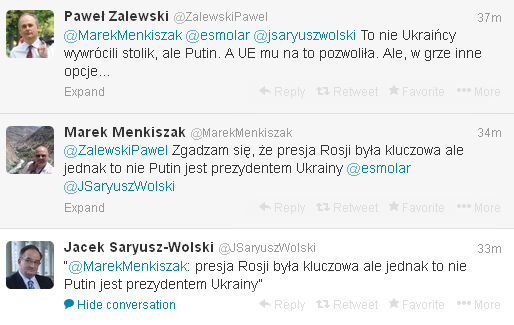 "Yanukovych has made his choice. There will be no association agreement with the EU in Vilnius. Ukraine needs a change of government, a really pro-European leader," Mr. Saryusz-Wolski twitted.
"Unfortunately, my expectations have come true. Yanukovych has opened his cards and revealed his true intentions. He acts against the opinion of the state and the people of Ukraine," Mr. Saryusz-Wolski added.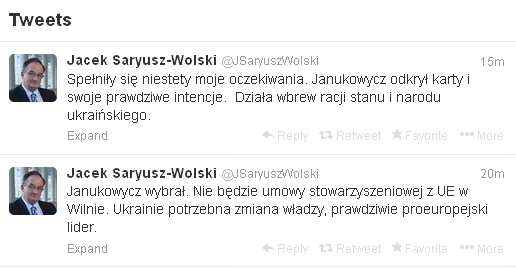 "Final decision on Association Agreement with European Union rests with Ukraine's Security Council and President Yanukovych. May they choose wisely for their people," wrote polish minister for foreign affairs on his twitter.

Finally, European Commissioner for Enlargement and European Neighbourhood Policy Štefan Füle who cancelled his visit to Ukraine which was planned for today wrote on his Twitter that he had just talked with Ukrainian pro-European politicians Oleg Tyahnybok, Arseniy Yatsenyuk and Vitalii Klychko. According to his tweet he is working on a new EU statement on Ukraine now.



On November 21, the Cabinet of Ministers suspended preparations for the signing of the Association Agreement with the EU.
---
By subject:
---
Association Agreement