Explosion at the Luhansk Oblast Administration kills seven
Seven people were killed by the explosion at the Luhansk Oblast State Administration, SXID.info reports referring to the Pavlo Maliuk, head of the health care department at the Luhansk Oblast State Administration
8 people were injured and taken to hospitals.
"They are in a critical condition. Many have shrapnel wounds," the report based on Pavlo Maliuk's information says.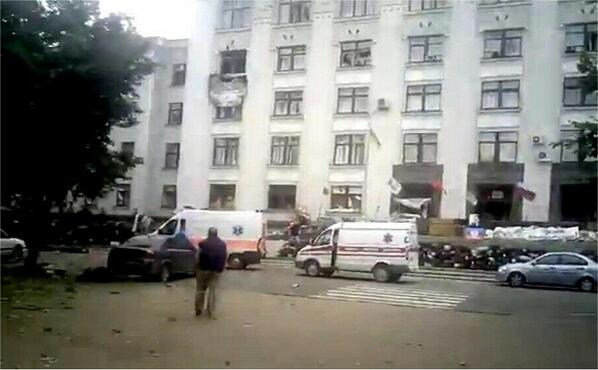 RELATED ARTICLE: State Border Service: snipers shooting at Ukrainian border guards in Luhansk
On June 2, terrorists tried to take down a Ukrainian military plane but stroke the Luhansk Oblast State Administration instead. According to eye-witnesses, the missile aimed itself at the air conditioner on the third floor of the Administration building because it was generating warm air.
Later, Oleksiy Dmytrashevskyi, press officer for the anti-terrorist operation, reported that the building was damaged by an explosion from something inside it.
Separatists claim that it was the Ukrainian aircraft that opened fire at the Luhansk Oblast State Administration.
---
By subject:
---