Update: Terrorists attack Ukrainian military in Donetsk Oblast, killing 13
13 Ukrainian troops were killed in the attack of terrorists near the villages of Rubizhne and Volnovakha, Acting President Oleksandr Turchynov reports
"The circle covered by the anti-terrorist operation in Donetsk and Luhansk Oblasts is narrowing… But they (terrorists – Ed.) tried to break through and attacked the checkpoint 48 kilometers away from Donetsk… Our military men died of shooting and grenade launchers for Ukraine. This operation has claimed 13 lives," Turchynov said.

According to Ostrov, the local publication referring to eye-witnesses, the terrorists attacked a Ukrainian military unit based in the Forest Park landscape park in Donetsk Oblast this night.
"At 6 a.m. today, the fighters shot the Ukrainian military between Velykoanadol (Olhynka) and Volodymyrivka. They arrived in CIT trucks of Privat Bank (the fighters of the self-proclaimed Donetsk People's Republic and Luhansk People's Republic have stolen 15 CIT trucks of Privat Bank in Donetsk and Luhansk Oblasts over the past two weeks, the bank's press service reports – Ed.) and were shooting from RPG-launchers, MANPADs and machine guns. There were around 30 soldiers, 3 APCs," an eye-witness shared.
According to him, the local police did not interfere with the attackers.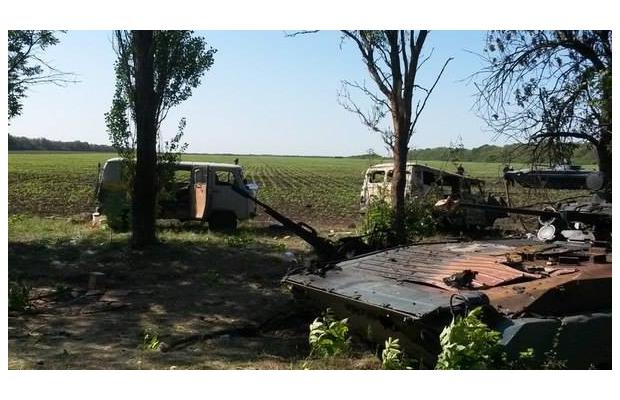 Defence Ministry reports that the fighters opened concentrated fire from small arms, RPG-launchers and mortars at the checkpoint of the Ukrainian military.
"A military vehicle was shot. This caused an explosion of the ammunition. We have some people killed, some injured. Medical vehicles were sent to the location immediately to provide first military aid to the injured and to evacuate them to hospitals," the report says.

Defence Ministry also announced that fighters had attacked a column of military vehicles near Rubizhne, a village in Kharkiv Oblast. One soldier was killed, two injured.
According to earlier reports, fighters stormed the Stanychna Luhanska border control unit at night on May 22. The storming lasted an hour and a half; the fighters used machine guns, grenades and grenade launchers.
---
By subject:
---