20 February, 2014 11:33
▪
At least 8 people killed on Maidan today
The bodies of eight people shot dead covered with blankets are on Maidan Nezalezhnosti close to the Kozatskyi hotel
They are men of middle age.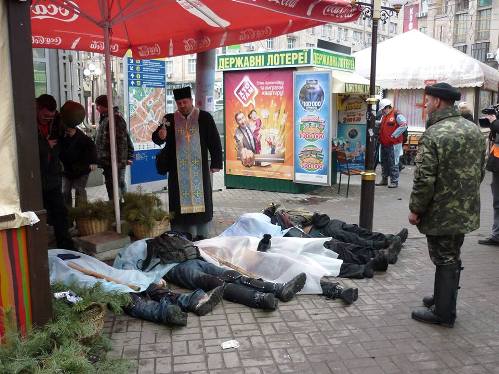 Samooborona, the popular self-defence squads, says these people were shot by police snipers who were shooting them in the heads.
"6 out of 7 were killed with shots in the neck," Samooborona representatives said.
Activists report that snipers are shooting people from the Conservatory rooftop.
According to earlier reports based on information from the Health Care Ministry, at least 28 people were killed in clashes.
On February 20, active clashes of protesters against the police resumed in Kyiv in the morning. Maidan activists have pushed law enforcers away from the October Palace.
Later, it became known that over 100 interior troops surrendered to Maidan Samooborona asking for guarantees of their personal security.
---
By subject:
---
clashes in Kiev, clashes in Kyiv, EuroMaidan, EuroMaydan, revolution in Ukraine, victims of police in Ukraine, Yanukovich, Yanukovych