The 85-year-old Pope, who was the oldest for 300 years when he was appointed at the age of 78 in 2005, will leave office on 28th February and is likely to retire into seclusion within the Vatican. Announcing his unexpected decision in Latin to a meeting of cardinals in Rome on Monday, he said he no longer had the mental and physical strength to fulfil his duties properly. After prayers and meditation he had decided that the papacy today needed a man in better health to lead a church of 1.2 billion adherents in the world.
The Vatican moved quickly to quash speculation that his resignation was linked to the child abuse scandals in various countries or to other difficulties, including allegations of corruption within the Vatican by the Pope's personal butler who was convicted of stealing papal documents. Senior Catholics said they had noticed that the Pope's health had been declining in recent months, and that he had had difficulty moving.
His resignation means that there will now have to be a secret conclave of cardinals to elect a successor. This will take place swiftly, as the normal period of mourning for a dead Pope will not be needed. A successor is likely may be in office by Palm Sunday, ready to take over a week later on Easter, which in the Western Church falls on March 24.
The Pope's resignation, though it has shocked many loyal Catholics, has been met largely with understanding. World leaders have paid tribute to Benedict. President Obama extended prayers to him, and Angela Merkel, chancellor of Germany, where Benedict was born and grew up, said his decision to leave office must be respected. Other religious leaders spoke of the Pope's quiet spirituality and his efforts to continue the work of his predecessor, Pope John Paul II.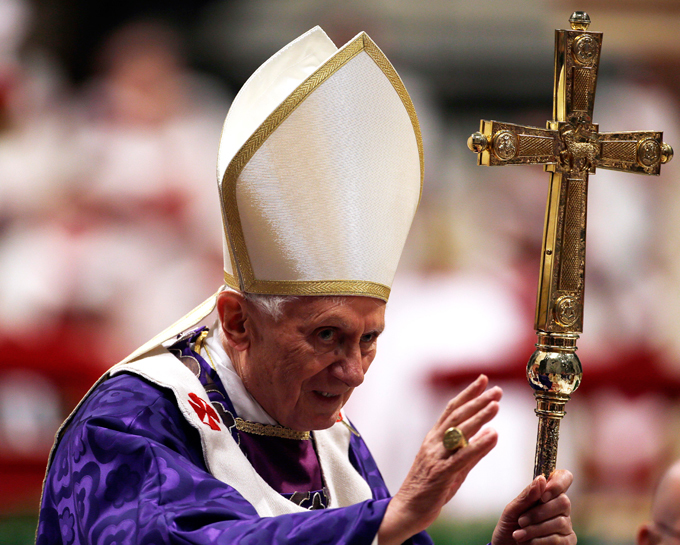 Nevertheless, comparisons with the previous long-reigning Pope underline many of the difficulties Benedict has faced in the past seven years. The challenge now facing the Church is to find a more youthful and robust successor to a man always seen many as an interim Pope. Benedict, a quiet academic and former Archbishop of Munich, served for many years in the Vatican as the Prefect for the Congregation of the Doctrine of the Faith. In this office, once notorious as the Holy Inquisition, the conservative Cardinal Joseph Ratzinger, as he was then called, enforced strict orthodoxy and was merciless in cracking down on any liberal or reformist views that were not upheld by John Paul II. Ratzinger's critics nicknamed him "God's Rottweiler". Benedict therefore came to office against a background of rumbling discontent inside and outside the Roman Catholic Church by liberals who felt the Vatican was too traditionalist, too conservative and too unwilling to push forward doctrinal change or accommodate the changing politics, social attitudes and sexual ethics of the modern world.
READ ALSO: Après Husar, la deluge?
Benedict also suffered by comparison with his predecessor as he was less charismatic, less outgoing, and far less sure of his communication skills. A gentle, shy and reserved man whose only relaxation was playing the piano, he seemed genuinely bewildered by the pressures to act as politician rather than a spiritual leader. Many of the rows that blew up early in his papacy were due to his ignorance of, and indifference to, the needs for a skilled Vatican spokesman and public relations operation. He provoked furious reaction soon after becoming pope from Muslims when he gave a lecture that quoted derogatory remarks by a medieval Byzantine emperor denouncing violence in Islam. Soon afterwards he alienated many Anglicans and other Protestants by suggesting that they were not proper Christians. And he infuriated the Jews by refusing to condemn the remarks of an anti-Semitic conservative Catholic priest who questioned the truth of the Holocaust.
After each incident Benedict apologised profusely and insisted he had not intended any insult or offence. But observers said that he could have been saved from these blunders if he had paid more attention to the way his words would be reported and interpreted by today's media.
Benedict saw his mission as fighting the march of secularism and the sidelining of religion, especially in Europe. But he soon ran into the uproar, especially in Europe and America, over stories of priests who for years had sexually abused children. The Church faced a crisis especially in America after it was sued for millions of dollars, and accusations were levelled at Benedict that he had done nothing about the issue even after details had become known to the Vatican. As Pope, he was clearly deeply distressed, and he recently issued a heartfelt apology to all those who had been mistreated. But the damage done to the Church's image was enormous.
What direction will the Church now take in an effort to re-establish its lost authority and influence? Much depends on who is elected to succeed Benedict. Many Catholics believe it is time for a reformer - and especially for someone from outside Europe. They say that the Vatican should now be led by someone from Africa, Asia or Latin America, both areas where Catholicism is still strong. At the same time, however, there is a widespread feeling among ordinary Catholics that another traditionalist would be a disaster, especially if there is no change in Vatican teaching on birth control or the use of condoms in the fight against Aids.
Liberal Catholics are hoping that a new Pope might ease the rule on priestly celibacy, which has discouraged many from entering the priesthood. They would also like to see a resumption of efforts to reach out to other non-Catholic churches and to engage more vigorously in interfaith activities. All these moves were gradually halted under Pope John Paul, and Benedict appeared even less willing to reach other to other powerful churches, especially the Orthodox. Benedict failed in his quest to heal the one-thousand year breach with Eastern Orthodoxy or to improve relations between the Vatican and communist China. Relations between the Roman Catholic and Russian Orthodox churches remain especially poor.
READ ALSO: When Evil Turns To Dood
Who are the main contenders? There are 118 cardinals under the age of 80, the limit on the right to vote. Most have been hand-picked by John Paul and Benedict and are therefore generally conservative in their views. It is unlikely that any cardinal from America will be chosen, as his nationality would be seen to be a handicap in dealing with developing countries. Those seen as possible successors include as Cardinal Angelo Scola, the Archbishop of Milan, Cardinal Marc Ouellet, and Canadian head of the Vatican's office for bishops, and Cardinal Antonio Tagle, the archbishop of Manila - though at the age of 56 he may be considered too young. A leading contender from Africa is Cardinal Peter Turkson from Ghana, who heads the Vatican office for justice and peace. And from Latin America the best known is Cardinal Oscar Maradiaga - although most observers consider him too liberal to win a majority from his conservative fellow cardinals.
Whoever is chosen will have to have extraordinary media skills as well as a shrewd political touch if he is to steer the Vatican through its present troubles while also trying to win over a younger generation that is less inclined to accept the undemocratic hierarchy of the Roman Catholic Church or Christian teaching simply on the authority of one man. The Pope's retirement may have already led to one important change, however: the precedent of retirement means that future popes may not feel obliged to continue in office until their death. That may make it easier to find a younger, more vigorous pope who would not dominate the Vatican for so many years as Pope John Paul II did. But Benedict's bombshell has left everyone guessing about the future of the world's largest Christian denomination.